The preorder for the Motorola g200 has started
Motorola g200 5G is equipped with the fastest processor on the market, the ultra-powerful Snapdragon 888 + 5G mobile platform.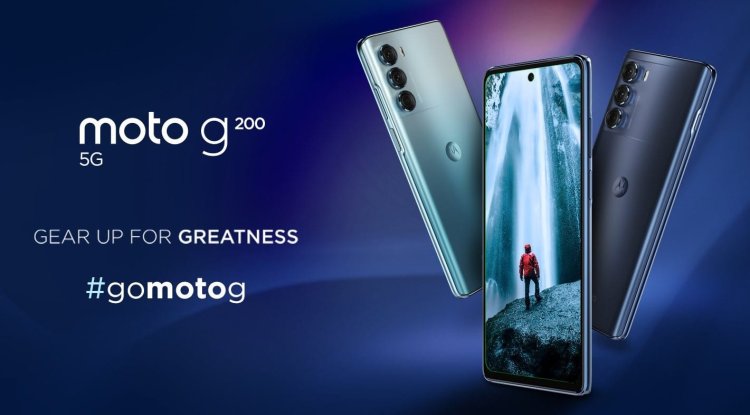 Photo Credits: Motorola
Press release
Motorola g200 5G is equipped with the fastest processor on the market, the ultra-powerful Snapdragon 888 + 5G mobile platform. Thanks to the unsurpassed speed, you can play AI advanced games with 20% faster touch response time, and there is also Snapdragon Elite Gaming support that allows you to game like on a desktop computer with 20% faster graphics rendering.
The Snapdragon mobile platform also delivers the most advanced wireless audio experience on a single Motorola device. With Qualcomm Snapdragon Sound, you can enjoy high-definition music, crystal-clear voice calls, and lag-free entertainment - with superior connectivity and extended battery life.
Motorola has also teamed up with Dolby Lab to bring Dolby Atmos technology for the g200 5G.
With enhanced depth and clarity of sound, Dolby Atmos offers a more comprehensive and three-dimensional audio experience that will knock you off your feet.
The Snapdragon 888+ mobile platform also brings powerful features to the 6.8 "FHD + Max Vision display. The impressively fast 144Hz screen refresh makes playing games, watching multimedia content, and surfing the internet extremely smooth and without any hacking. And with a 25% wider color gamut thanks to DCI-P3 and HDR10 certification, your favorite content comes in precise colors, and improved contrast and brightness to make the image look exactly as it was intended - vibrant and vivid.
The Motorola g200 5G is also equipped with the most advanced camera system ever seen on a single g phone. The star is certainly a 108MP ultra-high resolution camera, which not only provides more detail but also improves the quality of digital zoom. Plus, Ultra Pixel technology delivers 9x better sensitivity in low light conditions by combining 9 large pixels into one. The result is extremely sharp and bright photos - even when taking them in the most challenging conditions. The Motorola g200 5G also comes with another advanced sensor that gives you two stunning perspectives in one: ultra-wide lens and Macro Vision.
At the very end, the depth sensor works with the main camera to automatically blur the background. After that, you can adjust the intensity of the blur yourself and increase or decrease it as you wish.
With a big increase in the focus on creating content on social media, Motorola has made sure that the g200 5G can record quality movie video content with the highest possible video resolution on a single phone today, 8K. And to make the most of the amazing hardware of this phone, there are also some really cool video software options.
With the g200 5G, you'll enjoy instant access to your favorite photos, movies, songs, apps, and games with 128GB of UFS 3.1 storage, while LPDDR5 memory ensures you always have next-generation performance with 16% faster data processing.
When it comes to design, the look of the Motorola g200 5G is inspired by natural forms and organic architecture. 
The satin matte finish adds a new layer of style and sophistication with the available Stellar Blue and Glacier Green colors of the phone.
With a water-repellent design, your phone is protected both outside and inside.