The Prince: HBO Max aired a series that fiercely mocks the royal family
Queen Elizabeth and her late husband Philip, Prince Charles, and his wife Camilla also received their share of ridicule.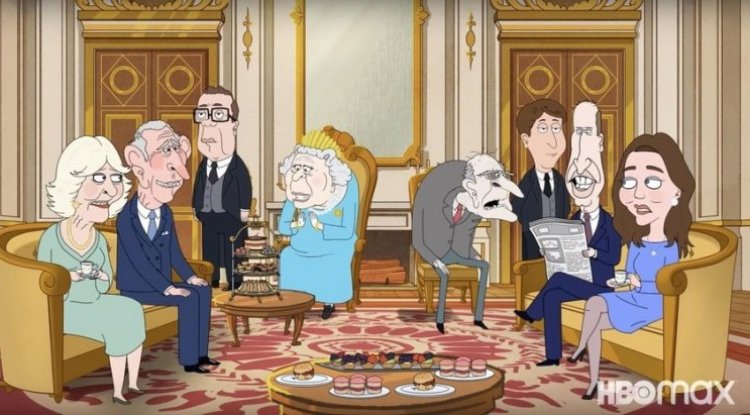 Photo Credits: Hbo Max/Backgrid/Backgrid Uk/Profimedia
HBO aired last night on its HBO Max platform all 12 episodes of "The Prince," a satirical animated series that fiercely mocks the British royal family and Buckingham Palace employees, and the central character is eight-year-old Prince George.
The author of the series is Gary Janetti, who produced "Family Man" and "Will and Grace," and the show was created based on his Instagram profile. Janetti, who has more than 900,000 followers, has been poking Windsors with comments on that profile for a long time, mostly via little George's mouth. For the last two or three years, his posts with the little prince, who is quite vicious and cynical in them, cheeky, in some portrayed as gay, have had an average of 300,000 likes.
View this post on Instagram
Although completed a few months ago, the premiere of the series was postponed by the authors when, in April, the husband of Queen Elizabeth II, Prince Philip, passed away.
No one from the royal family was spared in the cartoon. Queen Elizabeth and her late husband Philip, Crown Prince Charles and his wife Camilla, George's parents, Kate and William, his sister Charlotte and brother Louis also received their share of ridicule. Of course, and the runaway ducal couple, Meghan and Harry.
"I'm sorry, I'm late for a date," Kate Middleton, George's mother, says in one scene.
"I don't think the pubs are open yet," William comments.
Harry and Meghan, on the other hand, move into a small apartment in Los Angeles and try to find a job. Harry is portrayed as someone who is so lost in the real world that he doesn't understand how to buy milk at the supermarket and is amazed at how the refrigerator works.
George is harassing his butler Owen, looking for a cup of tea that doesn't taste like "piss" and is generally a horrible creature sucking up endlessly to his great-grandmother the queen. His grandfather Charles is a cinderella man and constantly complains, Camilla does not speak. The late Prince Philip, because of whom the premiere was postponed, is portrayed as an old man who murmurs incomprehensibly and cannot even chew food on his own, and the queen is arrogant and insensitive to violence. Little Louis is a breaker, and his sister Charlotte is a fierce competitor.
Gary Janetti gave voice to George, and many British and American stars are other characters. For example, Orlando Bloom lent his voice to the cartoon Prince Harry, while Sophie Turner is George's sister Charlotte.
Although they have hardened in the British monarchy over the years and, no matter how hard they find it, are aware that they are not untouchable, the royal residences certainly did not burst out laughing as they watched the series. No reactions are expected from them, at least not publicly.
That is why, even after the release of the first trailer a few days ago, when one could guess in which direction things were going, many came forward who thought that the very idea of ​​the cartoon was shameful, especially because the eight-year-old boy was in the center. Even some fierce critics of the monarchy consider such caricature of a child to be inadmissible and detrimental to mental health.
As for television critics, they are divided. In the first reactions, the ratings of the series are lukewarm, and the biggest remark is again related to George. "Prince" reminds many of Janetti's bestseller "Family Guy" in terms of animation style, but also the similarities of Prince George with the cynical baby Stewie Griffin from that series. They say "Prince" is a royal version of Stewie, only significantly less funny.
Critics also say that Janetti, creating the character, fell into the trap of the easiest direction and set out on the "paths of a little tyrant". Someone wrote that it's too easy to build a satire about a kid from hell who treats people with contempt and resentment, instead of creating a complex character angry with a child who doesn't know how to behave in his strange family.
By: Olivia J. - Gossip Whispers