ThinkBook Plus Gen 3 17: two screens made for business!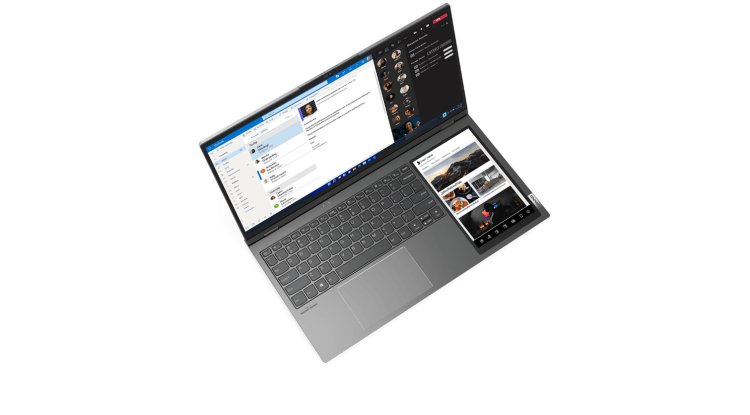 Photo Credits: Lenovo/promo
CPU: Up to 12th-gen Intel Alder Lake
Audio: Harman Kardon speakers, Dolby Atmos
Screen (Primary): 17.3-inch, 21:10 (3072x1440p), 120Hz IPS, TUV EyeSafe, 400 nits, 90% screen-to-body | (Secondary): 8-inch LCD Touch Display 800 x 1280p with pen support
Ports: 1 x HDMI | 1 x USB Type-C | 1 x Thunderbolt 4 | 2 x USB Type-A | 1 x 3.5mm combo jack
Connectivity: Wi-Fi 6E | Bluetooth 5.1
Camera: 1080p IR Webcam with Privacy Shutter
Size (W x D x H): 16.14 x 9 x 0.7ins | 410 x 228.7 x 17.9mm
At CES 2022, in addition to standard notebook models, Lenovo also brought an unusual one - the third-generation ThinkBook Plus. The special feature of this model is the additional screen and its unusual position. Namely, additional screens in the world of laptops are nothing new, but they are usually located above the keyboard. With this model, the additional screen is located on the right side of the keyboard, which gives the impression that someone next to the keyboard put a smaller tablet.
The main screen has a diagonal of 17.3 and less than 8 ". Both screens support digital pen operation. The resolution of the main screen is 3,072 x 1,440 pixels and the smaller 800 x 1,280 pixels. The keyboard is as classic as other ThinkBook notebooks.
With this model, Lenovo is obviously targeting multimedia content users, but the same screen can be used for other tasks - such as mirroring the phone screen using Microsoft Your Phone, taking notes in OneNote or typing on a calculator, and more.
The third generation ThinkBook Plus comes with the latest hardware offering - the 12th generation Intel Core H processors, with up to 32GB of RAM (LPDDR5) and up to 1TB of data space (PCIe NVMe Gen 4). Furthermore, there is a standard offer of security tools and an IR camera with FHD resolution with the possibility of face recognition.
Another small screen will be useful for displaying the appearance of sites on smaller devices. Very good solution and we should see it often. This would help designers and developers a lot. Of course, the performance needs to be very good for the device to withstand it all.
The ThinkBook looks professional and is really designed for business people. It will also make the job easier for the creators and will have a display on a smaller screen for social networks, so they can do a good part of their work on the ThinkBook.
The impression is great, it really meets all the needs of a businessman. We really like the small screen. Lenovo's goal was for the user to have as many solutions as possible while using the ThinkBook. Great performance at CES 2022. We can't wait to see it on sale and have an insight into the complete look and performance of this device.
The third-generation Lenovo ThinkBook Plus will hit the market in May 2022 at a starting price of $ 1,399.
See for yourself...
https://www.youtube.com/watch?v=J7rKQlsgf_8&ab_channel=Lenovo