Ultimate High Six charging cable: USB-C, Lightning and more in a bottle opener
The High Six USB cable comes from Germany and is possibly the ultimate charging cable, which can conveniently be hidden in a bottle opener keyring and can therefore always be inconspicuously with you. It comes with USB-C, USB-A, Micro-USB, and Lightning. Fast charging is also possible with up to 60 watts.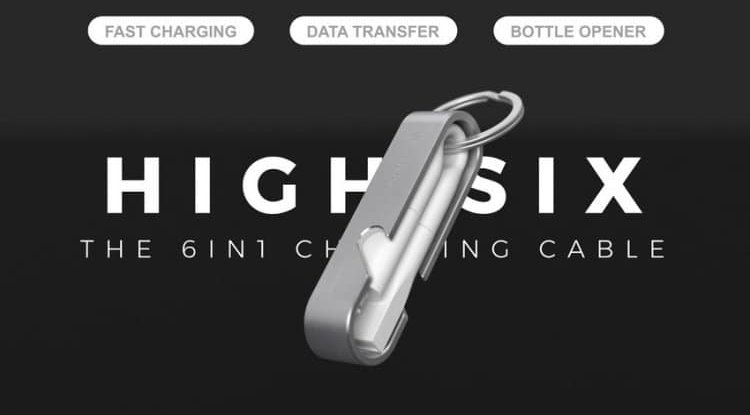 Photo Credits: Vonmählen / promo
With the High Six, the German manufacturer Vonmählen has presented its variant of the ultimate USB charging cable solution. Often a certain type of charging cable is required for certain smartphones or mobile devices such as tablets, as the various manufacturers all rely on their own standards. There is a charging cable solution like the High Six, which combines many variants, extremely practical - especially if it can be hidden in a bottle opener as a small keyring.
High Six: A multifunctional charging cable that can open bottles
View this post on Instagram
The adapters come with USB-C, USB-A, Micro-USB, and Apple's proprietary Lightning standard. The great advantage of the High Six is ​​the possible charging function with up to 60 watts - users of fast charging hardware should be happy. Unfortunately, buyers shouldn't expect high data rates or Thunderbolt support, as only USB 2.0 speeds are supported. All of this is made possible by a USB-C to USB-C cable, on which either a USB-A adapter or a combined Lightning-Micro-USB adapter can be placed. The entire cable structure can be conveniently stowed in the small metal frame (and fixed with a magnet), which can also function as a bottle opener.
The High Six can be pre-ordered at Kickstarter for the early price of 19 euros. The finished product should then - if everything goes well - be delivered in February 2022.
By: Amber V. - Zexron