Yacht Adastra: A futuristic trimaran
Straight out of the John Shuttleworth Yacht Designs building workshops, not the future, the discovery of the Adastra.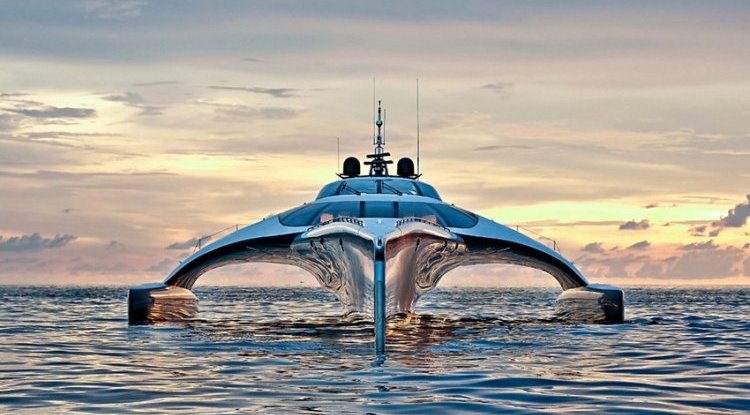 Photo Credits: Jochen Manz/Orion Shuttleworth
The curves of this splendid ship are unshakeable. Mounted on three hulls, the Adastra offers the luxury of smooth sailing, even at high speed.
Adastra is the pure essence of luxury. 42 meters long and 16 meters wide, this superyacht can accommodate up to 15 people on board. Comfort and luxury are in the spotlight for its medium and long-term occupants. Onboard, you will enjoy a panoramic view thanks to the platform of the main deck, but also via the lounge and bar area. To the list is added its garage which has the ability to turn into a 'beach'. Its design and exceptional dimensions allow it to dock at most ports and islands around the globe with barely more than a meter of water.
The Adastra is also a revolutionary vessel in terms of fuel consumption via an impact reduced to the maximum during navigation: in cruising mode, the Adastra has a fuel consumption of less than 25 liters per hour, a record in the field of luxury yachts. With a range of more than 10,000 nautical miles thanks to extreme hydrodynamics and aerodynamics, the Adastra also shows the real look of a spaceship. An asset underlined by its lightness: the choice of carbon fiber for its numerous equipment as well as Kevlar and foam glass for the structure of its hull categorizes it as a featherweight.
By: Olivia J. - Zexron