Adata XPG Xenia 15 KC review: Gaming machine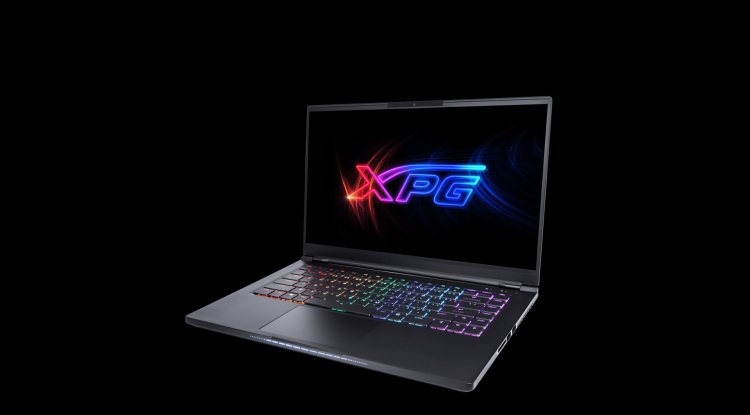 Photo Credits: XPG/Promo
Behind the elegant girlish name hides a gaming machine based on Intel's KC57 hull. It is a universal platform intended for Intel Core processors of the 11th generation (i5 and i7). It has a minimalist, black casing constructed of light magnesium alloys, a medium-sized touchpad, and a full-size keyboard without a numeric block. It looks beautiful, but you can definitely see that functionality was prioritized here.
On the left side, there is an audio minijack and a USB 3.2 Gen 2 (10 Gbps) type A port, while on the right, there are two more similar connectors plus a full-size SDXC reader, which is rare. The power button is positioned above the keyboard, and next to it is a little but the extremely helpful button for selecting the Windows system's energy profile - Quiet, Balanced, or Efficiency.
The rear panel also houses the HDMI, power, RJ45 2.5-gigabit Ethernet, and Thunderbolt 4, which may also be utilized as a USB type C port. There was enough room next to the sockets for the cooling system outputs - another is on the right side.
The increased-resolution matte screen has relatively broad frames, but this allows for enough space above the display for a camera and a pair of optical sensors compatible with Windows Hello.
Parameters
Model number: Xenia 15 KC,
CPU: Intel i7-11800H (8 cores, 16 threads, 2.3 GHz, Turbo Boost 4.6 GHz, 24 MB cache, TDP 45 W),
main screen: 15.6 ", 2560 x 1440, 165 Hz, IPS, 16: 9, 300 nit, 100% sRGB, 85% StB
graphics card: Intel UHD + RTX 3070 8 GB GDDR6 RAM,
memory: 32 GB DDR4 3200 MHz,
disk: XPG GAMMIX S70 PCIe Gen 4 × 4 NVMe 1TB SSD,
Connectivity: Bluetooth 5.2, WiFi6 (801.11ax),
operating system: Windows 10 Advanced Home -> Windows 11,
camera: 720p + IR,
connectors:

3 x USB 3.2 Gen 2 type A,
1 x Thunderbolt 4 (Type-C / USB 4 / DP 1.4a),
1 x HDMI 2.1,
3.5 combo audio jack,
SDXC card reader,
RJ45 2.5 Gb,
power supply,

battery: 94 Wh (8200 mAh), 230 W power supply, fast charging,
dimensions: 233.8 x 356.4 x 20.5 mm,
weight: 1.94 kg.
What distinguishes the XPG Xenia 15 KC? The cooling system employs a very efficient Thermal Grizzly Conductonaut thermally conductive "paste" based on a liquid metal mixture with an extremely high thermal conductivity of 73 W / mK.
Its usage in manufacturing equipment is a phenomenon - it has outstanding properties, but it is often picked by overclocking aficionados for stationary machinery and people who know what they are doing because it is fairly tough to operate due to its fluid shape and current conductivity.
Screen
Because the Adata XPG Xenia 15 KC is a gaming machine, the screen was chosen with this in mind. The image is shown on an IPS screen with a resolution of 2560 x 1440 points and a refresh rate of 165 Hz. The brightness is very mediocre, with just 300 nits according to the manufacturer's claim. As a result, the panel does not allow you to work in HDR mode. Color reproduction is suited for gaming and employs a color space that is 100 percent sRGB. The control charts show that the display is not exactly aligned, but the variation is so slight that it can only be significant in practice for image processing.
The quick 165 Hz screen operates very smoothly and can be seen even while performing routine tasks. However, the major benefits are shown in games, where the refresh rate is regulated between 40 and 165 Hz and the picture quality is great regardless of the performance reached by the games.
The increased resolution turned out to be a positive thing since the image is clearer and less grainy than on a conventional Full HD panel (which also performs well at the 15.6 "diagonal). The films are a little weaker; additional brightness and contrast should be employed.
Ports and more
Beginning with the display, or even two - the HDMI 2.1 and Thunderbolt 4 ports are used for this, and the image is sent in Display Port Alternate 1.4 mode. The highest image resolution for the HDMI connector is 7680 x 4320 30 Hz / 3840 x 2160 120 Hz and the Thunderbolt / DP port is 7680 x 4320 60 Hz / 3840 x 2160 120 Hz.
The three USB-A ports adhere to the 3.2 Gen. 2 standard, allowing you to connect devices requiring 10 Gbps transfers without sacrificing performance. The use of A-type connections may appear odd in this day and age of USB-C ubiquity, but it is worth noting that most gaming gadgets still use this older form of the plug. A full-size SDXC card reader is a welcome inclusion, as they are nearly extinct in laptops and are really useful.
In addition, there is a so-called standard outside: a mini-jack combo for headphones with a microphone, a rare cable Ethernet in the 2.5 Gb version, and power supply - a pin connector due to the high power consumption.
Wireless communication is provided by the well-known Intel AX201 processor and is a conventional WiFi6 kit with a 160MHz Plus Bluetooth 5.2 channel. It works flawlessly - the connection between Funbox 6 and the Internet was formed at a speed of 2402 Mbps, as permitted by the optical fiber. I have no complaints about Bluetooth's performance - both the pad and the headphones worked beautifully.
The XPG Xenia 15 KC is also very extendable on the interior, which is becoming increasingly rare. It's as simple as unscrewing a few screws that hold the metal bottom cover in place - it can be removed without the use of any tools.
You can swap out a WiFi card, an M.2 SSD (there are two 2280 slots, one of which is empty), RAM modules (both were packed with 16 GB modules in my copy, but the machine can handle twice the capacity), and even… a battery.
Audio
The dual speakers of the XPG Xenia 15 KC are located in the front and face down. They play loudly, but the music that comes out of them… well, to put it gently, it doesn't sound nice.
Treble is like medication; there is no such thing as a low. What's left sounds more like cat meows pleading with me to get out from behind my desk and into the bowl than music. The films are significantly worse because there isn't much left of the effects - however, the dialogues are still very legible.
The sound quality provided by headphones is adequate. It's a shame that, despite the fact that the computer is designed for gamers, the maker didn't include a commercial 3D sound system with it. There is simply basic Windows Sonic, which is far inferior to Dolby ATMOS for Headphones or DTS Headphone: X.
Keyboard and touchpad
The touchpad is a standard mid-size gadget with a gloss finish that works with the Precision Touchpad. It works flawlessly, and that's about it - it'll suffice for most programs, but I can't see myself using the touchpad.
The keyboard, on the other hand, is considerably more deserving of attention. It is built with optomechanical microswitches that have a defined activation point and a stroke of 2 mm. You have to get used to her working style, but once we do, writing is swift and effortless.
There are no missing keys unless you require a numeric block (which is not included), however, you may switch to the numeric mode by pressing the NumLock key.
Performance
The Intel i7-1180H processor powers the XPG Xenia 15 KC.
The processor has 8 physical cores and can support up to 16 threads at the same time thanks to HT. The basic clock is 2.3 GHz, and in Turbo Boost mode, it can reach 4.6 GHz. The maximum TDP is set to 45 W. We shall not criticize its performance.
The visuals are produced by a combination of an integrated graphics processor Intel UHD (used when high performance is not required) and a GeForce RTX 3070, which is used in games.
KC received 6595 points on the Office test from the PC Mark Xenia 15 program. Quite a respectable outcome, albeit there are better ones in standard gaming machines. However, in-office applications, the distinction will be difficult to discern.
The games launch and operate flawlessly.
It's unfortunate that the second M.2 slot only supports earlier version drives, however in most cases, the user only has one slot available. As a result, it is pointless to complain.
Software
The XPG Xenia 15 KC comes pre-installed with Windows 10 Home Advanced, which is the standard home ten with a few enhancements aimed at maximizing the machine's potential. The machine reported the possibility of updating to Windows 11 after starting and being ready for work.
There are no XPG extras; the drivers and other software are provided by Nvidia and Intel. Intel Nuc Software Studio is in charge of the control center. According to the information provided there, the system should be compatible with Nvidia WhisperMode 2.0, but it required a driver and BIOS update - on the latter, it was directed directly to the Intel website, rather than XPG (where the update was not available).
Camera and biometrics
The XPG Xenia 15 KC lacks a fingerprint reader, instead relying on a camera with an infrared sensor that is compatible with Windows Hello.
The camera is fairly ordinary in internet communication. Even in bright light, the 720p sensor produces images with a lot of noise and low dynamics. It is significantly worse in low artificial light, and it can be difficult to distinguish the interlocutor at times.
Time and work culture
Powerful gaming computers do not have very long battery lives, and the XPG Xenia 15 KC is no exception.
However, it cannot be described as awful, owing to the fact that the manufacturer has put a very large battery with a capacity of 94 Wh (i.e. 8200 mAh) inside.
To be sure, the PC did not overheat when under strain. The temperature of the shell, as measured with a medical IR thermometer, was 45 ° C at the warmest spot and did not surpass 40 ° in the rest of it.