ASRock X570 PG Velocita - Fast and mysterious
What makes this board special are the advanced accessories and rich equipment, which is usually reserved exclusively for twice as expensive boards.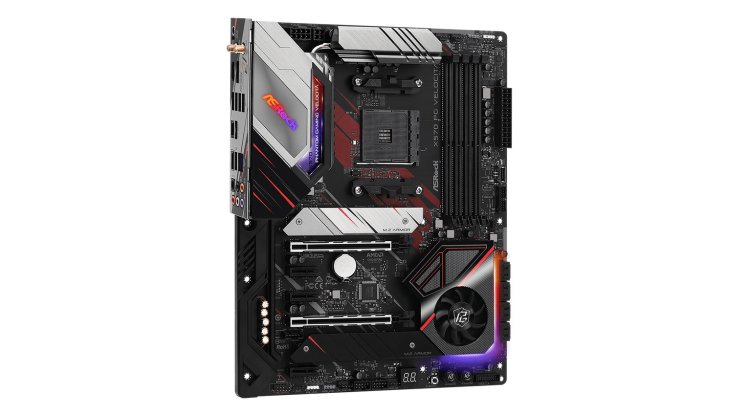 Photo Credits: ASRock/Promo
Superior gaming board
ASRock PG Velocita is a lavishly equipped mainstream X570 board of the new generation. It competes dangerously with far more expensive high-end boards, making it an ideal choice for modern gaming PCs powered by AMD's Zen 3 processors.
Many manufacturers have used the introduction of AMD's Zen 3 processors (Ryzen 5000) to refresh their motherboard offering. Clearly, AMD has not introduced new chipsets with new processors, so all new boards are based on well-known chipsets like the B550 or X570. ASRock has supplemented its already rich X570 range with another model.
ASRock's X570 PG Velocita board is loaded with many possibilities, but it still fits into a mainstream category of X570 boards. In fact, Velocita brings advanced features and equipment that we are used to with high-end boards, at a significantly better price.
Luxurious equipment and RGB
One of the main advantages of all the newer boards introduced in the last few months is that they instantly support the new Zen 3 processors without the need to upgrade the BIOS. For example, this board officially supports all AM4 Ryzen CPUs except the first-generation Zen processors. The Chipset X570 is still AMD's most advanced solution, which is primarily intended for more powerful gaming computers.
This chipset brings support for two PCIe 4.0 x16 slots and two PCIe 4.0 x4 M.2 storage ports. However, you should know that you will need Ryzen CPUs 3000 or 5000 series for PCIe 4.0 support.
Newer boards, in addition, bring even better support for high-speed DDR4 memory on the AM4 platform. ASRock lists support for 5000 MHz memory here, clearly, in the case of overclocking.
Visually, the PG X570 Velocita brings a whole new refreshed design to ASRock's panels. We can say that the board is very attractive, and RGB lighting, which looks very good, also contributes to everything. The layout of the components is fairly standard for a single high-end board.
The upper part of the plate is dominated by coolers that cover the components in charge of voltage regulation and are connected to the hot water pipe. ASRock here uses its 14-phase voltage regulation design (12 + 2 for CPU and SoC), which should be adequate for the worry-free use of AMD's most powerful 16-core processors, either at nominal settings or when overclocking.
What makes this board special are the advanced accessories and rich equipment, which is usually reserved exclusively for twice as expensive boards. For example, here on the board itself are the power and reset keys, the clear CMOS key, as well as support for BIOS flashback, which allows you to upgrade the BIOS without processor and memory.
The board is equipped with the WiFi 802.11ax module and supports Thunderbolt 3 (internal port). True, in order to use Thunderbolt, you need the appropriate ASRock additional card.
With newer BIOS versions, this board also supports Resizable BAR (Smart Access Memory) technology, which allows for increased performance in some games when using Zen 3 processors and RX 6800 graphics cards.
ASRock's PG X570 Velocita is undoubtedly a well-equipped X570 board of a newer generation. It supports almost all AM4 processors and offers an excellent price-performance ratio, and in that respect, you will hardly find an X570 board that can compete with it.
The only thing we didn't like about this board is the rather noisy chipset fan, especially at the default settings (the latest beta BIOS should enable the zero-rpm option in Silent mode), and we're not too big of fans of Killer networking solutions either.