Asus BE27ACSBK review: Rotate and webcam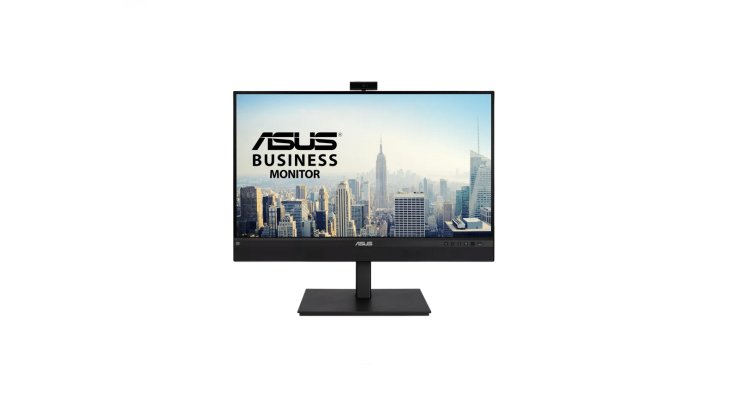 Photo Credits: Asus/Promo
As a monitor with an integrated full HD webcam, microphone and loudspeakers, the Asus BE27ACSBK should be the all-purpose weapon in the office. The BE27ACSBK is supposed to be everything: monitor, webcam, microphone and charging station. Asus seems to have put together an all-around carefree package for the (home) office. Instead of buying all the individual parts individually, a single grip on the 27" is enough.
General Info
Type
Monitor
Year
2021
Brand
Asus
Model Number
BE27ACSBK
Alias
BE27A
Size
27″ (inches)
Panel
IPS
Display
Screen Size Class
27″ (inches)
Diagonal Size
27.01 in
68.6 cm
685.985 mm
2.25 ft
Screen Width
23.49 in
59.7 cm
596.736 mm
1.96 ft
Screen Height
13.22 in
33.6 cm
335.664 mm
1.1 ft
Display Type
IPS
Display Bit Depth
8 bits
Frame Rate Control
No
Max Number of Colors
16777216
Bits
24
Screen Aspect Ratio
16:9
Screen Resolution
2560 x 1440
Screen Pixel Pitch
0.233 mm
Screen Pixel Density
109 ppi
Screen-to-Body Ratio
76.55 %
Backlight Source
W-LED
sRGB
100 %
Screen Brightness
350 cd/m²
Static Screen Contrast
1000 : 1
Dynamic Screen Contrast
100000000 : 1
Screen Horizontal Viewing Angle
178 °
Screen Vertical Viewing Angle
178 °
Display Minimum Response Time
5 ms
Display Coating
Anti-glare/Matte
3D
No
Size, weight, color
Case Depth
2.21 in
5.6 cm
56.1 mm
0.18 ft
Case Weight
5.8 kg
13 lbs
Case Width with Stand
24.11 in
61.2 cm
612.4 mm
2.01 ft
Case Height with Stand
17.39 in
44.2 cm
441.8 mm
1.45 ft
Case Depth with Stand
10.2 in
25.9 cm
259 mm
0.85 ft
Case Weight with Stand
8.6 kg
19 lbs
Case Color
Black
Hardware
Built-in Camera
Yes
Connectivity
1 x HDMI 1.4
1 x DisplayPort 1.2 (out)
1 x 3.5 mm Audio Out
1 x DisplayPort 1.2 (in)
1 x USB (Type-C; upstream; 80W; DP Alt Mode)
2 x USB 3.0 (Type-A; downstream)
Audio
Audio Speakers
2 x 2W
Features
Cool Features
Flicker-free technology
Frameless design
QuickFit
Trace Free Technology
SPLENDID Technology
Low Blue Light
5-way Navigation Key
Videoconferencing shortcuts
Color Temperature Selection (4 modes)
Extra Features
Anti-theft stand lock slot – Kensington
Ergonomics
Case Width
24.11 in
61.2 cm
612.4 mm
2.01 ft
Case Height
16.82 in
42.7 cm
427.3 mm
1.4 ft
Vesa Mount Support
Yes
VESA Interface Standard Size
100 x 100
Removable VESA Stand
Yes
Height Adjustment
Yes
Height Adjustment Range
150 mm
15 cm
5.9055 in
0.4921 ft
Landscape or Portrait Pivot Support
Yes
Left Pivot
90 °
Right Pivot
90 °
Left or Right Swivel Support
Yes
Left Swivel
180 °
Right Swivel
180 °
Forward and Backward Tilt Support
Yes
Forward Tilt
5 °
Backward Tilt
35 °
Frequency and Interpolation
Vertical Digital Frequency
30 Hz – 75 Hz
Horizontal Digital Frequency
30 kHz – 122 kHz
Screen Interpolation Measurement Unit
NULL
Power
110V
100 V – 120 V
220V
220 V – 240 V
AC Frequency
50 Hz – 60 Hz
Power Consumption in Sleep Mode
0.5 W
Average Power Consumption
21.3 W
Accessories
Extras
HDMI cable
USB Type-C cable
MiniPC Kit
Certificates and Standards
Licenses
Energy Star
BSMI
CB
CCC
CE
CEL level
C-Tick
CU
ErP
eStandby
EU energy label
FCC
ICES-3
ISO-9241-307
J-MOSS
KC
KCC
MEPS
PSE
RoHS
TCO 8.0
TUV-Ergo
TUV-GS
UkrSEPRO
UL/cUL
VCCI
WEEE
WHQL (Windows 10/8.1/7)
TUV Flicker-free
TUV Low Blue Light
Usage and Storage Requirements
Safe Operating Temperature Level
0 °C – 40 °C
32 °F – 104 °F
Safe Operating Humidity Level
10 % – 80 %
Internal Storage Temperature
-20 °C – 60 °C
-4 °F – 140 °F
The BE27ACSBK is supposed to be everything: monitor, webcam, microphone and charging station. Asus seems to have put together an all-around carefree package for the (home) office. Instead of buying all the individual parts individually, a single grip on the 27" is enough.
A special highlight is the integrated full HD webcam with a rotation function. You can find out how well the monitor actually works in practice and whether it can keep up with dedicated peripheral devices in our following test.
The assembly of the BE27ACSBK is done quickly: After removing the package, we place the monitor in the base, connect the two with the screws provided and connect the whole thing using the power and USB cable.
Then we adapt the monitor to your own ergonomics. The height, as well as the vertical and horizontal inclination, can be continuously adjusted. There is also a pivot function, with which we place the monitor upright. But then the integrated webcam is on the side, which is why we only consider the BE27ACSBK to be suitable for this purpose to a limited extent or at times.
On the front of the monitor, there are a number of buttons for quick operation: a volume button, a button to mute video conferences and calls, a button to accept calls, one for settings and a power button. We can control the individual submenus using a thumbstick, which we also use to confirm our settings. The operation is so easy and intuitive.
The BE27ACSBK does without a comprehensive frame, the bezel on the edges is quite thin at around 0.5 cm. On the underside, a modern "chin" is used, i.e. a wider frame behind which the speakers, technology and part of the bezel are hidden. But you couldn't hide it completely behind it, which is why the actual display area and the chin are not directly connected to each other.
An entire range of connections is made on the back. Overall, the BE27ACSBK features a DisplayPort 1.2 with daisy chain, HDMI 1.4, USB 3.0, headphone output and a USB-C with DisplayPort alternate mode and 80W Power Delivery. The USB-C port can also be used directly to charge a connected notebook or tablet. A fantastic additional function for the office.
We can get over the fact that DisplayPort 1.2 and HDMI 1.4 are not quite state-of-the-art. The missing features are particularly relevant for gaming - the BE27ACSBK is clearly designed for the office and not for gaming.
The VESA compatibility of the monitor is also useful, which means that it can be easily attached to a wall or monitor mount. In addition, mini PCs can be attached directly to the back of the BE27ACSBK, which frees up space on the desk.
Asus BE27ACSBK in the test: display, brightness and color space
With a 27-inch display diagonal, the Asus BE27ACSBK is just the right size to not be too small as a single monitor and still leave enough space on the desk for a possible second screen. In terms of resolution, WQHD resolution (2560 x 1440 pixels, 2K) is offered, and even a high-end office monitor doesn't need more. With the HDR400 display, the IPS panel is not among the best in terms of dynamic range, but it still keeps up well. The brightness is also in the midfield at 350 cd/m2.
In the settings, the monitor offers a choice of eight different screen modes, including a brighter "Scenery" mode, the dark modes "Night View", "Reading" and "Darkroom", a "Gaming" mode and a more color-accurate " sRGB" mode.
The latter makes sense considering that the BE27ACSBK achieves 100% color coverage in the sRGB color space. With a color depth of 8 bits, you can't get close to the new Asus ProArt displays, but image processing typical for offices isn't a problem either. The contrast ratio is given as 1200:1.
Anyone who works late in the evening or has sensitive eyes will be happy about the five-level blue light filter that Asus has given the monitor. It also makes working at night pleasant and protects the eyes when staring at the display for hours.
The refresh rate and response time make it clear that the BE27ACSBK belongs in the office. Up to 60 Hz and 5 ms polling time are absolutely no problem in the office but are not enough for gaming.
The Full HD 2 MP webcam is not as crisp as you would expect from a dedicated Full HD. But that alone costs almost a third of our screen. The integrated camera struggles with slightly blurred faces and artifacts, especially in dark rooms. However, it is definitely good enough for video conferences or presentations on average to strong lighting. This is also ensured by the automatic exposure function, which recognizes and brightens faces. This worked excellently in our test with a frontal view of the monitor.
An analog lens cover, which we slide in front of the webcam after the end of the video call, ensures more privacy when working. In addition, the webcam is not only easy to personalize thanks to its tilt and swivel function but is also suitable for specialized applications such as customer authentication at banks or at customs. Because the camera can not only be tilted up and down by 10° but also rotated from +180° to -135°. This also allows alignment to the back of the monitor.
Our only strong criticism of the BE27ACSBK is the two microphones. They sound dull even when noise canceling is switched off and pick up background noise, even in quiet surroundings. They are also not sensitive enough to pick up sounds loud enough from a typical video conference distance. To do this, we have to lean against the microphone or the monitor, which should cause strange looks from our fellow conferees when the webcam is on.
On a positive note, the AI ​​noise-canceling ensures that in typical office environments or in the living room that has been converted into a home office, the sound quality does not drop even further due to people present or keyboard clicking.
The 1.2 W speakers are also convincing: they sound a bit tinny, as is so often the case with monitors. On the other hand, the BE27ACSBK has surprisingly clear highs and the bass is also acceptable. More than enough for the office.