ASUS ROG Flow X13: Everything You Need to know
If we look only at the basic machine, we get a 2-in-1 laptop with a high-performance processor, lots of RAM and enough storage space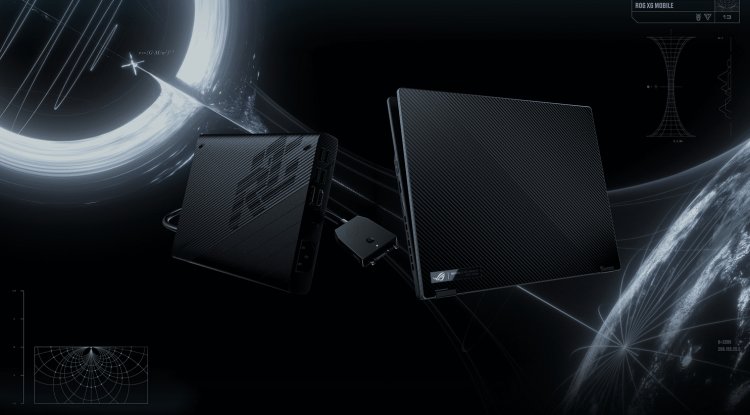 Photo Credits: Asus/Promo
If someone - or something - tries to stay in various roles, they don't do very well in any of them. But is the ASUS ROG Flow X13 notebook, ultrabook, tablet and high-end notebook for gamers with a specially designed base station an exception to this?
Like the Zephirus G14 introduced last year as a big bang last year, the Flow X13 came out with the just-introduced Ryzen series, with the Ryzen 9 5980HS at the forefront. Besides the Vega 8 in it, we get the NVIDIA GeForce GTX 1650 as a dedicated GPU, but that would be enough for most novice games, so the GeForce RTX 3080 or 3070 could be plugged in with a little factory setup.
Exterior
The Flow X13 is a 2 in 1 notebook by itself, which we won't confuse with the more commercial version for a moment, but it doesn't look like a gaming device. We get a square, black case made mostly of aluminum and magnesium alloy, but in some places you can also find plastic. The 13.4" screen has a 16:10 width-to-height ratio, which looks a little deeper than usual.
The installation of the machine housing is exemplary, the structure is robust, the two-point hinges that hold the screen are well adjusted. They can be used with one finger, but hold the screen well. The latter received an interesting striped mask with a dark, shiny inscription Republic of Gamers. Oblique stripes can also be found on the wrist rest, on the right side of which is the ROG logo. The frame of the screen is thin, but not extremely extreme, so the machine is relatively comfortable to work even when it turns into a tablet.
The back also got a slash, but no mounting plate. A pop-up screw that was invented last year to make it easier to remove the cover. True, it doesn't make much sense to open the back cover, because we could only replace the SSD. This is the M.2-2230 model, which, although rarer than the 2280 model, is fairly easy to obtain.
Ports
Finally, let's talk about the connectors: on the right you will find the power button, which also includes a fingerprint reader and two USB 3.2 Gen2 fast USB ports with Type A and Type-C connectors, the latter also DisplayPort.
More interesting is the left side: besides the audio connector and HDMI 2.0b, there is also the ROG XG Mobile interface, which is uniquely designed and includes a USB 3.1 Gen2 port in addition to PCIe 3.0 k8. The latter can be used separately, so if you do not connect to the docking station, the Type-C terminal will also be available here, otherwise it will run other ports on XG Mobile. If we look only at the basic machine, we get a 2-in-1 laptop with a high-performance processor, lots of RAM and enough storage space
XG Mobile
The ROG Flow X13 can be purchased on its own and remains an interesting device, but it becomes really versatile in the XG Mobile connection. Because of its special connector, it is currently only compatible with this notebook, and inside is the GeForce RTX 3070 or RTX 3080, which is also mounted on a single base - so the future and scalability of the entire system is not ideal.
The XG Mobile itself is a 208 x155 x 30 mm unit with a built-in 280-watt power supply (which allows you to charge a notebook), with rounded sides and a sloping stripe pattern already seen on Flow X13. the connection to the notebook is fixed, with a connector that mechanically locks at the end. It can be placed on a table, lowered (in which case it gets small legs) and placed, while holding a plate that can be unfolded from the side.
It has vents and a ROG logo in several places, and four USB 3.2 Gen1 ports on the back, Gigabit Ethernet port, HDMI 2.0b and DisplayPort 1.4, and the latter also has G-Sinc support. The SD card reader is on top.
Display
For some time now, ASUS (and thus the ROG subbrand) has been placing great emphasis on the screen for gaming notebooks, which is not a problem at all! For Flow X13, we get a Sharp IPS panel with a width to height ratio of 16:10 and a resolution of 1920x1200 pixels. The maximum refresh rate is 120 Hz, and customizable synchronization is supported.
It is capable of a maximum brightness of 332 cd / m² and a contrast ratio of 1857: 1, which are both excellent values. The color space provides almost full sRGB coverage, compared to 70.1% for Adobe RGB. This, as well as excellent color fidelity even in the factory state, is good news for those who would use a laptop for editing pictures and videos. Backlight without PVM and pretty good backlighting is even more enjoyable.
Battery
Flow X13 at ASUS has a 62 Vh battery, and the battery has a 100-watt USB-PD connection.
In terms of uptime, a lot depends on how heavy the load is: no problem with simple video, home office work, you can endure the whole working day without a charger, but if we include the dedicated GPU, after an hour and a half we have to look for an external power source. The good news about this is that it's not picky. It can even be charged from a 30-watt USB-PD powerbank, though it's slow, and the CPU / GPU won't spin at maximum speed.