Quick review: New cheap Trust GXT 834 Callaz
Dedicated to not being limited to this approach and maintaining high versatility, which allows it to offer a good user experience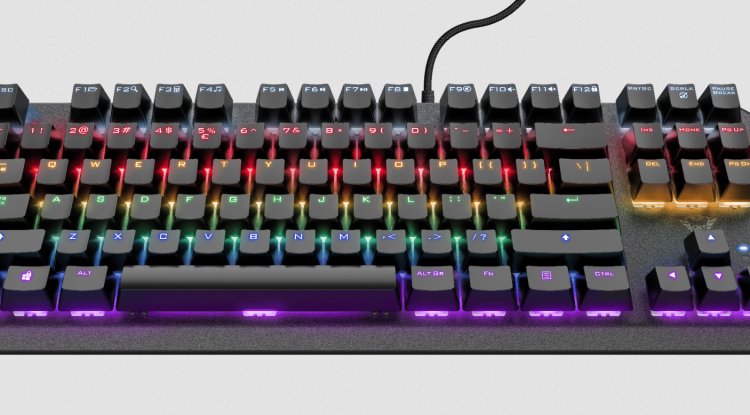 Photo Credits: Trust/Promo
The Trust continues to expand its range of gaming accessories. This brand is formalizing its new compact mechanical keyboard. The GXT 834 Callaz has TKL functionality and a very pronounced gaming side. GfK research shows that TKL and mechanical switches are the two main trends in games. Dedicated to not being limited to this approach and maintaining high versatility, which allows it to offer a good user experience. As in games, so in other tasks, including long writing sessions.
DESIGN AND FUNCTIONALITY
It is known that these types of keyboards take up less space on the table, thinking that the Trust GXT 834 Callaz is designed exclusively for the world of games. When we delve into its specifications, we realize it is not and that it is much more than just another mechanical keyboard for games. The Trust used Red Outema mechanical switches in this model, which have a lifespan of up to 50 million keystrokes and a stroke of 4 mm, as well as an activation force of 47 g.
That the Trust used these types of switches, which are linear, is already a clear indication that they opted for a playful but balanced approach, instead of focusing on absolute specialization. This position is considered being very successful as it makes the GXT 834 Callaz a more interesting solution for the average user.
GXT 834 Callaz has a distinct angle design. A very compact finish, although a numeric key is not used to achieve such a small size. The connection to the computer is made via a USB cable, and according to the Trust GXT 834, Callaz has a response time of 8 ms. Its small size represents a minimal impact on the table. This makes it a very comfortable and portable keyboard, weighing only 659g, which means that we will have more free space for other things. While at the same time we won't have to give up all the keys on the game keyboard. Attractive design and LED lighting with adjustable RGB.
This model strengthens the Trust range and is expected to increase its market share.
See video below for more information.
https://www.youtube.com/watch?v=hw2kW2KIaz0&ab_channel=TrustGaming
Specifications:
| | |
| --- | --- |
| Manufacturer | Trust |
| Type | Mechanical keyboard |
| Model | GXT 834 Callaz |
| Connectivity | Wired, USB 2.0 |
| Cable length | 1.8 m |
| Number of keys | 87 |
| Key type | Outemu Linear Red |
| Numeric keypad | No |
| Backlight | Yes, LED |
| Anti-ghosting | Yes |
| Multimedia keys | 12 via FN key |
| Win-key lock | Yes |
| Soft keys | No |
| Dimensions (H x W x D) | 35 mm x 367 mm x 137 mm |
| Weight | 659 g |