Asus ROG Phone 5: Power in action as expected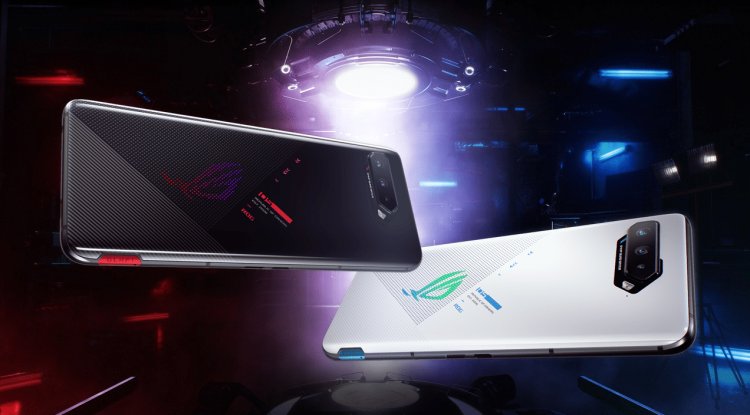 Photo Credits: Asus/promo
This phone has exceptional gaming capability and excellent performance. Elegant design with phenomenal technology solutions.
| | |
| --- | --- |
| CPU | Snapdragon 888 |
| RAM | 12GB, or 16GB |
| Storage | 256 UFS 3.1 |
| Display | 6.78-inch 1080p OLED, up to 144Hz |
| Battery | 6,000 mAh (two 3,000 mAh packs) |
| Cameras | 64MP f/1.8 primary, 13MP f/2.4 ultrawide, 5MP f/2.0 macro, 24MP f/2.45 selfie |
| Dimensions | 6.09 x 2.72 x 0.36" / 172.8 x 77.2 x 10.29 mm |
| Weight | 8.39 oz / 238 g |
| Software | Android 11 |
| Headphone jack | Yes |
| Biometrics | In-screen optical fingerprint reader |
| Price | $1,188 (converted from the EURO pricing) |
Hardware
The performance of the phone is at the highest possible level, thanks to the use of the new Snapdragon 888 chipset. It has an Adreno 660 GPU. ASUS has improved the cooling system again, on several levels. In addition to large heat pipes and increased cooling capacity, the interior of the phone was re-engineered. While on the outside it is very reminiscent of its predecessors, on the inside everything has changed. The battery is divided into two parts, which enabled the PCB to be placed in the middle of the phone, and thus the heat is harder to reach the edges, where the user's fingers and palms are most often. Unfortunately, AeroActive Cooler 5 is no longer an integral part of the package and is purchased separately. It is good to get it because of the additional function of straightening the phone. The X-mode has been re-implemented.
Battery
The 6000 mAh battery brings multi-day operation, and ASUS has implemented PowerMaster software here as well, which provides a wide range of battery adjustment options. There are charge level limiters, Slow Charging options, or activation of battery charging according to the schedule, to maximize battery life and adapt to the needs and desires of users. Natural charging 65 W! Not one, but two USB-C ports are available.
Software
Android 11 can be used in the vanilla edition or with ROG skin (this can be changed), and AirTrigger ultrasonic buttons have been improved, which help adjust custom controls and controls both in and out of games. Game Genie overlay is activated when the game starts and brings plenty of options.
There is ASUS Armor Crate control software that delivers a multitude of functions. Just like on laptops, it is used to set up and monitor the system, and from here you can put your phone into different modes in a few clicks. The lighting of certain elements (for example, the ROG logo on the back), cooling are also adjusted here. But the categorization of games is also important, so here you can get information that games support the high refresh of your phone or ROG Kunai external controller that you can also buy.
Design
The actual surprise comes as a 3.5-mm connector, which shows that ASUS has listened to its customers and their wishes. Not only is the connector tailored to Hi-Fi enthusiasts. HyperStream II QUAD DAC technology with ESS Saber ES9280AC Pro and Class G ESS Saber variable impedance amplifier was used. It automatically detects the impedance of your headphones and adjusts to get the best sound quality, and supports a range of 8 to 1000 ohms. There is a Bluetooth 5.2 connection with aptX Adaptive, LDAC and AAC support.
Camera
The main camera has a Sony IMX686 sensor. It is a 64 MP sensor with support for Quad Bayer technology, an aperture of f / 1.8, and 2 × 1 OCL phase autofocus. The ultra-wide 13 MP resolution sensor has got its autofocus in a new software update and a 5 MP macro sensor for capturing close-up subjects. Photos are rich and sharp. It is also possible to record video in 8K resolution at 30 fps, or 4K resolution at 60 fps, and stabilization is solved electronically. Pro modes for image and video, also dynamic night shooting mode. A 24 MP camera is used for selfies. ROG Phone 5 takes pretty quality selfies.
https://www.youtube.com/watch?v=7f-ZZlxDycA&ab_channel=ROGGlobal