Corinna and Michael Schumacher's ideal love story was interrupted by a terrible accident, and she has now decided on an unexpected move
Corinna Schumacher announced a documentary that will premiere in a month and spoke in a rare interview about her husband Michael Schumacher.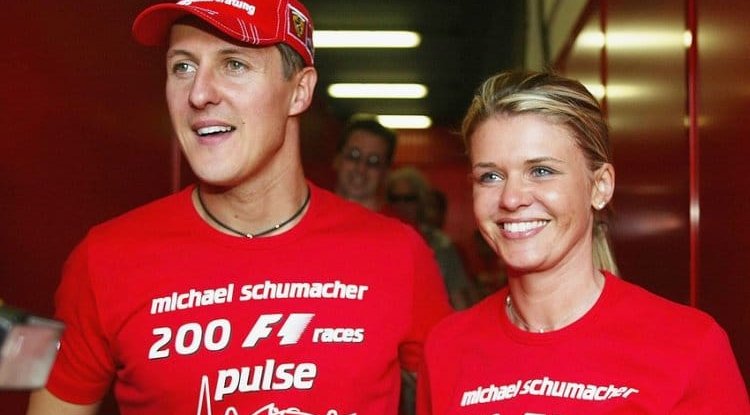 Photo Credits: Getty Images
The wife of legendary driver Michael Schumacher, Corinna Schumacher, gave a rare interview to the media as part of the announcement of an upcoming documentary about his life that will be shown in a month.
It will feature unprecedented footage, and in the released trailer, his family pays tribute to him, his strong character, and will as he continues to fight for his life after a severe accident he suffered while skiing eight years ago.
"I felt he was someone special. I think he's just mentally strong, extremely strong. And he still shows me that every day," said Corinna, who married Michael 26 years ago and surprised many with her announcement.
Apart from her, Michael's son Mick, who followed in his father's footsteps in the world of Formula 1, will also talk about him.
"When I look at him, I just think I want to be like him," he said.
The film will show the driver's incredible career, from the day he drove a go-kart as a boy to the record seventh championship and the last world championship in which he participated in 2004.
Michael's brother Ralf Schumacher, colleagues Sebastian Vettel and David Coulthard, and one of the leading people in Formula 1, Bernie Ecclestone, will also appear in the documentary. His manager Sabine Kehm described it as a family gift to a beloved husband and father.
"Michael Schumacher has redefined the professional image of a racing driver and set new standards. In the pursuit of perfection, he spared no effort for himself or his team, leading to the greatest success. To preserve his private sphere as a source of strength, he always rigorously and consistently separated private life from the public. This film will be about the abbot of the world. It is a gift from his family, to our beloved husband and father, " she concluded.
By: Olivia J. - Gossip Whispers