Cyberpunk 2077 developer wants to stay independent
As a result of the extremely bumpy launch of Cyberpunk 2077, developer CD Projekt has become a potential takeover target.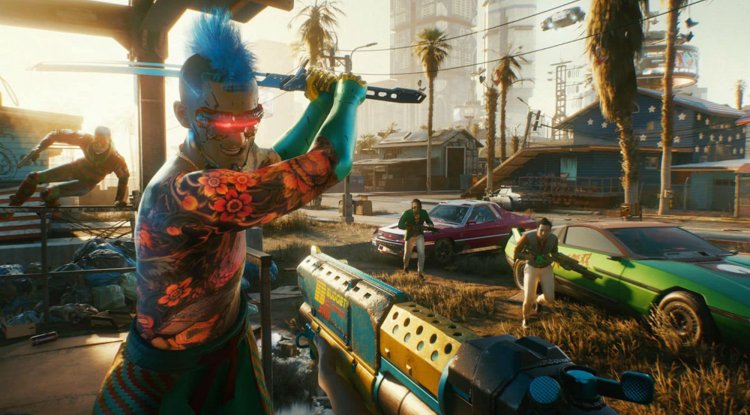 Photo Credits: CD Projekt Red / promo
Angry gamblers, stock slump, class actions: as a result of the extremely bumpy launch of Cyberpunk 2077, developer CD Projekt has become a potential takeover target. Now company CEO Adam Kiciński has stated that the Polish studio is definitely not for sale - instead, measures have been taken "to strengthen the team".
The poor launch condition of Cyberpunk 2077, especially on last-gen consoles, reduced the goodwill of CD Projekt Red by 50 percent in December 2020. As a result, the market research institute DFC Intelligence declared the Polish company a potential takeover candidate - such a loss in value was unacceptable after the release of a flagship product like Cyberpunk 2077.
CD Projekt wants to remain independent
In an interview with the Polish business newspaper Rzeczpospolita , one of the leading heads of CD Projekt, Adam Kiciński, has now denied DFC Intelligence's assessment. Accordingly, the studio behind The Witcher and Cyberpunk 2077 is not for sale.
Is Cyberpunk 2077 Coming to Xbox Game Pass?
"We have been saying for years that we plan to remain independent and not become part of a larger entity. We are also not looking for investors."
When asked whether buying shares would make a hostile takeover possible, Kiciński replied: "There are regulations that significantly hinder hostile takeovers."
In the meantime, CD Projekt Red has taken measures to strengthen the development team, according to its own statement. One would like to achieve this by acquiring other studios. In fact, the Cyberpunk 2077 developer has already taken over Molasses Flood and Digital Scapes and renamed them CD Projekt Vancouver.
Adam Kiciński:
"We are not ruling out further acquisitions like this in the future. [...] With this type of investment, we focus above all on experience and competence, and it is of great importance to us that a team fits into the culture of our group . "
CD Projekt Co-CEO was also confident about Cyberpunk 2077 towards Rzeczpospolita. They believe that the open-world role-playing game will be perceived as a very good game in the long run. CD Projekt Red has learned many lessons from the debacle and is motivated to make changes that will make the team even better in the future.