Does the cosmic price go hand in hand with cosmic quality?
First version of the Razer Huntsman was really something. Comfortable design, interesting backlight, great freedom of personalization, and new microswitches.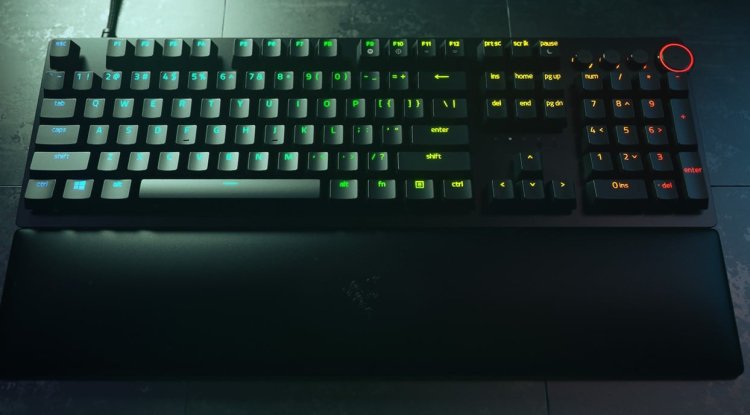 Photo Credits: Razer / promo
The first version of the Razer Huntsman was really something. Comfortable design, interesting backlight, great freedom of personalization, and new optomechanical microswitches. Three years later, the Razer Huntsman V2 tries to raise the bar even higher. Has he succeeded?
Until a few years ago, gaming mechanical keyboards were an exclusive product. Let's face it, their price could scare us quite a bit. So it is not surprising that not everyone could afford such a thing back then. With time, however, this began to change - the primacy of the only right microswitches fell, and the producers reached for their own proprietary solutions. Suffice it to say that nowadays it is easy to get confused about the types of switches on the keyboard.
Either way, the "mechanics" have become much more affordable lately, and their prices have soared. But not all of them. There are still keyboards that are not accidentally occupying the highest price range. And just such a high-end design for several years has remained the Razer Huntsman Elite, which invariably broke in the rankings of the best gaming keyboards as one of the fastest devices of this type available on the market.
In the end, however, in 2021, the American manufacturer decided that it was time to change something and the improved version of its predecessor - the Razer Huntsman V2, in several hardware versions, hit the store shelves. What has changed? Well, there is a bit of it. At first glance, however, you can see that something in our edition with red, linear switches has been abandoned. Do you remember the famous side illumination bar that illuminated the location of the keyboard around? Well, now it is gone (it is only in the most expensive Razer Huntsman V2 Analog). Razer decided to focus on much more important things this time - performance, acoustics, and feeling.
Technical Specifications Razer Huntsman V2 (Red Switch):
Keyboard type:
Mechanical
Type of microswitches:
Opto-Mechanical Switches Gen-2 (Linear Red)
Switch durability:
100 million clicks
Press force:
45 g
Distance to activate a key:
1.2 mm
Sampling frequency:
125-8000 Hz
Profile:
High
Communication:
Wired (USB 2.0)
Built-in memory:
Yes, hybrid (5 profiles + cloud)
Programmable Keys:
Yes, all of them
Multimedia keys:
Yes
Additional Features:
Anti-ghosting / N-Key Roll-over
RGB backlight (11 preset effects + the ability to create your own)
Multifunctional digital dial and 4 multimedia buttons
Ergonomic wrist
Rest Double knives - two keyboard height settings
Dimensions (W x D x H):
444.3 x 140 x 38 mm / 444.3 x 231.5 x 38 mm - with wrist rest
Cable Length:
180 cm
Weight (with/without wrist rest)
956/1198 grams
Price at the time of test publication:
PLN 799-969
Changes that are barely visible
We must admit that the decision to abandon this lower illumination in the Razer Huntsman V2 surprised us a lot. After all, the American manufacturer loved multicolored lights and pressed them almost everywhere, even into mouse pads. In fact, it did not look bad in the Razer Huntsman Elite. In fact, the glowing edges of both the keyboard itself and the wrist rest have even become its characteristic feature. Nevertheless, somewhere up there, a decision was made to "quit".
And we think it was a good thing because it gave the whole thing a much neater look. It also allowed rebuilding the foam palm rest a bit, pulling the soft pillow to its very edge. Thus, the uncomfortable plastic frames (and the backlight power connector) were removed. Of course, this is not the end of it.
If you remember the Razer Huntsman Elite or maybe you even have such a keyboard in front of you, you probably noticed two inconspicuous details right away. The first - the Razer Huntsman V2 cable does not "come out" from the center of the keyboard but from its left end. The second - the multifunctional knob finally gained a modern, much more compatible with the rest of the look.
And since we're at the multimedia section, we have to complain a bit. Why don't the buttons here have backlit characters again? Since the manufacturer has decided to change the material from which the keycaps are made (instead of ABS, we have double injection molded PBT here ), why did not these unlucky buttons be thought of as well? It's good that PBT is thicker and more durable, allowing the use of a more palpable texture, which, in addition, will not wipe off as easily as it would probably be in the case of ABS.
Like its predecessor, the Razer Huntsman V2 uses an aluminum faceplate for added strength to the overall structure. It also raises the weight of the device a bit, but thanks to 6 large "anti-skids" on the bottom, moving this keyboard even during a very exciting game is almost a miracle. Interestingly, there is also a great patent with two-step feet that raise the front of the keyboard to two different heights.
Unfortunately, the Razer Huntsman V2 also shares one of the main disadvantages of its predecessor - it does not have any built-in USB port. After all, such a solution can be found even in the cheapest mechanical keyboards. The successor to Razer Huntsman Elite improves the entire key mechanism.  
Faster, much faster. And surprisingly quiet
The heart of the Razer Huntsman V2 we tested were the second-generation red linear switches. As before, their mechanism uses a light beam to activate the button. In combination with the reduced distance to 1.2 mm, it significantly shortens the reaction time. The registration of pressing a key takes place here already at the moment of cutting this beam by a switch moving downwards.
However, Razer would not be himself if he had not added some news to it. Do you remember the fastest mouse in the world - the Razer Viper 8KHz, which the American manufacturer showed us at the beginning of 2021? Well, the HyperPolling technology used there also landed in the Razer Huntsman V2. This means that you can take advantage of a sampling rate of up to 8000 Hz, which translates into another reduction in the standard response time - this time from 1 ms to just 1/8 millisecond. It is worth knowing, however, that this is done at the cost of a slightly higher, by several percent, CPU usage.
The second really big novelty of the Razer Huntsman V2 is its mute. Yes, yes, Razer has thought about that as well. The previous "hunter" was quite loud after all. Now, thanks to the use of a special foam layer inside the housing, the specific sound of switches and stabilizers used here have been suppressed as much as possible. As a result, the unit we tested sounded almost like a high-end "membrane". Even during very intense events, it was surprisingly quiet.
Time to start the hunt
And that's it - since the Razer Huntsman V2 is a gaming keyboard, there is no better test than "taking it" to several different virtual battlefields. A good mechanical keyboard should work everywhere. It has to be fast, precise, comfortable, and hassle-free. And we should definitely have something shining here. Maybe not enough to burn your eyes out, but good, "legible" illumination of characters on the keyboard during night sessions is something that cannot be overestimated.
We know this for the autopsy because we often hit a nightmare either by playing or writing new articles. It was similar to the Razer Huntsman V2, with which we ventured into the Zeta Halo ring in Halo: Infinite eliminated Xenomorphs in Aliens: Fireteam Elite, and developed our empire in Age of Empires IV. The night gaming turned out to be quite enjoyable. The illumination of the Razer Huntsman V2 is quite subtle, but it is enough for comfortable fun. For lovers of various, multi-colored effects, Razer Synapse offers ready-made templates as well as Visualizer (which we can adjust the visualization to specific games or applications) or Chroma Studio, where we basically set everything ourselves.
Most importantly, however, there is no fault with the precision of the red switches and their speed. The Razer Huntsman V2 offers full anti-ghosting and N-Key Rollover. If we were stubborn, we could probably activate all the keys, but unfortunately, we didn't have enough fingers. Suffice it to say that when checking various configurations, we have never had a wrong button registration here.
You will probably ask now - "what about this loud HyperPolling and instant activation of buttons? It was supposed to be much, much faster. " Well, we would love to say "and is" right now, but ... we can't. After switching on the 8000 Hz sampling, you can actually see an increase in CPU usage, but apart from that, the feeling of this much faster response can be different. It is certainly not the "gamechanger" we were hoping for. But we're not some great esports scavenger that uses the keyboard so fast you can't see your fingers move. 
Although the Razer Huntsman V2 was really comfortable to play, which was largely due to the foam-filled palm rest, we cannot be completely uncritical here. Despite the removal of the plastic edges and covering the entire upper part of the pad with eco-leather, after longer, several hours of use, we still feel harder at the points of contact with our wrists. It could use a little more padding.
The creators deserve applause for the improved knob. Finally, it does not offend with its strange shape, and using it is much more pleasant. Especially if we decide to freely set the functions connected to it.
Okay, and how does the Razer Huntsman V2 perform during normal, everyday work? Well, unfortunately, it is quite average here. And this is despite the existence of a special mode that optimizes the operation of switches while typing, in which a rebound delay is added to reduce the risk of unwanted registrations from a single button press. The red switches seem to provide adequate flexibility and resistance when pressing.
Perhaps it is the fault of slightly harder keycaps, which are made of PBT material here. Or maybe the aforementioned solution that mutes the keyboard is responsible for this. Hard to say. Anyway, in terms of the writing experience, the classic blue microswitches that click strongly are much better for us.
Razer Huntsman V2 (Red Switch) - is it worth buying?
You may be surprised by this, but we will not even try to answer this question. The Razer Huntsman V2 is a keyboard from the highest price range and its possible purchase should be extremely well thought out. Yes, we get quite a lot of new solutions here that should make our fun and increase our effectiveness in games, if we really need it.
But did Razer manage to bear the burden of its predecessor's reputation and create a worthy successor? Honestly, we do not know. In our opinion, the Razer Hunstman V2 (Red Switch) is only trying to match the original. The Razer Huntsman V2 Analog is likely to take the throne, which in many respects raises the bar even higher. So why edit with red switches? Well, this is a proposal for those who love "classics" and want to feel a slight breeze of freshness at the same time. Are you one of them and have a slightly thicker wallet? Then you can think about buying this particular keyboard. You should be satisfied.
Pros
Very good workmanship,
Adequate stiffness of the entire structure thanks to the aluminum plate,
Linear, optical-mechanical switches that "walk" almost like a membrane (great soundproofing and elasticity),
Impressive speed, precision and durability (up to 100 million clicks),
Comfortable, slightly textured keys,
Additional, multifunctional knob and 4 multimedia buttons,
Hybrid memory that allows you to save settings both in the keyboard itself and in the manufacturer's cloud,
Two positions of the footrests allow you to set the keyboard in two different positions,
Extensive software and great personalization possibilities - from changing the functions of the keys, through backlighting, to creating macros,
Additional, magnetically attached wrist rest
Cons
No built-in USB socket,
no backlighting of characters on multimedia buttons,
Not always comfortable palm rest,
Not entirely comfortable writing,
No detachable cable (the TKL version has one),
A dissuasive high price