Dronut X1: drone with hidden rotors for $ 9,800
US manufacturer Cleo is asking for $ 9,800 for what it claims to be the "world's first twin-rotor" drone called the Dronut X1. It relies on two internal rotors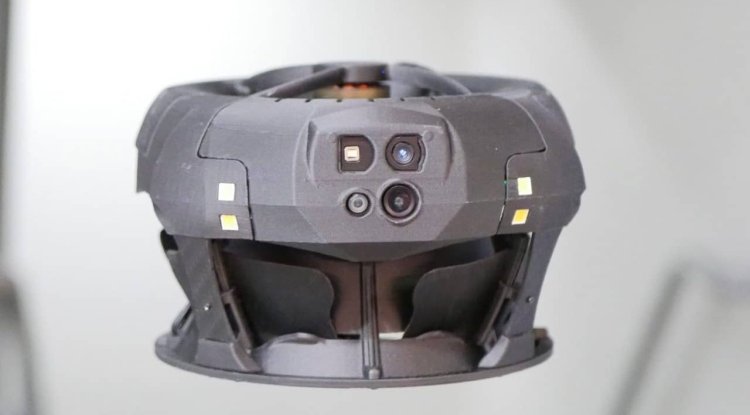 Photo Credits: CLEO
US manufacturer Cleo is asking for $ 9,800 for what it claims to be the "world's first twin-rotor" drone called the Dronut X1. It relies on two internal rotors, which, unlike most other drones, do not have any externally visible ducted propellers, making the multicopter more reminiscent of a hovering object from a science fiction film, or else a flying donut, which the name of the drone itself obviously alludes to.
The Dronut X1 is not only intended for professional applications in accordance with its price, where there is too little space for a normal drone. Due to the rather compact size of 16.5 x 10 cm, it is also ideal for flying in shafts or similarly tight locations. Despite the use of only two rotors, the flying object is quite maneuverable, as the introduction video shows.
https://www.youtube.com/watch?v=Sa6BsgTEPbI
In addition, due to the concealed structure, the rotors cannot be blocked by typical collisions and, according to the manufacturer, use close to people or safety-relevant systems should also be suitable, with a lidar sensor ("light detection and ranging") for collision detection in addition to ensure security. The Dronut X1 is now controlled via Android smartphones, while an iPhone connection is apparently (still) missing.
At 15 km / h, the maximum speed of the drone is comparatively low for a multicopter, while the flight time with one battery charge should be twelve minutes. 
The batteries can also be changed and should be fully charged in 40 minutes.
The transmission range is specified as one kilometer and there is also a 4K camera on board, which is only transmitted in HD resolution in the live stream to the smartphone. The makers of the drone behind the manufacturer Cleo come from the oil and natural gas industry, which also underlines the professional claim.