Ducky One 3 promises an incomparable typing experience
With the Ducky One 3, the provider promises an incomparable typing experience. The QUACK Mechanics design philosophy also aims to collect users who value optics, haptics and acoustics.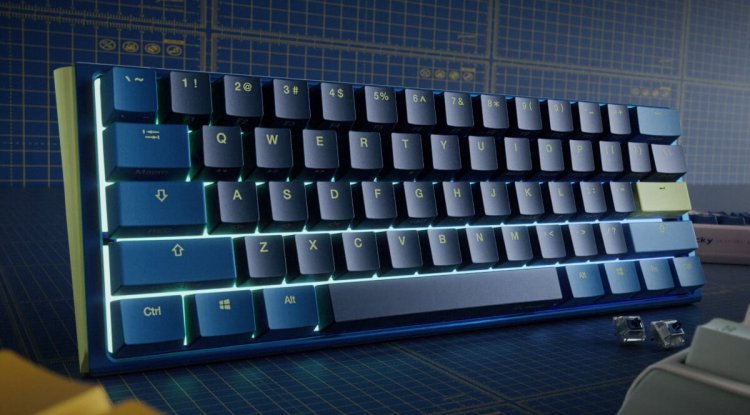 Photo Credits: Ducky
Ducky has introduced the Ducky One 3 and promises an incomparable typing experience for the keyboard. This is what they want to ensure through the in-house QUACK Mechanics design philosophy. Basically, the keyboard offers mechanical MX switches from Cherry, including the exclusive Cherry RGB Clear. The Kailh sockets allow the switches to be exchanged flexibly without the need for a soldering iron. With the Ducky One 3 and QUACK Mechanics, Ducky also wants to address customers who are increasingly placing value on the overall package of appealing optics, haptics, and acoustics. Accordingly, the philosophy includes the keycaps, the housing, the sound, and the stabilizers.
That is why all versions of the Ducky One offer 3 keycaps made of PBT. The semi-crystalline plastic is particularly popular with keyboard modders because it is resistant to abrasion. Ducky pours the keycaps out of two layers of plastic so that the key lettering should always be legible. The keycaps do not develop the gloss that is usual for other plastics, which is caused by intensive use, which means that the keyboard should look new for longer. A common criticism of mechanical keyboards is their clunkiness. The newly developed housing of the Ducky One 3 is flatter than that of its predecessor and, in conjunction with the three-stage feet, is intended to relieve the wrist. To improve the sound and typing feel, Ducky tested a total of 17 different rubber composites and selected the most suitable variant for the Q-Bounce Pad. This is combined with an additional layer of EVA foam to effectively dampen resonances when typing and hard keystrokes.
The features of the Ducky One 3 keyboards at a glance:
Keyboards in mini (60%), SF (65%), TKL (80%) or full-size form factor (100%)
Four exciting color variants: Daybreak, Matcha, Pink and Yellow
Comprehensive selection of high quality mechanical switches from Cherry MX
German key layout (ISO-DE)
Easy replacement of the switches without soldering thanks to Kailh sockets
Stylish RGB lighting with 16.7 million colors and many effects
Durable double-shot keycaps made of PBT plastic
Reliable input thanks to N-key rollover and anti-ghosting
Multi-layered muffled for a smooth sound with every keystroke
USB-C port and detachable USB connection cable (type A)
Macro and multimedia functions with double assignment
The Ducky One 3 keyboards are available from 109 dollars. The prices depend on the form factor, color, and the choice of switches.
By: Olivia J.