Special benefits for Huawei Watch GT 3 users
Huawei recently unveiled the latest product. It is a Watch GT 3 model that attracts attention with its modern design and smart features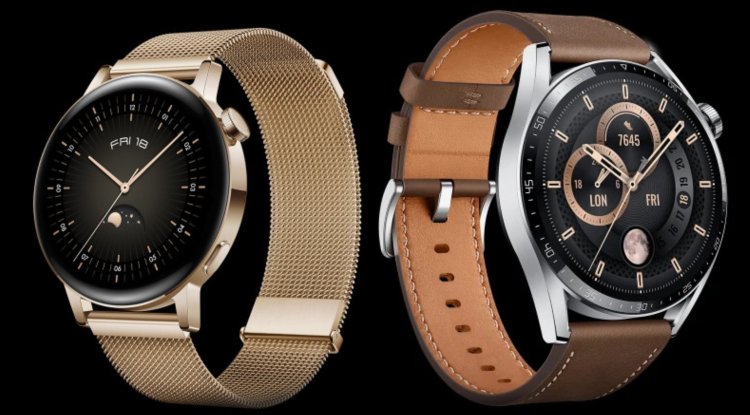 Photo Credits: Huawei/Promo
Huawei recently unveiled the latest product from the Huawei Watch GT series of smartwatches. It is a Watch GT 3 model that attracts attention with its modern design and smart features for health monitoring and exercise. Until the end of the year, Huawei offers a special benefit with the purchase of this smartwatch - the user receives two additional bracelets as a gift, and all users who buy this smartwatch by January 7, 2022, are entitled to free screen protection for 12 months.
Special offer
Users who buy a Huawei Watch GT 3 smartphone, at any authorized Huawei point of sale, receive an additional two bracelets that are easy to change. To qualify for free screen protection, users must purchase the Huawei Watch GT 3 by January 7, 2022. The free screen protection right can be exercised once, and the warranty covers damage caused by an accident, such as a collision, fall, or pressure. This special offer can be requested through the official Huawei website, through the My Huawei app, and the Huawei Health app.
Modern design
The Huawei Watch GT 3 is available in two sizes, 46mm and 42mm, and both models share a resemblance to traditional watches. Although the 46mm Huawei Watch GT 3 is slightly larger, both models are extremely light (42.6 and 35 grams) and thin, making them the perfect choice for users who are not fans of bulky accessories.
For the first time in the history of Huawei Watch GT smartwatches, users will encounter a rotating crown that allows them to easily navigate between applications, and the ability to select 10,000 different screen backgrounds will perfectly match the Huawei Watch GT 3 smartwatch with each user's personal style.
Long battery life
The user needs a strong battery to be able to rely on the wearable device and take full advantage of all the features it provides. The 46mm Huawei Watch GT 3 is equipped with a battery life of up to 14 days, and the 42mm version is powered by batteries lasting up to 7 days. As the Huawei Watch GT 3 is designed for active users who rarely rest, users are able to charge wirelessly.
Consumer health comes first
Huawei Watch GT 3 smartwatch is equipped with an advanced health monitoring system, with which the user can check heart rate, blood oxygen saturation, skin temperature, and stress levels at any time. Thanks to more than 100 sports modes, users can discover which discipline suits them best, in order to achieve the expected fitness and improve the quality of life.
Also, the Huawei Watch GT 3 is equipped with a voice reminder, which will draw the user's attention to regular fluid consumption, taking medication, and going to bed on time.
Availability and price
The Huawei Watch GT 3 is available in two different sizes, 46mm and 42mm, and each size is available in two different versions. The recommended selling price of the 46mm Huawei Watch GT 3, with metal and an Active black bracelet, is around $ 400 and $350, respectively. The price of the 42mm Watch GT 3, with Milanese gold and Elegant white bracelet, is around $350 respectively.
The Huawei MateBook 14s is also available for sale
Huawei's latest laptop, the Huawei MateBook 14s, is also available in a special offer until the end of the year. Users who decide to buy will also receive a case for a laptop and a mouse.
In addition to the Watch GT 3 and MateBook 14s, Huawei recently introduced a nova 9 smartphone and MateView GT curved monitor, which is available in two sizes - 27 and 34 inches.
About Huawei
With its products and services, Huawei is present in more than 170 countries, used by a third of the world's population, and according to the number of deliveries in 2020, the company is one of the largest manufacturers of mobile phones in the world. Huawei Consumer Business Group is one of the three business components of Huawei whose focus is smartphones, computers and tablets, wearable smart devices, cloud services, and the like. Huawei's global network is built on 20 years of expertise in the telecom sector and is dedicated to providing the latest technological breakthroughs to consumers around the world.
 "We make it possible to build a better connected world," is the motto of the Huawei Business Consumer Group.
https://www.youtube.com/watch?v=ti0gsuw-oNo