Fitbit Sense review: Accurate GPS and good battery life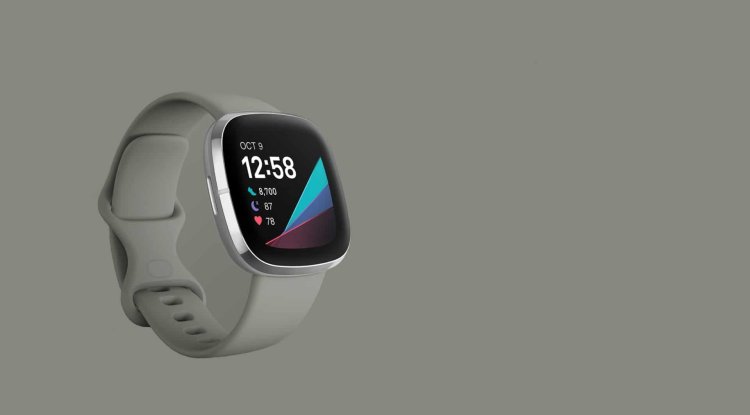 Photo Credits: Fitbit/Promo
Technical data
screen: 1.58 inches, AMOLED, resolution 336 × 336, brightness 1000 nits, Corning Gorilla Glass 3;
battery: up to 6 days battery life, charging from 10 to 80% in 40 minutes;
storage: total 4 GB, 2.5 GB for music, detailed activity data for 7 days, general information for 30 days;
materials: aluminum, stainless steel ECG ring;
sensors: ECG, stress level, skin temperature, pulse, GPS, altimeter, accelerometer, ambient light, NFC;
water protection: 5 ATM (immersion to a depth of 50 meters);
dimensions and weight: 40.48 × 40.48 × 12.35 mm, 45.9–48.2 g.
Fitbit Sense is a logical continuation of Fitbit Versa 2. The new product is made of similar materials but has been significantly improved in many aspects. The design of the fresh device uses steel and aluminum - in terms of mounting it is not inferior to the Apple Watch. The front is occupied by a 1.58-inch AMOLED screen which, compared to its predecessor, has become slightly wider. The screen is readable in direct sunlight and has good viewing angles. Yes, it has tangible frames, but they are not as big as the previous model.
Instead of a physical button, an inductive button is used on the left side of the case. Fitbit Charge 3 and Charge 4 had the same thing - they now serve as a return to the home screen. This type of management has an interesting idea, but in practice, it is difficult to call them appropriate.
The Fitbit Sense comes with a strap reminiscent of the standard fluoroelastomer strap on the sporty Apple Watch. It is not very convenient to attach it, but it looks good and practically does not collect dust. It is very easy to replace it with alternatives, which are abundant in online stores.
According to Fitbit, Sense can work for up to six days without the use of GPS - this figure can only be achieved if you monitor the functions you use. In real life, their autonomy usually reaches five days - if you activate the always on screen, it will be reduced to two. By the way, the clock is charged with a new magnetic charge - it takes about 40 minutes to fill the energy reserve from 10 to 80%.
Health and fitness
Fitbit sets the Sense as the most sporty device, not taking into account the Versa 3 - compared to this smartwatch, the novelty has three main advantages: electrodermal activity sensor, ECG, and skin temperature detection.
An electrodermal activity sensor detects stress levels. To do this, it sends weak electrical charges to the skin and monitors the level of sweating - as studies show, based on these data, a specific emotional state can be determined. Other manufacturers typically use a traditional heart rate monitor for the same task.
Fitbit Sense needs a full two minutes to determine the level of stress - such a wait is definitely calming. You need to put your hand on the front of the watch and stop moving - after that the pulse will appear on the screen, as well as the level of stress in the points: the more of them, the more restless you are.
On the test, the watch most often showed six points of stress. It's hard to say whether this is a lot or a little - the device does not give any recommendations in this regard, and this is very strange. In general, recording stress during the day based on heart rate seems more logical than manually detecting stress using a separate sensor.
It's hard to imagine a gadget that should monitor your health without an ECG. However, Fitbit did not have time to get permission to do so, so at best it will not work until October.
It seems to be a useful sensor for determining skin temperature, which can detect many diseases at an early stage - it reads indicators day and night, and also reveals the dynamics of change. If the fluctuations exceed the target level, it is better to consult a doctor - the mobile application of the clock clearly shows the corresponding graph. I would like to believe that similar sensors will appear in other wearable electronics.
The Fitbit Sense blood oxygen sensor has also not passed a medical examination, so you still can't believe its effect is 100%. Moreover, the dynamics of these values ​​in the mobile application will be available only to Fitbit Premium users - this is a paid subscription that the company has not even launched yet.
Even more interesting is that oxygen fixation is only available when a dedicated dial is used - it will not appear in the application if you use any other. Most likely, Fitbit decided to extend the battery life of the watch, but this implementation still looks strange.
The power of Fitbit is certainly monitoring the quality of sleep. Like the company's other devices, Sense detects light, deep, and REM sleep, and also gives it an overall rating of 1 to 100, depending on heart rate and other indicators. The novelty determines this value quite precisely, and there were never any problems with this function during the test.
Sense has a new heart rate sensor - it uses Fitbit PurePulse 2.0 technology with a new algorithm that should provide more accurate measurements. The screenshot below shows a comparison of the results of his work with the Garmin Fenix ​​6 Pro and the Wahoo Tickr X chest strap. in the first 20 minutes of running… Fitbit consistently overestimated the results by 3-4 beats per minute and more - this is especially clear in 37 minutes.
Overall, Fitbit Sense did a good job of determining your heart rate - even if it wasn't always accurate, the device accurately determined the peaks, and this is especially important in high-intensity interval running. By the way, the watch has a high heart rate warning function, if you are in a state of inactivity - you can set your own thresholds if you do not trust the baseline.
Fitbit today uses GPS throughout its line of smartwatches, so you don't have to run your smartphone on a run with either. In the screenshot below, the accuracy of his work at Sense is compared to the Garmin Fenix ​​6 Pro - the first is marked with a red line and the second is fixed in purple. Sense proved to be very good - he didn't get lost under the bridge, he picked up the signal, despite the dense trees. Garmin made a lot of mistakes.
Fitbit Sense takes a long time to receive a GPS signal - usually about a few minutes. The more you use the watch, the faster it happens, so the result is encouraging. In addition to the route in the mobile app, you can also see on the map how your heart rate changed while running. By the way, the watch works not only with running but also with several dozen other types of activities - the most popular ones are determined automatically.
Features of smartwatches
Despite its impressive results in the production of smart watches, Fitbit is still considered a novice. Yes, in some moments the company is showing good results, but in many, it is still in a state of catching up. This applies, for example, to work with Alexa's smart assistant - it doesn't support voice activation and only works with a limited number of commands, many more on other devices. Why does even the voice respond to a message the assistant recognizes too slowly? 
Why wasn't it introduced at launch?
The second unanswered question is that the company is asking for money for a number of opportunities that it has not yet realized. Oh yes, this year the watch will also be able to receive incoming voice calls, but it's hard to say exactly when that will happen.
Fitbit Sense comes with 4 GB of storage - of which 2.5 GB can be used for Pandora's and Deezer's music, as well as for local audio recordings. There is no support for Spotify - the manufacturer does not even promise to appear in this model.
The selection of apps in the Fitbit gallery still lags far behind the diversity of Apple Watch, Wear OS, and even Tizen - navigating through it is extremely slow and uncertain. Obviously, more productive hardware is needed for smoother operation, but the company does not reveal the hardware part of the watch at all.
No, not everything in Fitbit Sense is bad, despite all the shortcomings described above. This is a decent smart watch that accepts notifications and allows you to respond to them quickly. They work with Fitbit Pay and work great in countries where banks are supported (here's the current list). In general, the Fitbit operating system has prospects but needs to be completed. It's a shame the company isn't in a hurry with that.
Price and competitors
In American reality, Fitbit Sense costs $ 330 - the watch can be purchased in the United States in late September or October. The main rival to the gadget is the Apple Watch: the Series 6 is $ 70 more expensive, but has a certified ECG sensor and also determines blood oxygen saturation; SEs from a medical point of view are not so functional, but with all their advantages they are cheaper than the heroes of this material by $ 50.
Garmin Venu without ECG and stress-free remains one of the best offers for GPS-enabled sports - $ 30 less than Fitbit. At about the same price, the Withings ScanWatch hybrid smartwatch comes in a classic design that rivals Sense in its medical capabilities.
Fitbit Sense is better than Versa 2 in every way - if you are a fan of the brand, then it is definitely worth switching from them. It's pretty hard to unequivocally answer the version 3 upgrade - however, for the extra $ 100 you'll get a whole set of sensors that don't fully work yet. There are many promises, but paying for them today is not the most sensible idea.
All in all, Fitbit Sense is a solid fitness tracker that does its job well by implementing the main features. There's a precise GPS and a good heart rate sensor - sleep monitoring also doesn't raise questions. However, to stay ahead of the competition, the manufacturer has to do an impressive amount of work in all directions - but the gadget has too many issues and not such a small price. If Fitbit wants to compete with the Apple Watch, you need to move to the big leagues - a shame, while the company has only come first.
Pros:
design and materials;
comfortable straps with quick fastening system;
accurate GPS, determination of skin pulse and temperature, sleep quality monitoring;
long battery life.
Cons:
no google assistant at first;
does not yet have support for voice calls;
awkward button to return to the home screen;
there is no certification of blood oxygen sensors;
strange operation of the stress sensor.
https://www.youtube.com/watch?v=evRaUvw6U6I