Gaming monitor AOC C27G2ZE/BK Review
AOC C27G2ZE is one of the more affordable, gaming monitor, with a resolution of 1080p and a refresh rate of 240 Hz. sRGB score 98%.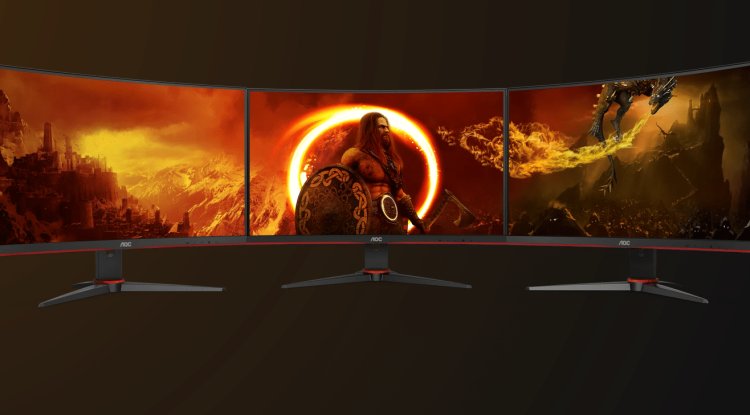 Photo Credits: AOC/Promo
| | |
| --- | --- |
| Display technology: | LED |
| Screen diagonal: | 27 ″ / 69 cm |
| Maximum resolution: | 1920 x 1080 (Full HD) |
| Panel: | VA |
| Frequency: | 240 Hz |
| Response time [ms]: | 0.5ms |
| Brightness [cd / m2]: | 300 |
| Contrast: | 80,000,000 |
| HDMI: | 2x |
| DisplayPort: | Yes |
| Adaptive Synchronization: | Adaptive Sync / FreeSync premium |
| Viewing angle: | 178 ° |
| Adobe RGB coverage: | 89% |
| SRGB coverage (typical): | 120% |
| Standby power consumption: | 0.3 W |
| Power consumption (typical): | 31 W |
| Weight: | 5.5 kg |
Tradition dictates that we always look for a fast monitor for gaming that will offer high refresh rates, low response values, and that it also supports some of the display acceleration technologies such as Free-Sync premium technology, which will provide you with a fully fluid gaming experience at top performance. .
The AOC C27G2ZE / BK is just one such monitor, this model supports an excellent 240 Hz image refresh rate with an incredible 0.5 ms response time, which means it will give every user a smoother and more fluid gaming experience. On paper, this monitor offers a lot of advantages, especially if you are interested in competitive gaming, lightning-fast reaction times and very high levels of refresh are just some of its advantages.
Overall, the monitor is at the level of the company's more affordable models. The question is, given this fact, what does this model offer us? Below this review, you will be able to read details related to design, specifications, performance and we believe that after the review you will conclude whether this model of gaming monitor was created for you.
Image display quality
In addition to a number of TN and IPS panels, the typical advantages of VA panels were immediately apparent, and this was confirmed by the results. Contrast ratio measurements have shown excellent results, and in addition, you will get very good viewing angles, which is always a plus. Compared to TN panels, VA panels offer wider viewing angles, better color reproduction, better contrast and are less sensitive to bleed (the image will not blur towards the edges of the screen).
The default brightness is 300 cd / m2, which is brighter than recommended and is solidly worn in brighter environments. Screen displays accurate colors, given an average delta E amount of around 1.54, which is very good, especially when combined with a maximum of 2.47. The gamma curve is a little out of the ideal, but the best setting is out of the box. Good results are complemented by a default white level of 6300K. This is nice and close to the ideal value of 6500K, and there is no benefit to switching to the built-in sRGB profile (color accuracy is actually deteriorating).
He will play experience
While the 144Hz image refresh rate is a visible and welcome upgrade over the standard 60Hz, some of you may be wondering if there is an obvious difference in the refresh rate between 144Hz and 240Hz. The answer is yes, there is. For example, mouse movements achieve a new level of sensitivity, with even greater fluidity, but the real question is what difference do such levels of image refreshment make in games?!
With the usual caveat that it is necessary to ensure that the number of frames per second matches, the answer is definitely yes, especially with customizable synchronization enabled. With CS: GO a lightweight game that exceeds 240 fps in 1080p, we tested the game and immediately the difference was clear. The movements were sharper and less blurry, and the whole game just acted faster in terms of reaction. While this won't make anyone a better gamer, it will certainly be a very nice experience and all in all, it will enhance the gaming experience.
Like most, the C27G2ZE has built-in overrun settings, but we think a mid-range option will give you the best balance, while a strong one will help with the problem of "ghosting" by reducing it to an acceptable level.
In terms of competitive gameplay, the AOC C27G2ZE / BK meets all the necessary specifications
The high level of refreshment is not the only ace up the sleeve of this monitor. There is also a very short response time of only 0.5 ms, which is mostly due to the VA panel, which is also curved, which is an additional plus. Support for AMD's sync technology is just the icing on the cake of this gaming monitor. As this is the ZE version of the C27G2 monitor, the stand can be adjusted in height, with four USB 3.2 Gen 1 slots for connecting some peripherals.
You have two HDMI 2.0 and one DisplayPort 1.2 available for on-screen input. The included adjustable stand is a great addition, as is the spacing in the middle of the cable routing stand.
During the sRGB synthetic testing itself, the score was 98%, which is perfectly fine for games. This screen will not win any awards for the quality of color reproduction, but it will be able to easily follow the fast action on the screen. Games like Path of Exile, Cities: Skylines, Player Unknown Battlegrounds and The Witcher 3 looked incredibly good! I was most impressed by the implementation of the FreeSync premium.
What you will definitely love about the AOC C27G2ZEBK
There are still a number of users who firmly believe that anything below 300 Hz is simply not worth considering for the gaming segment. But the point is that discussions on this topic do not take into account the advances, which have definitely happened in terms of technology, due to which gamers on personal computers now have significantly better screen refresh rate options. The thing is that today we have the opportunity to see high levels of refreshment everywhere, even if they are not exactly 300 Hz.
The AOC C27G2ZE is one of the more affordable, gaming monitors, coming with a resolution of 1080p and a refresh rate of 240 Hz. This means, provided the graphics card allows it, every game, even the latest and most demanding titles, could "spin" at more than a fluid 240 frames per second. This should of course result in a phenomenal gaming experience and this is essentially what every gamer, whether professional or casual, a casual gamer wants and expects: high levels of refreshment and excellent display quality at lower resolutions.
What you may not like about the AOC C27G2ZE
If you want something more than 1080p, the AOC C27G2ZE is just not for you. That is really the main drawback of this model, in my opinion. Because of the relatively affordable price, it is understandable why the design is not as attractive as the more expensive AOC models, nor the screen quality. But it's not that bad. In fact, it is a very solid game monitor, but it is relative. If you placed this screen next to a more expensive AOC or competitor screen, you would notice a difference when playing the same game on both boards. You shouldn't expect HDR in this price segment, but the VA display shows some limitations compared to IPS. It is also slightly darkened compared to competitors.