Mi band 6 Review: Personal trainer on the wrist
Mi Band 6 tracks 30 sports activities, and six of those 30 are capable of automatic recognition. Walking, running, running on a treadmill, cycling and rowing.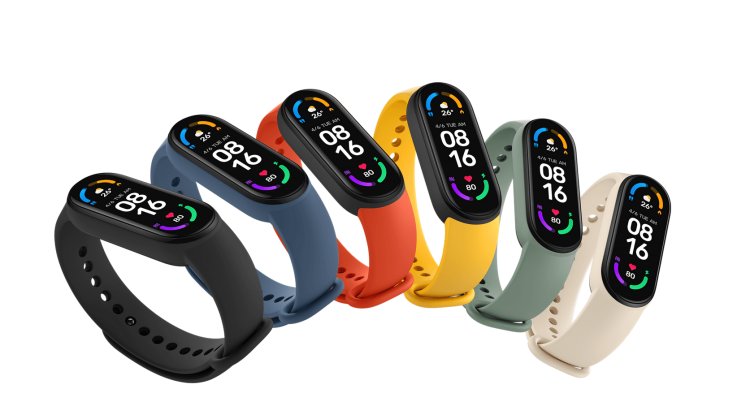 Photo Credits: Xiaomi/Promo
Mi Band 6 offers an ever larger and more beautiful screen in equally compact dimensions. It never monitors more sports activities, but even now, in COVID times, the inevitable SpO2 and even stress levels, menstrual cycles and the like.
DESIGN, ERGONOMICS AND WEARABILITY
Mi Band 6 brings a significant change in terms of the screen while retaining exactly the same design or dimensions of its predecessor. This is evidenced by the fact that the rubber strap of the Mi Band 5 bracelet is also accepted by the new Mi Band 6.
By removing the capacitive button, which I have to miss even after two weeks, they managed to stretch the screen over the entire surface of the case, which again steals the shape of an elongated grain of rice. With 1.1″ on the Mi Band 5 model, we now get a 1.56″ AMOLED screen with 326ppi at a resolution of 152×486 pixels. In short, the screen looks very nice considering that it is such a small panel.
The display is now even more readable because of its size, and the brightness level is about the same as on the Mi Band 5 model, so for readability in the sun, you will have to select the maximum brightness in Settings, which will be too strong later indoors. This is the case when there is no ambient light sensor.
The screen normally lights up automatically when a notification arrives or when you rotate your wrist. In Settings, I recommend setting the wrist rotation screen not to turn on after a certain hour in the evening so as not to wake you up while turning in your sleep.
It is protected by 2.5D anti-scratch glass and an oleophobic coating against greasy fingerprints. Since there are no openings (neither speakers nor microphones) Mi Band 6 is waterproof up to 5ATM. You don't even have to take it off while swimming. In fact, uses it to monitor your swimming endeavors.
The new magnetic charger from last year's model is also in action here, so you won't need to pull the bracelet out of the strap often except to change it. They are available in various colors. It is still a very light and comfortable device on the wrist that is not difficult to wear 24/7 and can only be removed for charging.
SOFTWARE AND MANAGEMENT
To pair with Android and iOS devices, the Mi Fit application is used, through which you then set all the key parameters. Mi Band 6 is spinning again the same Xiaomi OS intended for smart bracelets and screens like this. The plus is that it is very simple and responsive under the fingers. What is new is the interaction exclusively with gestures because those capacitive keys are no more.
Tap your finger on the screen short and long and slide in all directions. If you keep your finger on the Home screen, you will quickly choose between three stored clock layouts, and you will add new ones from a paired mobile phone through the Mi Fit app.
Swipe from left to right to step back, scroll vertically through the apps menu, and swipe left to slide between up to 6 selected shortcuts/widgets on the home screen. In addition to sports activities, monitoring of vital functions and the menstrual cycle, he also offers a breathing coach as well as some basic applications such as alarms, countdowns and chronometers.
The order in which applications are displayed can also be adjusted, so set the ones you use frequently to be on the first screen. Watchface theme is now over 60, and there are three pre-installed on the device, which are also customizable, so you can choose which information will be displayed at a glance.
Notification system
With Bluetooth 5.0, the Mi Band 6 is paired with all Android and iPhone. They will display incoming notifications and calls from these devices, alerting you to vibrations and text on the screen. You can see who is calling you, and you can silence or reject the call from the bracelet. From the messages, you can see which application it is from and the first few lines.
Mi Band 6 is equipped with an accelerometer, gyroscope and an even more advanced PPG sensor to monitor heart rate and blood oxygen saturation (SpO2). These sensors, as usual, count steps, monitor sleep quality and stress levels. It calculates steps in distance and calories burned.
It does this relatively accurately and comparably to other smartwatches on the market. The same goes for monitoring sleep quality if it means anything to you in life.
You will set a time interval in which to measure your heart rate. Depending on this, you will need to charge more often or less frequently. With such automatic continuous monitoring, the Mi Band 6 also warns of beats that go beyond the range you set through the Mi Fit app.
Keep in mind that continuous monitoring of heart rate, monitoring of oxygenation during sleep, and continuous monitoring of stress will significantly affect autonomy. There is no GPS, so you will need a paired phone to track outdoor activities, whose GPS will be borrowed for more accurate route tracking. All data from the bracelet will be synchronized with the phone and subsequently when you return from sports without the phone.
Follows 30 sports activities
Mi Band 6 now tracks 30 different sports activities, and six of those 30 are capable of automatic recognition. These are walking, running, running on a treadmill, cycling and rowing. Others need to be run manually. It happened to me though that he would report to me he thought I was riding a bike while standing in the kitchen behind the pot.
As for compatibility with other applications, it can connect to Google Fit. The battery remains the same capacity as its predecessor, 125mAh, and Xiaomi promises two weeks of normal use on a single charge. The menu lasted 8 days with continuous heart rate monitoring included. After the inclusion of oxygen monitoring during sleep, this autonomy was further reduced. Charging normally takes about 2 hours.
This Mi Band 6 is for?
Mi Band 6 is easy to recommend to all those who are looking for a comfortable bracelet that will count their steps and heart rate. Monitoring the heart rate and even the saturation of the blood with oxygen depends on how tightly the bracelet is attached to the skin, so take care of that.
The Mi Band 6 with this new display and SpO2 sensor is an improvement for those who used last year's Mi Band 5 and 4 before it. Compared to its predecessor, it is only slightly more expensive.