Asus Rog Strix Scar 17 G733QS Review
Above the keyboard is a premium 17.3" screen. This model uses a 1080p IPS board with the highest refresh rate we've seen on a laptop as high as 360Hz.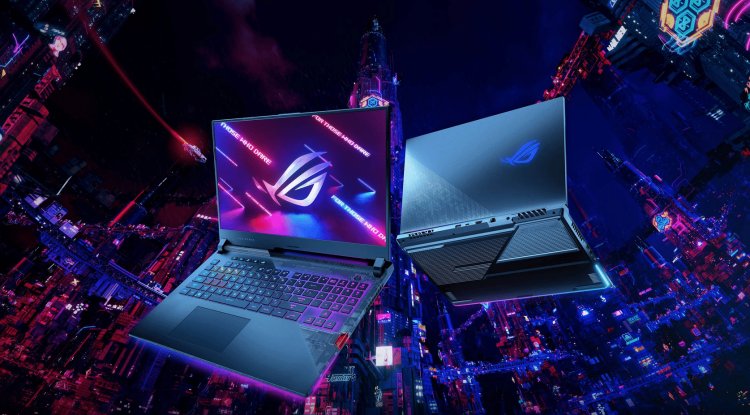 Photo Credits: Asus/Promo
| | |
| --- | --- |
| CPU | AMD Cezanne Ryzen 9 5900HX, 8C/16T |
| Video | AMD Radeon Vega + Nvidia GeForce RTX 3080 16GB GDDR6, 1545MHz boost clock, 130W TGP |
| RAM | 32GB DDR4-3200MHz |
| Storage | 1TB M.2 NVMe SSD Hitachi, 2x M.2 PCI x4 slots |
| Display | 17.3", 16:9, 1920 x 1080 pixel 127 PPI, AU Optronics B173HAN05.4, IPS, AUOE295, 360 Hz |
| Network | WiFi 6 (Intel AX201) 2×2 Bluetooth 5.0, Gigabit LAN (Realtek RTL8168/8111) |
| Ports | 3x USB 3.2 Gen 1 Type-A, 1x USB 3.2 Gen 2 Type-C, 1x RJ-45, 1x HDMI 2.0b, 1x 3.5mm combo microphone / audio jack |
| Battery | 90Wh |
| Charging | 240W, Weight 704 g |
| OS | Windows 10 Pro |
| Dimensions | 395 mm x 282 mm x 27.5 mm |
| Weight | 2.783 kg |
Features and Design
The first thing you will notice about the ROG Strix Scar is the abundance of RGB LEDs. As with previous models, the front edge has a six-zone band, and the keyboard has RGB backlighting. New for this year is the dual-zone light located at the bottom of the screen. It is a surprisingly attractive RGB LED installation that we have had the opportunity to see so far on a gaming laptop and it certainly attracts attention.
One side of the cover has a chrome-effect logo with multiple RGB LEDs, and the other has a dotted pattern that displays the ROG if viewed from a right angle. This part can also be changed because it includes several replacement plates made of chrome and black plastic that can be replaced.
Asus Rog Strix Scar 17 G733QS looks like a classic gaming laptop, but you can immediately notice the premium note of the finish, which reveals that there is very powerful hardware under the hood. On the plus side, it has thin screen bezels and a fairly affordable interior. You will need a Phillips screwdriver to remove the base, where you will find two M.2 connectors and two memory slots, although your configuration will affect how much free space there will be. Otherwise, the Scar weighs about 2.7 kg, with a thickness of 27.5 mm, which is expected for this well-built 17" gaming laptop.
The quality of workmanship is on the level. The new robust look combined with the solid metal body makes Asus durable enough to withstand frequent travel if you're on the go.
It has enough ports for all types of connections, so on the left, you have two USB 3.2 Gen slots and a headphone jack, and on the back, there is another full-size USB port, with a USB 3.2 Gen 2 Type-C slot that supports DisplayPort and 100 W electricity supply. There is also an HDMI 2.0b output, which supports a 4K monitor or TV up to 60Hz.
The only feature on the right side of the system is the Asus Keystone II slot. It is a notch that contains a small NFC device called a Keystone. When connected, Keystone can activate personalized settings, run a custom set of applications or settings, or run an encrypted storage drive.
This year's Scar also has a great new keyboard. It's one of the few laptops with opto-mechanical switches, the keys have a decent 1.9mm of travel and 0.2ms of response time, with zero break delays. It looks great, with additional buttons for changing speaker volume and fan speed, and opening the Asus Armory Crate app. It also features full-size pointer keys and a number plate.
The keyboard is great: incredibly fast, with a noticeable click. The keys respond quickly and are firmer than any you'll find on similar notebook models. This is one of the best keyboards you will currently find on any gaming laptop. It is made for long-term gaming with a declared lifespan of 100 million clicks, which is 5 times more than conventional gaming laptops.
The touchpad is 85% larger than previous generations of gaming laptops, which allows for greater precision of use. But anyone who is serious about gaming should use a real mouse instead. The keys have a moderate speed, but their click is slower and more unnatural than a normal mouse. It is located on the left side of the device, so it can be easily inadvertently activated while using the keyboard.
Display
Above the keyboard is a premium 17.3" screen. This model uses a 1080p IPS board with the highest refresh rate we've seen on a laptop as high as 360Hz, adaptive sync and a response time of 3 m / s. This kind of monitor will be ideal for any type of gaming.
The fact is, Scar's screen was great at all tasks; whether it is about playing games that are played online and which are for multiple players or those games that the player plays alone, or so-called "single-player" games.
The screen shows a top-level of quality. A brightness level of 319 cd/m2 is combined with a black dot of 0.24 cd/m2, to provide a contrast ratio of 1,329: 1, which is great for an IPS board; means you get impressive depth and shades without over-saturating the colors. The Asus screen also has a fantastic Delta E of 1.26 and a color temperature of 6.511K. Both results are excellent and ensure accurate color rendering.
The screen is also consistent: uniformity tests have shown that the panel has lost only about 5% of its backlight power in most sectors, so images will not be visibly distorted. The Scar panel displayed 97.8% of the sRGB scale, which allowed the display of almost any shade of color, without saturation. Its lighting level is very good for playing indoors, but not high enough for playing games outdoors. That would be his only flaw. But of course no one plays games in the sun.
Sound
The speakers are superb, with impressive bass, mid-range clarity and superb tones that are lively without acting like they're coming from a tube. Pairs of 4W speakers and 2W tweeters give good balance and depth, which means this audio kit will be good enough for games and multimedia, but it's also far better than most audio hardware for laptops.
Performance
The RTX 3080 of this machine uses the usual 6,144 CUDA cores and fantastic Ampere architecture. Asus has implemented a better version of the card with 16 GB of GDDR6 memory running at 14 Gbps. This model uses the RTX 3080 version with power levels between 115 W and 130 W, with Dynamic Boost 2.0 capabilities. These are hefty numbers, although the core of the RTX 3080 laptop could theoretically reach a peak of 165W.
In addition to superior graphics, this laptop also has a premium AMD Ryzen 9 5900HX processor. It is a high-end laptop chip that has an 8-core / 16-thread design and Zen 3 architecture, with a basic clock speed of 3.3 GHz, with the ability to improve up to 4.6 GHz.
The specification is rounded off with 32 GB of dual-channel memory at 3,200 MHz DDR4 and a RAID 0 array, which uses one 1 TB Hitachi SSD with the option to add a second drive. You get 1TB of formatted space with top read and write speeds of 3,602 MB / s and 3,154 MB / s, which is great for content creation and fast loading.
Connectivity comes with dual-band 802.11ax wireless, Bluetooth 5.1 and Gigabit Ethernet. The Scar RTX 3080 is certainly an impressive graphics card. In Assassin's Creed Valhalla scored an average of 75 frames per second. Far Cry New Dawn had 94 fps. In Red Dead Redemption 2 he averaged 91 frames per second, and in Shadow of the Tomb Raider he achieved an excellent 114 frames, to achieve 87 frames with activated Ray Tracing capabilities.
In the Rainbow Six Siege at medium settings and at a resolution of 1080p, the GPU averaged 235 frames per second. These are amazing results, which means that at 1080p this laptop will be able to faithfully display all the latest titles, along with Ray Tracing capabilities. Enough power to consistently play highly demanding single-player games at speeds of 60 frames per second. The speed was more than 60 frames per second when we set these games to their most challenging graphics settings. All in all, if you decide to buy this gaming notebook, know that you will be at peace with it for many years to come.
The RTX 3080 can also handle Esports games with frame rates required by the 360 ​​Hz screen, especially if you don't mind what is called "eye candy". If you want to use VR headphones and 4K displays and this laptop can handle that, you may need to lower the graphics settings a bit, to ensure consistently smooth performance. As with most Asus gaming laptops, we also have Windows, Silent and Turbo modes here.
In Performance mode, the graphics card runs at around 1,400 MHz. Activating turbo mode increases the speed to about 1500 MHz during gaming. In real terms, that small increase in speed doesn't mean a lot of extra performance; the laptop showed a few frames per second higher speed in a few games, but that was all. Windows option reduced the GPU speed to just under 1,400 MHz, which took away a few frames per second in games. The most interesting option is Silent Mode, which puts the GPU at around 1,100 MHz while playing.
If Asus isn't perfectly quiet, this gaming laptop makes almost no noise while using it, which means it's extremely quiet. What was very impressive, during our tests of games in quiet mode, Asus "spun" at a smooth 60 frames per second, which means you can play single-player games on a solid frequency frame with almost no noise. For smooth, well-balanced play, this is a great choice.
We had no problems with GPU temperatures either. At peak loads, the graphics card reached a maximum of 80 degrees, which is more than acceptable.