Asus ROG Phone 5s - DARE TO GAME
Asus ROG 5s has a nice large 6.78" AMOLED screen in FHD + resolution with a refresh rate of 144Hz, so the display is sharp and fluid.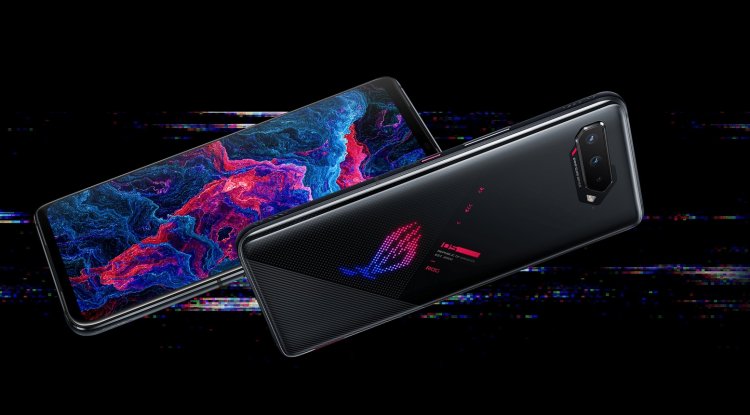 Photo Credits: Asus/Promo
DESIGN AND ERGONOMICS
Gaming phones like this Asus ROG 5s proverbially have a slightly different design that sets them apart from most other smartphones. If you are looking for something atypical, you will get it here.
First of all, the Asus ROG 5s has an unusual triple camera module on the back, a front screen with a selfie camera above it, front-facing stereo speakers and special gaming buttons on the side and two USB C slots, and its back is bright.
Premium impression in the hand is guaranteed by the metal frame and glass front and rear, but in this price segment the usual waterproof certificate is still missing.
Unlike most of today's phones, the ROG 5s has a bit more meat at the bottom and above the screen, which it used for front-facing speakers, a selfie camera and even a notification LED. The screen is otherwise pleasing to the eye with rounded corners.
On the left side of the phone, two ports are sealed by default with a rubber seal, a USB C charging port and a fan connection port, which is purchased separately. It sticks to the back and additionally cools the device during gaming sessions. On the same side down below is a red highlighted drawer for two nano SIM cards. It does not accept memory cards.
On the opposite side are the red Power button, the volume control button and the microphone hole. On that side are also two programmable gaming buttons sensitive to pressure. The index fingers of the left and right hands naturally rest on them while playing games while holding the phone in a lying orientation. In this scenario, this additional USB C port is also practical, so the cable does not matter while playing and charging at the same time.
At the top of the phone is another microphone, and at the bottom are USB C located more to the left and a 3.5mm audio jack, as another trump card of this phone.
On the back, which is slightly rounded, is an amazing triple camera module with LED flash and microphone, and below is an RGB panel in the shape of the ROG logo, which lights up while the device is in use. Through the control panel, you choose the software and the lighting method, and turn it off.
The impression in the hand is therefore excellent. ROG 5s works solidly and robustly, which is due to the considerable weight of the device. This is a big and heavy phone but again not too much so I wouldn't carry it around. It is not too slippery, and the mass is well balanced, so it can be handled with one hand.
The package also includes a special mask that protects it on the edges and makes it even less slippery in the hand. Of course it has an opening on the back to make the RGB panel noticeable.
DISPLAY
The Asus ROG 5s has a nice large 6.78" AMOLED screen in FHD + resolution with a refresh rate of 144Hz, so the display is sharp and fluid. It is flat that many will like, and the frame is a bit thicker than competing devices. The meat is here for a good reason.
Namely, given the gaming character of this phone and its main purpose, this space below and above the screen with front-facing stereo speakers is desirable here. Even the selfie camera, placed in the space above the screen, does not interfere with the display on the screen.
The color display is beautiful and expressive, the readability at an angle is very good, and the brightness is sufficient for comfortable use outdoors.
With gaming titles, you will enjoy on this screen YouTube and Netflix and other streaming services, but also ultra-smooth scrolling through Instagram and web portals.
Below the screen is a fast optical fingerprint reader, and the screen can otherwise be turned on by lifting in front of the face or tapping on it as it can be turned off. Asus did not skimp on these practical gestures that make it easier to handle with one hand.
Always ON notification display is also supported, although it also has a notification LED above the screen. It is protected by the most advanced Gorilla Glass Victus glass, and in these more than a week of use it has not received any traces.
CAMERA
Asus GOG 5s as a gaming phone does not put a strong focus on cameras, so it could be concluded that they are its weakest point. In fact, they are not so bad. It has a 24MP selfie camera on the front, which captures surprisingly good photos and decent 1080p video.
It carries three cameras on the back, and the main one is a 64MP f / 1.8 camera with PDAF autofocus. It compresses pixels by default and captures 16MP photos. Unfortunately, there is no OIS. With this camera it records and video up to 8K 30fps. It also has a 13MP ultra-wide and 5MP macro camera.
Asus' camera interface offers a handful of options, so in addition to the standard auto shooting mode with auto HDR, you'll also be able to use Night, Portrait and even professional camera and professional video. When it concludes that it is dark, Night mode will automatically enter.
Very good photos and videos are taken with the main camera. Even at night, good photos can be taken. With an ultra-wide camera, photos will be good during the day, and not very special at night. Miracles should not be expected from a 5MP macro camera, but if there is enough light, it can also capture interesting close-up shots.
Armory Crate
The most important addition to pretty clean Android is Asus' Armory Crate app, which lets you browse and run installed games and download others, monitor CPU and graphics performance and temperature, select and store predefined performance profiles, control RGB backlighting and even program gaming buttons on the side for each game separately.
In addition to standard Google apps, there are a couple of Asus apps like the Asus Data Transfer app for transferring data from another phone, the File Manager, and the Weather app.
PERFORMANCE, SOUND AND BATTERY
Top gaming performance, but also civilian ones, are provided by a 5nm 8-core Snapdragon 888+ with 16GB RAM and 512GB of data memory. The interface and the daily operation of the device are extremely smooth and bug-free. Everything works nice and fast, just the way you would want from a flagship phone.
Top gaming experience
Asus ROG 5s performs its primary function, which is gaming, flawlessly. I've tried a handful of demanding games like PUBG Mobile, Call Of Duty, Fortnite, Asphalt 9, Heroes of WW II and they all spin super smoothly with the highest level of detail and no overheating. The programmable buttons that are sensitive to pressure on the side of the device make playing shooting games much more fun. Through a special Game Genie menu, you can adjust settings, program buttons, manage notifications and refresh the screen.
With top performance, the gaming experience here is taken to an even higher level by front stereo speakers, a 3.5mm audio jack, excellent haptic response and even a USB C charging slot on the side. ROG 5S supports 5G networks, and the quality of calls did not disappoint. No trouble with either GPS or NFC. It accepts two nano SIM cards if that means anything to you.
Security is guaranteed by a great fingerprint reader under the screen, and it also has Face Unlock. Autonomy is certainly on the list of trump cards. The 6000 mAh battery guarantees over 8 hours of on-screen display during intensive use and the 65W charger charges up to 70% of capacity in 30 minutes. Up to 100% takes a little less than an hour. Unfortunately, there is no wireless charging.