Mi Smart Projector 2: Extremely practical device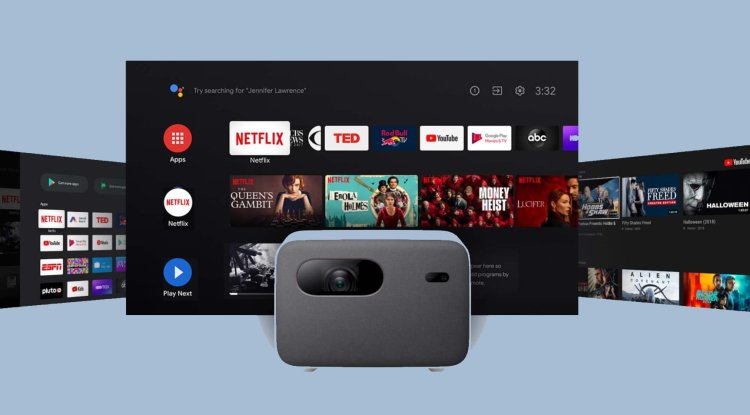 Photo Credits: Xiaomi/Promo
It's just amazing what Xiaomi has managed to pack in such a small projector case:
Mi Smart Projector 2 is an extremely practical device that is easy to find, whether you want to watch a movie in the evening, listen to music, or use it as an Android laptop. He is able to do a lot of things and we can say that he manages quite well in everything, for one compact portable device - even great.
Pessimists among us will probably say that it alienates us from reality and occupies our attention, to some extent we are right, but like everything else, it is not about things but about how it is and what someone uses them for. After all, you can drive nails with a hammer, but you can also hit your finger - not to the tool, but to the master.
Well, what someone smart has come up with for all these devices is to make some everyday things easier for us, from mutual communication, doing business, to having fun. And as time goes on and technology advances, the trend is to make devices more and more accessible to users at all times, so that they do not determine how you will use them, when, and where, but simply be available when you need them.
We see this trend in many segments, first of all in mobile phones, which often change everything from computers, TVs, cameras and more, and sometimes we use them to talk. There are also increasingly popular portable speakers, which thanks to their format can be very useful, even in some situations where it was not practical or feasible before.
Why are we talking about all this?
Because today we found a very interesting portable device that also fulfills many roles, even some that we have not had the opportunity to meet in this format so far.
Design and features
It is a Xiaomi Smart Projector 2, a very compact miniature projector which, thanks to its smart design and some useful accessories that we don't even know how they fit inside, makes a very practical device and far beyond what we expect from a projector.
This is also a Full HD projector and Android TV Box and a smart speaker, all in just 15x15x11.5cm - so much like a small Bluetooth speaker, but incomparably more capable and useful. Thanks to its small dimensions, it can be placed on a table, shelf, chair, bed, literally anywhere in the house, but also pack it in a bag or backpack and take it to a friend, even somewhere in nature if you have the right power supply.
So 10W of sound and images up to 200 "that fit in the palm of your hand, you will admit - interesting. The device itself is made of white plastic, with elegantly rounded edges, and is aesthetically very nicely designed, in a similar style as some Xiaomi home appliances, e.g. popular air purifiers.
There are ventilation openings on the lower half of both sides and the upper half of the back, where fresh air is drawn in on the side, and only lukewarm air is expelled on the back, so you can easily keep your hand on it.
The lower half of the back is reserved for connectors and we find only the essentials - a power connector via an external adapter slightly larger than the one for a mobile phone, 3.5mm headphone output, USB 2.0 port, and one HDMI which will be used for SMART capabilities.
True, the input lag is relatively high at just over 100ms, but okay, for casual gaming it can pass. At the top of the device, there is only a power button, while at the bottom there are four anti-slip rubber feet, as well as a thread for mounting on a tripod, identical to that on cameras.
The front of the projector is the only part that stands out from the white theme and is covered with a dark gray fabric that is a nice contrast to the rest of the device. It has only two openings, one in the upper right corner for the lens and one in the middle of the lower part, which resembles the front camera on mobile phones.
You will notice that there are no common aids and sliders for adjusting the focus, and the reason is the just mentioned second opening that hides the autofocus camera, which is one of the best things about this device when it comes to its practicality.
Mi Smart Projector 2 is equipped with a gyroscope that detects a change of position, whether you move, tilt or rotate the projector and automatically activates a test pattern at the projection point read by the camera, and the projector calculates the appropriate geometry and automatically applies it.
This would be a useful thing with any projector, especially one that is "designed" to be portable and involves frequent shifting. As long as you don't overdo it with the angle, the projector will display a flat image neatly, so it doesn't require too much attention when setting up - in less than a minute you're ready to watch something wherever you put it, and you can even tilt it aside if you like to watch from the lateral-lying position.
As for the projection system, it is an LED light source and DLP technology, and we must admit that this is the first model where we did not notice the main drawback of the DLP model in the form of the rainbow effect, perhaps due to the use of the additional blue channel, in addition to three standard RGB. which is there to enhance lighting and color reproduction. The brightness is declared at 500 ANSI lumens and that is also the weakest point of this model, although expected considering the small dimensions.
The projector is strong enough to display a beautiful image in the dark or semi-darkness, but it is still limited in a well-lit room. In relative darkness, the contrast and reproduction of colors are very correct and it is quite nice to enjoy a movie without feeling like you are missing something.
The size of the projected image can be in the range of 40 to 200 ", or from about a meter to as much as 5 meters diagonally, but the optimal range is between 60 and 120", or up to about 3 meters.
The projection looks good on smaller diagonals, ie very close to the wall, and on large projections, the focus is not a problem, because Full HD resolution becomes a limiting factor. You already know that many TV users complain that 720p channels look bad at 55 and 65 ", and here we have Full HD on a practically 3x larger diagonal.
Fortunately, the nature of the projector is such that it doesn't matter as much as it would on TV, so if you don't expect a perfect picture from a mobile projector and are more interested in the movie and the large format viewing experience, we believe you will be satisfied.
The processing is basic and there is no MEMC motion processing, so the display of movies at 24 frames per second is not as smooth as on MEMC models. Also, decoding HDR10 content is supported if you play a file from a USB drive e.g. but Youtube will always play the SDR format, even with videos recorded in HDR.
Probably the most pleasant surprise when it comes to the Mi Smart Projector 2 is the sound, which we absolutely did not expect from such a small box. When he roared during testing and recording, no one assumed that the sound came from the projector, because the sound quality is approximately at the level of a better portable Bluetooth speaker of this size, and this is a device whose primary purpose is not there is a complete projector and additional electronics next to the speakers.
Indeed, the fact that this device is not that we have no complaints about the sound, but it seems surprisingly convincing, with very decent frequency response. The low frequencies are relatively uniform volumes up to about 90Hz, after which it drops to about 60Hz, which is also the lowest that the projector is able to play, but this is enough to make music and movies sound convincing enough and you do not feel the need for an external sound solution.
In terms of volume, 2x5W of power is roughly a realistic condition, which means that the sound is loud enough for the average room and watching as long as you are at a reasonable distance from the projector, up to some 4-5m e.g. As for the sound image, it is not impressive as expected because the sound comes from one point, but Dolby processing is implemented which should improve the impression of spaciousness, with predefined modes for music and movies and settings to improve dialogue and virtual surround sound in User mode. which are also the only settings available in the menu.
What completes this device are its SMART capabilities since Xiaomi has managed to accommodate Android TV in version 9.0 with all Chromecast in the case. This allows you to watch Youtube, Netflix, or anything else that comes to mind, and is available in the Google Play Store directly from the projector without connecting additional devices, but also to e.g. send a picture, video, or sound from a mobile phone directly to the projector via WiFi.
There are a huge number of applications at your disposal, including great Android games, which work correctly on hardware consisting of an Amlogic Quad Core processor at 1.4ghz with Mali-450MP graphics, 2GB of RAM, and 10GB of storage space. Of course, it is also possible to connect gamepads via Bluetooth, so the projector can even serve as a complete Android console.
The interface of the system itself is a classic Android TV with a line for installed applications and content suggestions for watching from various video services, and all settings are integrated into the standard menu with Android settings. Access to this menu is the only major complaint we have because to change anything related to picture and sound, it is necessary to return to the home screen, go to the menu, make a change, and then return to the application you used or HDMI entrance.
It would be nice to have one button on the remote control to call the menu, but this is not the case, but the remote is completely simple, like the one that comes with the Mi Box S Android box, with quality but few buttons, including those for adjusting the volume, Netflix, calling the main screen and returning to the previous one, as well as the direction keys and the button for calling the voice assistant, which of course works in our language.
The presence of a voice assistant actually assigns this projector the role of a smart speaker, such as e.g. Amazon Echo, but in Google version, so it is possible to issue commands to control smart devices in your home.
Final impressions
All in all, the Mi Smart Projector 2 is an extremely practical device that is easy to find, whether you want to watch a movie in the evening, listen to music, or use it as an Android laptop. He is able to do a lot of things and we can say that he manages quite well in everything, for one compact portable device even great.
https://www.youtube.com/watch?v=O8ZnOWw2cI4