Geforce RTX 3060 Ti: Palit Color Pop in the style of a chameleon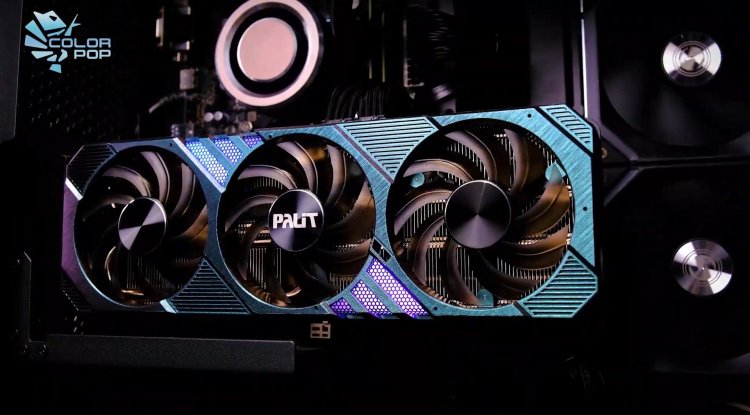 Photo Credits: Palit ColorPOP/Promo
November 29, 2021 at 3:41 pm by Benjamin Gründken - Palit has presented the Geforce RTX 3060 Ti Color Pop with an interesting color concept. Depending on the lighting conditions and the angle from which the graphics card is viewed, its color scheme should change. So it is hardly surprising that a chameleon is used as a brand logo.
If moon prices were no longer due for graphics cards, availability would be better. One might think that Palit would find it difficult to get its products to the people. And that a concise design would now have to fix it. In fact, the graphics card market has not relaxed to this day. Against the background, the presentation of a graphics card is often only a minor matter. Even if manufacturers give them an unusual coat of paint, as is now the case with the Palit Geforce RTX 3060 Ti Color Pop.
Palit explains: "The Palit Geforce RTX 3060 Ti Color Pop has a unique metallic finish in 'Cosmic Latte' that fits perfectly into any PC case. Depending on the viewing angle or the incidence of light, the colors appear in Chameleon Green, Electric Blue and Ultra Violet, which creates a real wow effect. " Of course, the manufacturer is not neutral in such matters. In the end, the customer decides which design fits into the overall picture and how well.
Palit Geforce RTX 3060 Ti Color Pop: chameleon look with no surprises under the hood
Especially since "only" standard food is apparently waiting for him under the neat disguise. According to Palit, it can be up to 1,665 MHz, which corresponds so far to the reference design. Even with the memory bandwidth of 448 GB / s, the gamer does not expect any surprises. The manufacturer specifies the TDP of the Geforce RTX 3060 Ti Color Pop as 220 watts, with two 8-pin connectors providing the energy.
In this country, we have not yet been able to see the Palit Geforce RTX 3060 Ti Color Pop in stores. Since Palit already has a German product page up and running, players will probably not be kept waiting much longer. Provided, of course, that the manufacturer provides sufficient contingents. The GPU newcomer shouldn't be a bargain either. You currently have to pay 883 euros or more for a Geforce RTX 3060 Ti, while Nvidia's MSRP is not even half as high at 399 euros.
It remains to be seen whether Palit will bring further graphics cards from the Color Pop series onto the market. An OC version of the Geforce RTX 3060 Ti Color Pop would be conceivable, for example, but there would be nothing against the use of other GPUs.