Gigabyte U4 UD Review: Productivity In Motion
Intel Tiger Lake UP3 platform, a combination of good performance and energy savings. Intel Core i7 1195G7 processor with 4 cores and 8 threads...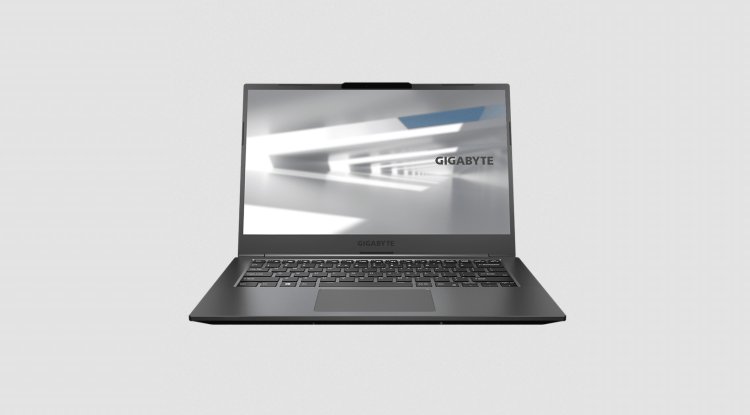 Photo Credits: Gigabyte/Promo
A large number of people still work from home, and among them, there are many who, for various reasons, after a while realize they can not concentrate on work in these difficult working conditions... Such work habits require a suitable business tool - you guessed it is a light and productive notebook computer, and as if they tailored it to the mold of the mentioned requirements is our today's test device - Gigabyte U4 UD, lightweight 14" notebook with a strong business side.
That "fourteen-inch" notebooks are definitely in trend is also shown by their frequent testing. There is almost no brand that has not delivered or offered us its vision of business or even gaming notebook solutions in this class.
Gigabyte U4 UD - design and features
What makes the Gigabyte model stand out and why this particular model should be shortlisted for the ideal lightweight notebook. First, because it suits all the previously described situations, and if you have recognized yourself and your needs, here is a serious candidate.
First of all, it is extremely light, which in combination with a low profile of only 1.65 cm creates a feeling of above-average compact and with its 990 grams, extremely light feeling under the arm while moving. It is amazing how 5mm and 500 grams thinner and lighter the case produces a better feeling at hand. In addition, it is 32 centimeters wide and less than 22 centimeters deep. The lightweight metal case is actually made of an alloy of aluminum and magnesium. At the same time, it is firm and flexible, and very durable to the effects of the constant movement and carrying.
This statement is supported by the fact that he passed rigorous tests according to military standards that simulate stressful working conditions in an environment of high-temperature oscillations, high humidity, the presence of dust and sand, salt fog and high altitude. So all that much more, which you can meet on a family or business trip. Let's mention by the way that the dark shade of graphite paint in combination with the finely granulated surface is quite resistant to dirt and bruises.
The "Antigler" screen is a piece that deserves praise. With measured brightness of 450 and more threads, it gives an above-average bright image, while with the content it can easily work in "native" 1920x1080 resolution with 100% display of the Windows operating environment. So, without additional magnification and effective reduction of the user desktop, which is an important detail on such a small diagonal of the screen. Static shots are sharp and clear, this screen refreshes to 60Hz and has noticeably thin side frames of only 4.5mm with a screen coverage of 83%. The top strip is a bit thicker, especially in the part of the extension where the webcam lens, light sensor and a pair of microphones are located. The screen hinges can be opened at an angle of 180 degrees and display the full sRGB color palette.
The disadvantage is certainly the 16:9 format, which results in a thick bottom strip, and there is also a noticeable "ghosting" effect on objects when displaying video content with fast scenes. In general, the screen is, regardless of previous incidents, a good one and definitely one of the key reasons for purchasing this very notebook computer, so pay attention to this detail when choosing similar ones.
Classic shape and regular lines are best for such thin and light computers. The 14" standard means that the device does not use the numeric keypad, so the keys on both sides are surrounded by free zones with a perforation print and a discrete Gigabyte logo. The keyboard is good, with "chiclet" keys and a solid membrane mechanism, resistance that gives good feedback under your fingers. There is also a white backlight with intensity adjustment in a few steps, and it is also water-resistant so that accidentally overturning the glass will not lead to a breakdown of the device. The touchpad is a standard size and centrally positioned. The computer does not have a fingerprint reader.
The choice of hardware that is the heart and soul of this notebook fell on the Intel Tiger Lake UP3 platform, a combination of good performance and energy savings. It consists of an Intel Core i7 1195G7 processor with 4 cores and 8 threads, and a maximum frequency that is close to the limit of 5 GHz. Integrated Intel Iris Xe graphics core in a version with 96 executable units. On the same silicon is a chipset that is connected via OPI (On processor interconnection) but of relatively limited flow, bearing in mind that this is an energy-saving device.
The processor, as practically the only significant heat generator, is cooled by a classic cooler in combination with heat pipe technology and a mono centrifugal fan that expels warm air in the right part of the case. It is interesting that it does not use openings for suction of fresh air, but has the role exclusively of pushing heated air out of the housing.
The CPU and the first M.2 SSD with a capacity of 480 GB are connected to the 4th generation 4x PCIe line with a direct bus. The computer also has an additional slot for M.2 SSD this time connected to the chipset via PCIe x4 3rd generation bus. It is equipped with 16 GB of DDR4-3200 memory configured in dual-channel mode. 8 GB is soldered directly to the PCB while an additional 8GB is installed in one SO-DIMM DDR4 connector, which is also the maximum RAM capacity that the processor can address.
He is obviously ready to deliver maximum performance at the start. It always surprises us when traditional PC component manufacturers present their laptops because they are almost as a rule perfectly configured and achieve better performance than traditional laptop brands. They definitely know the knowledge gained in the optimization of basic components and use it extensively in the case of portable devices, which you will see later in the graphs of performance.
In addition to the mentioned hardware, there is also support for the fastest standard of network connection - WiFi 6 based on the Intel AX201 solution, which comes with the mandatory Bluetooth in the package, this time in version 5.2. The computer intentionally dropped the LAN port due to its slim silhouette and ultrabook philosophy.
The sound is average and comes from two standard side positions shifted towards the user. It is at the level of the average for the class of notebook devices. If you want multi-channel DTS quality, it is inevitable to use headphones or a better quality active speaker system.
When it comes to connecting to external devices Gigabyte U4 offers two fast 10-gigabit ports one USB-A and one USB-C both 3.2-second generation and both grouped on the right side of the device. The USB-C port provides support for Thunderbolt 4 devices with a throughput of as much as 40 Gbps, then a connection to a large monitor via mini DP and can also be used with the Power Delivery function for charging mobile devices that draw up to 35W of power.
On the other hand, there is another, slower USB-A 3.2 first generation, then a 3.5 mm audio connector, followed by a slot with a microSD memory card reader with which Gigabyte targets creative users to work in the field when you need to quickly view photos and clips from the camera. After that, we touch the power button with an extremely unusual, but definitely position that we liked. Like a tablet and a 2-in-1 laptop.
The option of using a dedicated AC adapter to power the device and charge the battery, rather than a USB-C model, is highly debatable. Indeed, the latter would be more suited to the highly mobile nature of the device and the ability to share it with phones. This way, it is not possible to charge this notebook with the help of a mobile charger, even those stronger than 45W, because it requires a voltage of 19V and a current of 3.45A. Maybe you can find a newer one stronger than 65-100W, so give it a try, we mostly didn't succeed, and Gigabyte would definitely have to take care of this practical detail.
The built-in lithium-ion battery has a capacity of 36Wh, so the measured autonomy of 2h and 21min at 80% screen brightness, WiFi connection is off, slightly less in line with the more modest battery capacity. It takes the charger about 55 minutes to an hour to fully charge the battery. When working on the max performance profile and 100% of the screen brightness value while charging the battery, the rectifier draws a maximum of 65W of electricity.
Gigabyte U4 UD
- performance
In terms of performance, Gigabyte has demonstrated its mastery of platform tuning and driver optimization, giving it a speed advantage over similar notebooks in the compact fourteen class. In some tests, the application was even ahead of much better-known notebook models such as the Thinkpad Edge or the recently tested Acer Triton 300 SE, of course in the part of tests where only processor power and an integrated graphics adapter are used. Only the Gigabyte U4 in these tests showed a more concrete advantage of 10 and more percent in terms of almost identical or similar platforms, which is to be commended.
He was very fast and agile in the so-called office type, MS Office applications, less demanding programs for processing photos, video and sound, but very useful in more serious image processing applications such as Photoshop and Lightroom Classic.
It is also capable of providing good entertainment in Battle Royal and MOBA titles with an average of about 60 and more fps at Low settings. It is a pity that the very good and bright IPS screen does not have HDR support, because then the impression of playing and watching movies, but also processing photos, would be even better.
When in "performance" mode, the built-in fan knows how to turn and become partially audible - we intentionally use this adjective, not noisy. This is necessary because the cores are accelerated to maximum turbo frequencies of 4.9 GHz and then forced cooling is required as the processor temperature rises to a level of 95-100 degrees Celsius. If you choose a better balanced, quiet or energy-saving mode, the laptop is noiseless and extremely cool.
Key Features
Windows 11 Home, Windows 11 Pro
11th Gen Intel® Core™ i7 / i5 Processor U-Series
Intel Iris Xe Graphics
Light: 990g, Thin: 16.5mm
Support Thunderbolt™ 4 High-speed Transfer with PD Charging
14.0" Thin Bezel FHD IPS-Level Anti-glare Display
Military Standard (MIL-STD) 810G Tests Passed