Jiushark M.2 Three: Tower cooler with optional fan for M.2 SSDs
Jiushark has released a new cooler for M.2 SSDs. The tower-style M.2 Three from PC component maker Jiushark has a height of more than 8 cm and may be equipped with a fan. According to the manufacturer's cooling performance table, the M.2 Three reduces temperature by more than half.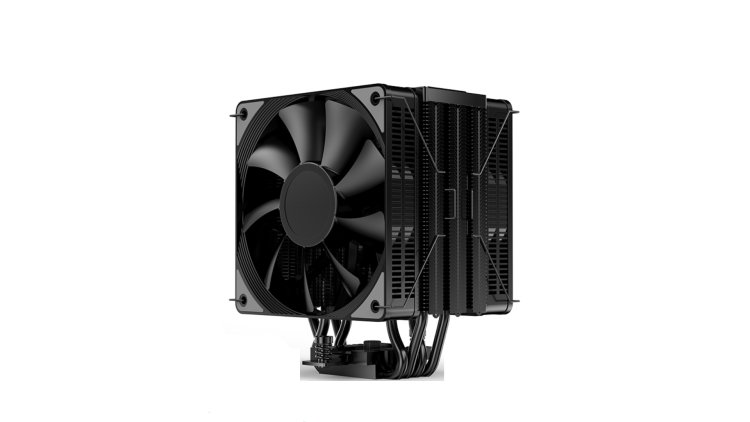 Photo Credits: Jiushark/Promo
The current tendency is for M.2 SSDs to become warmer, especially with the arrival of fast PCI Express 5.0-capable M.2 SSDs, such as those that will accompany AMD's future Zen 4 processors.
Adequate cooling systems, which are increasingly being supplied with an aluminum tower, are suitable for this. Take, for example, the M.2 Three from Jiushark, a Chinese company.
The SSD cooler measures 82 mm high, 74 mm long, and 24.5 mm thick, according to the manufacturer. A fan can be installed on both sides of the cooler, increasing the thickness to 35.5 mm.
Jiushark offers a 6610 fan with a diameter of 60 mm for the M.2 Three. It should also be able to revolve at 3,000 rpm, have an airflow rate of 23.8 m3/h, and produce up to 25.4 dB(A) of noise.
The M.2 Three is a tower-shaped aluminum block with 27 fins and pre-applied thermal paste, as stated. In addition, a single heat pipe runs through the cooler's fins, which have a nickel and copper coating. A stainless steel holding mechanism is also included to secure the cooler in the proper position.
The SSD cooler, on the other hand, is light: the M.2 Three should weigh 113 grams, which is fairly small in comparison to a tower CPU cooler, which can weigh more than half a kilogram.
Jiushark also includes a cooling performance chart for reference. The three bars represent the states of the M.2 Three, one fan-cooled and one passive, i.e. without a fan, next to an uncooled SSD, which in Jiushark's test is a 980 Pro with 500 GB from Samsung that should act at an ambient temperature of 25 degrees Celsius.
Post by Bryan C.