New and Upgradeable CD Player from Ayre Acoustics
Ayre's new CX-8 CD player may easily be modified with two modules for USB hi-fi and streaming capabilities.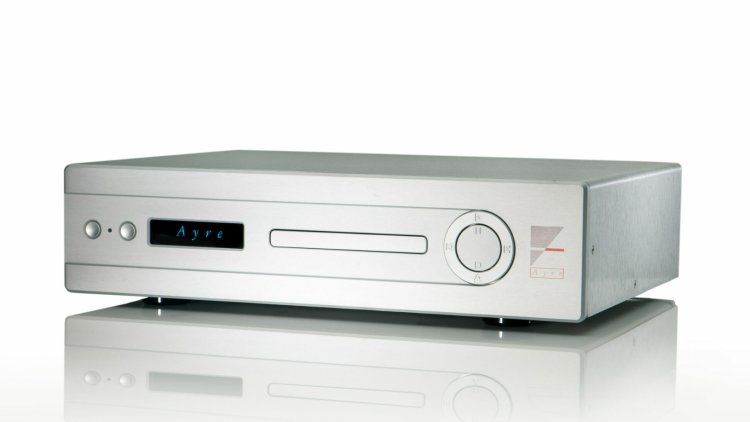 Photo Credits: Ayre/Promo
Ayre Acoustics, based in Colorado, has released a new modular CD player. The CX-8 belongs to the "Series 8" and, like all Ayre devices, is fully balanced to achieve low noise.
Unlike its predecessor, the CX-7, the CX-8 does not feature a Burr-Brown DAC chip, but rather an ESS Technology ES9028Q2M.
In addition, alternative modules for the fall have been announced, which would allow the basic version of the player to be modified to incorporate a USB audio input as well as network streaming.
To enhance signal processing, Ayre's developers created their own minimum-phase digital filter, as they do in all of their current D/A converters.
This filter is considered to have one significant advantage: it eliminates pre-ringing, an artifact that appears as a brief "pre-echo." Nonetheless, post-ringing is unavoidable; however, the manufacturer claims that it has been greatly reduced.
Because of its great dependability and low noise, the totally encased TEAC CD drive was chosen from among several dozen variants. Ayre also claims that it has a long lifespan because it was utilized in the previous generation CX-7.
Ayre plans to provide two extra modules for the CX-8, which can be retrofitted, beginning this fall. The first is a USB audio input, which allows the inbuilt DAC of the CD player to be used with a music server or computer.
The second module transforms the CX-8 into a full-fledged streamer, capable of playing music from a local server, TIDAL, Qobuz, and other streaming services using the Mconnect Control app, which is available for iOS and Android.
According to reports, the network option will also make the QX-8 compatible with the sophisticated music player and management software Roon.
The basic version of the CX-8 is now available in Germany in silver or black for $6180.
Post by Bryan C.