KEF Blade Meta and KEF Reference Meta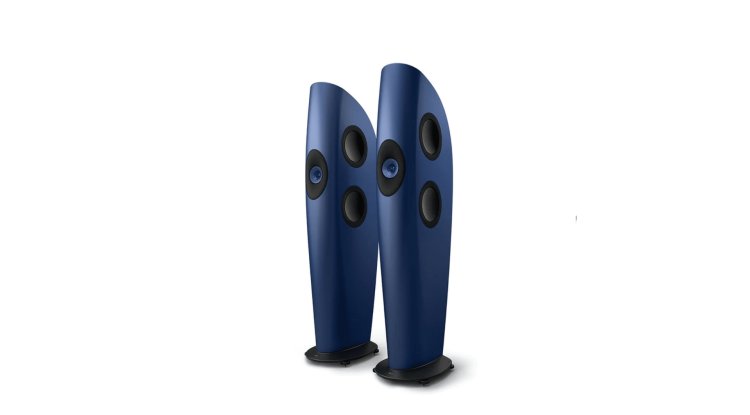 Photo Credits: KEF/Promo
For more than 25 years, the British loudspeaker manufacturer KEF has been experimenting with special damping materials that are supposed to increase the volume by increasing the surface area. The British have now resumed this approach under the GPA umbrella and patented it under the name MAT. And recently they have the so-called META absorbers, which look like a labyrinth and can also reduce sound energy quite efficiently through a wide variety of resonance chambers. Now came what was inevitable: the two top speaker series have been brought up to the latest acoustic standards and are now called KEF Blade META and KEF Reference META.
What exactly KEF has changed here is not clear from the flowery announcement. But we recently tested the LS50 (in the current meta version) and compared to the original LS50 we were able to see a number of advances in the direction of greater precision, greater looseness, and naturalness. And if KEF has already managed to make such progress with a compact speaker, then it will probably be even easier to get ahead in terms of sound with such complex constructions as a Reference or the two Blade models.
With the conversion to "Meta", of course, some adjustments had to be made, especially in the crossover circuit. Because if MAT actually works like previous KEF absorber materials, then the housing increases in size by several percent. This is good for the bass, but of course, it has to be taken into account in the tuning. And the META absorption in the tweeter has so much effect that you may have to adjust the tweeter.
Be that as it may: The KEF Reference series and even more so the two Blade models were absolute exceptions when they were launched. One can be pleased that they have now been brought up to the latest acoustic standards.
Five finishes are available for the KEF Reference META, each representing a combination of three cabinet colors and five driver diaphragm colors: Sat in Walnut/Silver, High – Gloss White/Blue, High – Gloss White/Champagne, High – Gloss Black/Grey, High - Gloss Black/Copper.
Bei KEF Blade Meta (One + Two) Eight finishes are available, with five housing colors combined with six driver membrane colors: Piano Black/Copper, Piano Black/Grey, Frosted Blue/Blue, Frosted Blue/Bronze, Charcoal Gray/Red, Charcoal Gray/Bronze, Racing Red/Grey, Arctic White/Champagne
Suggested retail prices : (pair)
Blade One Meta: 39. 500 dollars
Blade One Meta (Custom Colour): 44.000 dollars
Blade Two Meta: 29.000 $
Blade Two Meta (Custom Colour): 32.700 $
Reference 5 Meta: 22.500 $
Reference 3 Meta: 15.500 $
Reference 1 Meta: 10.000 $
Reference 4 Meta: 8.500 $
Reference 2 Meta: 6.500 $
S–RF1 Standfüße: 1.400 $
The availability of the new Reference and Blade models will start in March 2022.
https://www.youtube.com/watch?v=eF9fl7_23eo