Luxury solar-powered catamaran with fully automated wing sail
ZEN Yachts is building its flagship solar electric catamaran, the ZEN50, to order from the US. It will be equipped with luxury features including two galleys, a state-of-the-art fully automated wing sail, and SpaceX's Starlink internet.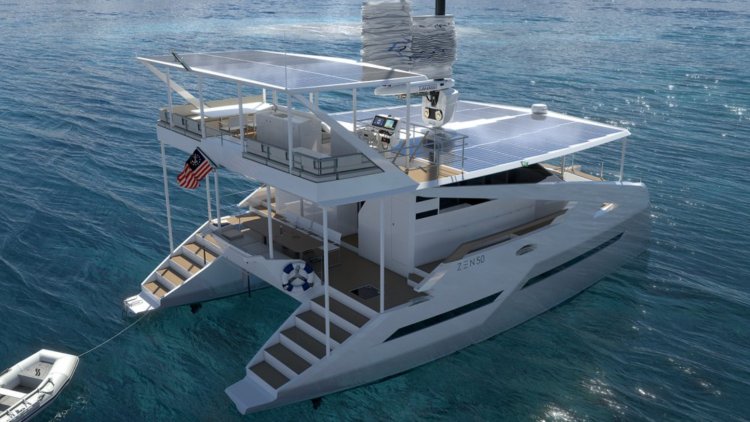 Photo Credits: ZenYachts/Promo
ZEN Yachts stands for Zero Emission Nautic Ltd. The company was founded in 2021 and is registered in Malta. To support the popularity of zero-emission yachts, it combined wind propulsion with electric propulsion.
The ZEN50 electric yacht for 12 passengers is equipped with 2 × 40 kW brushless DC motors, powered by a 160 kWh lithium battery. This is supported by a full roof of solar panels that offer peak power of 16 kW, allowing the ZEN50 to sail at a speed of 4.5-5 knots (8-9 km/h) using only the energy of the sun.
The electric propulsion system is supported by Ayro's Oceanswings OWS 3.2 hydrofoil, making ZEN the first mass-produced leisure vessel to feature this fully automated hydrofoil technology.
Combined with an e-motor, the ZEN50 can reach a maximum speed of 14 knots (26 km/h). In continuous sailing, the hydrofoil and solar panels combine to provide a speed of 6-10 knots (11-18 km/h).
The all-carbon catamaran is light enough to be completely energy self-sufficient with a 1:1 ratio of solar energy and displacement (16 kW/16 tons).
In addition to the drive, the ZEN50 can also be equipped with other zero-emission technology, such as a diving compressor, an electric surf (e-foil), or an electric water generator.
In the interior of one of the ship's several hulls, the captain and passengers will be able to relax on two large sofas, in three dining areas, several cabins with their own bathrooms, and a lounge.
To stay in touch with the world during long sea trips, the ZEN Yacht will include Starlink satellite internet from SpaceX. Delivery of the first solar electric sailboat is expected early next year.
Post by Bryan C.