New era for Marantz – Model 30 Review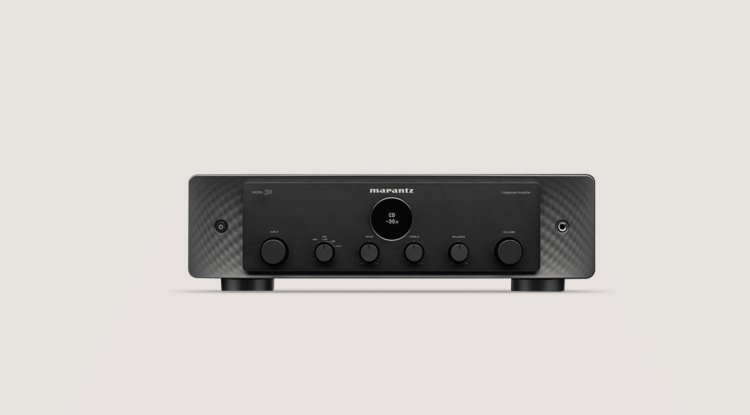 Photo Credits: Marantz/Promo
The tagline "Modern Musical Luxury" is intended to replace the old slogan "Music Matters," and it is accompanied by a drastic design overhaul. You could immediately start a debate about every detail of the associated advertising and design – or you could give the new generation of gadgets, which was developed under the parent company Sound United, a fair chance and examine everything from a distance with calm and serenity.
We started by placing the "Model 30" on a table, inspecting it from all sides, looking at the first photos and interior shots, and testing the haptic feel. We set it to the correct phase, let it play in, tested it in our lab, and listened to it thoroughly. You can always judge quickly, but you shouldn't.
Design that is appealing
The amp also looks great from behind, which could be due to the speaker terminals – Marantz's own design, which was used for the first time in the "10" premier series – as well as the precise layout of the connection field. The "30" series appears prestigious, modern, and classic all at once – but not incredibly expensive so, which means not out of reach. The haptic quality is not overstated; it had to stay within the realms of possibility. With this series, Marantz also decided to return to the previous naming convention of "Model" and adapt it to a modern context.
As a result, it passed the first visual inspection with flying colors. The front panel of the metallics is in a "carbon" style popular both for racing cars but also for premium products of all kinds. Backlit is the control panel, which is set off like a bay window. The otherwise timeless, symmetrical, and modestly simple design is a pure understatement, creating an unobtrusive, self-evident eye-catcher in the living room in either black or silver.
Of course, the related CD/SACD network player SACD 30n looks the same. What may the amplifier be missing? Perhaps the level control should be much larger. If it had been placed in the center, it would not have disrupted the desired symmetry – but it might have given the impression of understatement, of subtle elegance. It would have also reminded me of other brands. No, the design is actually extremely well done, especially as the "porthole" screen offers access to both older and more recent Marantz milestones.
Pricing that is ambitious
Both the inbuilt amplifier and the CD player, which features the unique and Marantz-exclusive "Marantz Musical Mastering" and is capable of playing HD recordings from DVD as well as CD and SACD, are priced at $2,999.00. To accomplish this, the signal routing was purposefully constrained to being imbalanced. Symmetrical circuits have theoretical advantages in terms of signal-to-noise ratio, but they also need double the number of components and appear to be unnecessary in hi-fi systems with cable lengths of a few meters in comparison to professional equipment.
In a media briefing, Oliver Kriete of Marantz Europe just giggled in response to a question regarding the amplifier's power output – after all, it's around 15 kilograms heavy – and remarked, in the Rolls-Royce tradition, "sufficient." That is correct because the amplifier should have a powerful enough "motor" to handle practically all duties. Previously, this meant you had a Class AB amplifier in front of you, but this new model includes a far more energy-efficient Class D power amplifier stage. Marantz didn't make this decision lightly, and happily, it doesn't claim that Class D creates superior sound in general.
However, the results with the Hypex amplifier modules in Series 10 and 12 were so excellent that they wanted to utilize them in the "Series 30" as well - and we were assured that no compromises were made in terms of sound quality. Class D is expected to be on par with what Marantz has delivered in the past with this technology. The Hypex-500 modules totally overcome the greatest shortcoming of Class D technology, that the impedance is dependent on the frequency response – in contrast to the largest Marantz models, one per channel is employed here.
The frequency response is linear and broadband, falling softly only when approaching 100 kHz, whether open or at 8, 4, or 2 ohms. In addition, the amplifier module has outstanding transfer data (noise, distortion, damping factor) and significant impulse reserves. In fact, the measured output power is more than 170 watts at 8 ohms and 280 watts at 4 ohms per channel, with an impulse power of 330 watts! It's an understatement to say it's "adequate." In terms of power supply, Marantz employs a potent switching power supply for the power amp and an enclosed toroidal transformer, or linear power supply, for the preamp.
At its finest, phono
The Marantz engineers, led by veteran Rainer Finck, also equipped the "Model 30" with a phono preamp that should be capable of taking on separate phono pres. The input stage with JFET is a solid piece of work by the developers, while the subsequent HDAMs are a pure expression of Marantz's DNA. In addition to the conventional functioning of MM cartridges in the three stages Low 33/Mid 100/High 390 ohms, the DC-coupled phono pre allows fine adjustment to MC cartridges with varying output impedances. Preamplifier outputs make connecting subwoofers or bi-amping easier, and the direct input to the power amplifier does the same for use in home theaters, for example.
You can hear the effort
The power sources for the preamplifier and the two power amplifier units located directly at the speaker outputs are fully independent. Marantz even mentions two independent products in one box, as well as the benefit of keeping signal pathways as minimal as feasible. In fact, the signal path from the amplifier output to the loudspeaker connector is stated to be only 10 mm long, allowing for a 1300 amplification factor. As a result, the new Marantz generation is packed with superlatives. Marantz has such faith in their own engineering that the warranty period was promptly extended to a full five years.
https://www.youtube.com/watch?v=VnqOFiA7JKM
The Marantz sparkled with the promised strengths in the listening room, a sense of liveliness, flow, and melodic deliciousness, which is always accompanied by a type of "inner harmony." The latter is literally true for every Marantz device, regardless of decade, and it results in never getting annoyed when listening to this amp for an extended period of time.
Fine spirit, color, details, a large, multi-faceted stage with swing, as well as steep pressure down to the lowest notes, are all given by this amp (on top of the prior characteristics), thus boredom should never exist for a second.
This amplifier breathes esprit, elegance, and power, defining it as a true Marantz. A fantastic, modern integrated amp with the recognizable Marantz DNA! Unquestionably, the generational shift has been successful.