Nvidia: Battlefield 2042 two hotfix drivers ready
The 496.76 WQHL, which actually started as a game-ready driver for Battlefield 2042, has already received two optional hotfix drivers.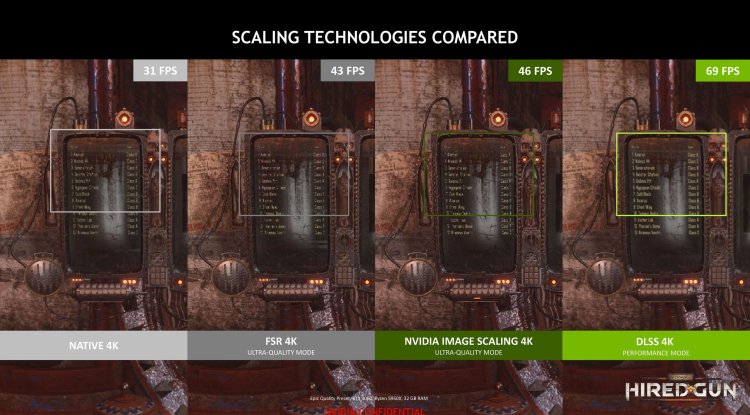 Photo Credits: Nvidia
On November 16 We reported on the Geforce 496.76 WQHL driver, which was primarily marketed as a game-ready driver for the Battlefield 2042 shooter. Unusual for Nvidia: Two optional hotfix drivers were subsequently released, 496.84 and 496.98, but they do not solve any problems in BF2042.
Geforce driver: What problems do 496.84 and 496.98 solve?
The focus of the hotfix improvements is namely Nvidia Image Scaling (NIS), which was also started with the 496.76, but not exclusively. NIS, which emerges from Nvidia Image Sharpening, is no longer just a pure sharpening algorithm, but a spatial upscaling process in the style of FSR. Compared to its competitor from AMD, NIS should stand out due to its better reconstruction and more efficient shaders. However, the new tool caused problems for some users.
On November 16. already the Geforce Hotfix version 496.84 appeared, which mainly dealt with one problem. For some users, no image scaling resolutions were displayed in the game after a new installation or an "over-installation" over version 496.49. On November 24th Nvidia then followed up with the 496.98. Games on Geforce GTX 750 Ti were not started correctly even after 496.84 if NIS was activated. That should now be a thing of the past. But there were also the following fixes:
[YouTube]: The YouTube website randomly displays extreme contrast / gamma values ​​while idling or while playing video.
[Notebook]: On some Optimus notebooks with 1440p / 165hz panels, a black screen can be displayed in discrete GPU mode.
Using Adaptive Vertical Sync with G-SYNC enabled may result in an accidental black screen.
[Red Dead Redemption 2 / Doom Eternal]: The game crashes with a timeout error or the system crashes while the game is running.
Nvidia always points out that its hotfix drivers are beta versions, "which are optional and are provided without defects". However, they go through a "greatly reduced QA process". The only reason they exist is "to make them available to you faster". The contents of the hotfix drivers are also available in the next WQHL driver.
Did you have problems with the Geforce driver 496.76 WQHL? Use the comment section and let us know what you think.