POCO X3 Pro review - Good for gamers
This LCD also has a 120 Hz refresh rate and 240 Hz touch response. It is protected by Gorilla Glass 6 protective glass and on a 6.67" diagonal.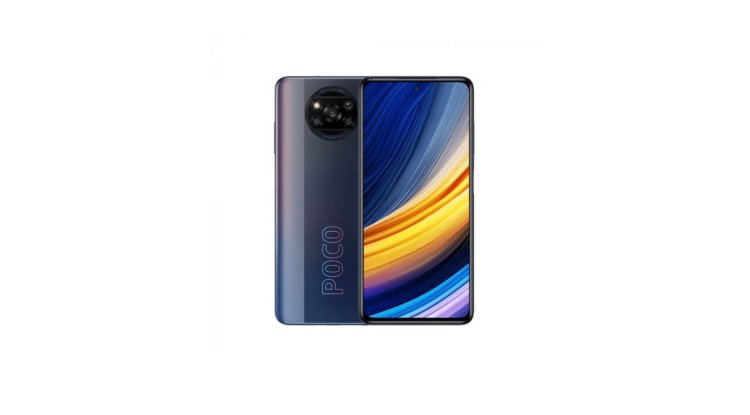 Photo Credits: Poco/Promo
So of these old components, it should be noted that the Poco comes with a 33W fast charger in the package as well as a silicone mask, an old LCD screen with a 120 Hz refresh rate, an old 3.5mm headphone jack and old stereo speakers. We should not forget the micro SD card slot with which you can expand the memory very conveniently.
Design, housing and ergonomics
This Pro model is relatively large. The 6.67" diagonal screen just couldn't fit in a smaller case. Theoretically, it could have been a little less considering that it has a tad bigger border around the screen than, say, top models, but we can still say that the screen is stretched from edge to edge, and most importantly - toothless. At the top is a centrally located small camera hole, just below a very harmoniously integrated headset inside which hides one of the two speakers, but also a notification LED that we have all forgotten a bit.
Below the camera is a large POCO. The fingerprint reader is located on the right side of the case under the volume control buttons and is just within reach of your thumb. At the bottom, in addition to the USB-C slot, main speaker and microphone, you will also find a 3.5 mm headphone jack. On the left side is a slot for two nano-SIM cards and expandable memory. We should not forget the IP53 certificate either. It does not guarantee that the device will be nothing if it falls into the water, but it instills great confidence that it will survive accidental watering in the bar while lying on the table.
Screen
It is a very good LCD, and its only drawback is that visibility in the sun may not be suitable for watching series on the beach. As long as it's a lighter background when it comes to texting or surfing, you won't have visibility issues even in such conditions. In addition, if you choose sRGB color display mode, you will get a very accurate display, good viewing angles and decent contrast.
This LCD also has a 120 Hz refresh rate and 240 Hz touch response, which is nowadays the standard that only top models are proud of. It is protected by Gorilla Glass 6 protective glass and on a 6.67" diagonal it delivers a resolution of 1800×2400 pixels, resulting in a density of 395 ppi. It's not the sharpest we've seen, but it's quite decent for this rank.
Hardware and performance
The main trump card of this device, or the reason why you would buy it before Redmi is its processor. This is the new Snapdragon 860 powerful. It is an octa-core processor, practically a slightly modified Snapdragon 855. It comes with one powerful gold Kryo 485 core nailed at a maximum of 2.96 GHz, three more gold Kryo 485 cores at a maximum of 2.84 GHz and four more economical silver Kryo 485 cores at 1, 78 GHz. The graphics part of the job is done by the famous Adreno 640. True, a two-year-old graphics chip, but much more capable even than the newer ones built into many other devices in this price range.
In addition to a great foundation for the future in the form of a powerful processor, there is 6 GB of RAM and 128 GB of internal memory, which you can further expand with memory cards. Depending on where you buy this smartphone, you could also find a 256 GB version that comes with 8 GB of RAM. If you don't mind stretching a bit on that model, and considering all the hardware, that combination will probably serve you well for a few years.
Stereo speakers are neither the loudest nor the best we've heard, but they're great for this price range. First of all, you get stereo sound, and secondly, they are loud enough that we really have nothing to complain about. The Poco X3 Pro also has a 3.5mm headphone jack, which is something we always love to see. Not only that, but also infra-red which serves as a universal remote, and as we are told in the comments, some have it set up for the whole apartment and do not even use classic remote controls at all.
Camera
The main camera has 48 MP, and behind the f / 1.8 aperture there is a 1/2" sensor. Relatively large for this price range, but not as spectacular as the 1 / 1.52" Redmi Note 10 Pro. So the resulting photos are slightly lower quality than those on Redmi, but still very decent for this price range.
Surprisingly, the photos have less unwanted sharpening that otherwise adorns Xiaomi's devices. This is the primary reason why I didn't need the Google Camera app on this device. The photos just turn out very good as long as we have decent lighting conditions.
When night falls, they will also need to use the night mode of photography, which will greatly help in such situations. The photos turn out a little worse than on Redmi, but roughly expected for this price range. We may have expected a bit more than the whole device leans towards class more, but obviously, the line had to be drawn somewhere. It should be noted that the night mode on this device is also available on the ultra-wide 8 MP camera. It can't be used that way on Redmi, and we're not sure for what reason. This camera is a bit more modest, but it serves a purpose just when you need it, in tight spaces or when you want to get a broader perspective. The photos are expected to be of lower quality than those captured with the primary camera, but we were still quite satisfied.
We have another 2 MP macro camera, handy to capture a few small details, but personally, I would not rely too much on its capabilities. The tele-macro camera from Redmi is at an incomparably higher level and if you are interested in macro photography, then Redmi is definitely a better choice. This one is more so that you can brag about having it and that the hump on the back looks more powerful, just like the 2 MP depth sensor that should help create a fake bokeh effect.
When it comes to video recording, you can already see a significantly higher level of image sharpening. Anyway, the video is recorded in 4k resolution at 30 frames per second and is even relatively decently stabilized, which was not the case on Redmi.
Battery, autonomy and charging
Xiaomi has managed to push a 5160 mAh battery into the Poco X3 Pro, which even today few devices can boast of. This huge battery combined with the LCD screen gives relatively different results than the Redmi with similar capacity and depending on how you use the device you will remain either satisfied or delighted.
If you are a person who watches movies, series or any video for a few hours a day, chances are tha-t the LCD screen will serve you worse than AMOLED, which is significantly more economical in such cases. Still, if that's not a big part of your daily routine, and it boils down to practically everything else, chances are this device will serve you even better than Redmi.
If your battery percentage drops too low, you will be grateful for the antique packaging that this device comes in, and it includes a 33W fast charger, capable of charging this device from 0-100% in just an hour and 15 minutes, sometimes even 5-6 minutes faster. This depends on the room temperature and the number of notifications received in those hours, but in any case for this price range, fast enough. In 30 minutes it will come to approximately 55%.