Razer's ultimate gaming products
Razer has once again garnered much of the attention of professional media and visitors to this year's CES in Las Vegas with its two concepts.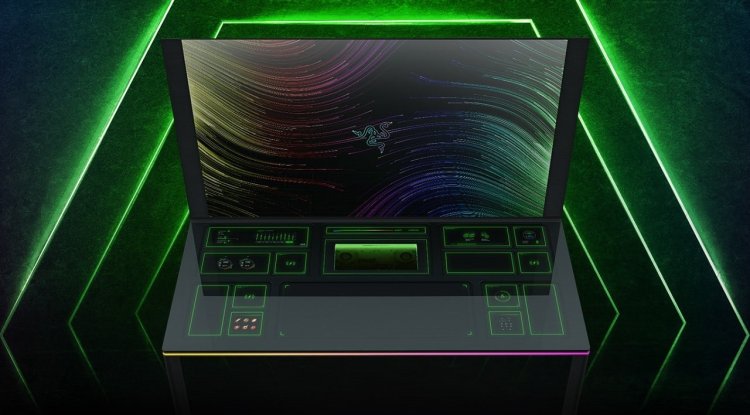 Photo Credits: Razer / promo
Razer's Project Sophia and Enki Pro HyperSense concepts show us the future of PC gaming.
Razer has once again garnered much of the attention of professional media and visitors to this year's CES in Las Vegas with its Project Sophia and Enki Pro HyperSense concepts, with the intention of showing us what PC gaming we can expect in the near future, though not yet we will be able to really buy.
Project Sophia
Project Sophia is the first fully modular gaming desk that can be adapted to all types of games (and players), thanks to the option to install 13 separate modules that offer gamers fantastic personalization options in terms of screens, controllers, keyboards, application control modules, systems monitoring system performance, secondary screens, and tablets, as you can see in this video:
https://youtu.be/JjS7w75LsM0
Thanks to the modular design, all components can be reconfigured in a matter of seconds in countless ways, to make the setup best suited to your wishes, needs, and habits.  
"The Sophia project is our futuristic vision of a multi-purpose gaming system and workstation setting that meets the very different needs of users to use computers," said Richard Hashim , Razer's vice president.
"A modular system that can be changed in seconds allows users to quickly reconfigure their desktop with almost infinite flexibility, tailoring Project Sophia not only to the task but also to the user's specific preferences. This is the future of the battle station. "
At the heart of the Project Sophia concept is a custom motherboard with high-end components, including Intel's latest 12th-generation processors and Nvidia's graphics processors.
To maximize desk space, it's all housed in a thin case that magnetically snaps under the table's glass panel, which can be just as easily detached to install new components, allowing the user to quickly create the system needed for each task.
The table can of course be equipped with a complete Razer Chroma RGB LED lighting system and comes with the next generation of OLED screens.
Enki Pro HyperSense
Okay, now you have the ultimate battle station for PC gaming, but you also need an adequate chair for it. Razer has partnered with D-BOX, a specialist in various haptic technologies, to create the Enki Pro HyperSense, an advanced gaming chair that will take your gaming sessions one step further.
The chair, based on the design of the popular Enki Pro "gaming seats", features a haptic feedback unit to provide the most authentic and realistic feedback while playing, and also integrates a Chroma RGB headrest that allows users to personalize their chair when using it, such as you can see in this video:
https://youtu.be/H8FAvCkuIHs
In other words, thanks to this chair, you will literally feel the game on your body, and at its base is built a fantastic electromechanical motorized system that can shake you and lean towards the events of the game. 
Razer says the chair isn't limited to gaming, but will give you an extra layer of immersion when watching media content, and supports almost all popular video and music streaming services.
Enki Pro HyperSense, with 65,000 haptic variations, has tactile feedback of +/- 1 G and can create 1.5 inches of vertical and rear tilt in your seat. Real-time synchronization ensures that all feedback is delivered immediately, with a response of up to 5 ms.
As we said, the big question is whether we will ever see these products in stores, but Razer was obviously having a good time preparing for this year's CES to draw all the gamers 'attention to itself. And it works in style again.