Realme GT2 Pro - Realme first flagship phone
The 6.7-inch Realme GT 2 Pro screen is one of the most promising elements of this new flagship. The 2K AMOLED flat screen is based on LTPO 2.0 technology...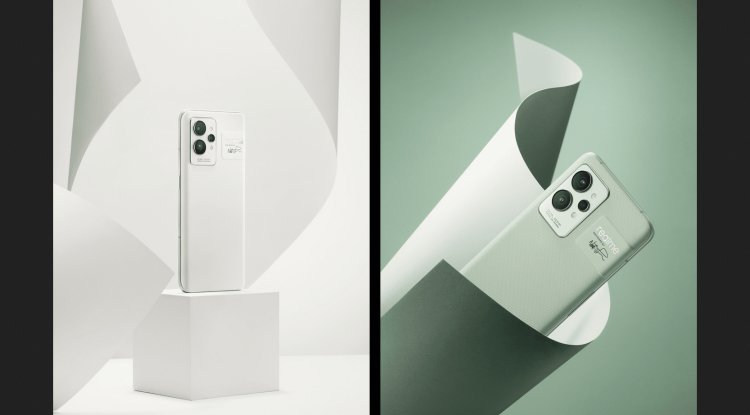 Photo Credits: Realme/Promo
MWC 2022 in Barcelona just started this Monday, February 28, and Realme has lifted the curtain with the official launch of the Realme GT2 and Realme GT2 Pro. The Realme GT 2 Pro is the first full-blooded flagship smartphone manufacturer that should mark a major change in the company's strategy.
Just keep in mind that it has more or less the same specifications as the Realme GT2 Pro, and those are the paper effect design, the 5000 mAh battery, the Realme UI 3.0. The differences are that it has an AMOLED E4 screen of 120 Hz (not 2K AMOLED) and a Snapdragon 888 5G SoC (not a Snapdragon 8 Gen1).
With the GT2 Pro, Realme is no longer joking and intends to offer a premium Android smartphone without the slightest concessions, at least on paper. This is obviously a premium strategy than for the first Realme GT, which was released last year and reminds us a bit of a certain OnePlus.
New, innovative material design
The Realme GT2 Pro comes in three colors: paper white, paper green and titanium blue. Why "paper"? Since the manufacturer collaborated with industrial designer Naoto Fukasawa on the development of a polymer coating from biological sources "based on the concept of paper art". In particular, after 12 months of research and 63 prototypes, Realme managed to get a shell made of a sustainable composite. ISCC + certified material (which ensures material traceability, basically the IP Sustainability Index).
This LNP ELCRIN material from SABIC is derived from waste or biomass residues. It mimics paper, is lightweight, but also reduces the carbon footprint of the Realme GT2 Pro by two kg of CO2 per kg of bio-based copolymer.
But the Realme GT2 Pro isn't just about sustainability in terms of design. The manufacturer also wants to ensure better durability of its components and, accordingly, the performance of the smartphone. That's why the Realme GT 2 Pro includes a larger heat dissipation area that allows up to 3 degrees of cooling to maximize the performance of its Snapdragon 8 Gen1 SoC. The cooling space is built with a brand new 9-layer cooling structure with a stainless steel (VC) steam chamber. Knowing the tendency of high-end Snapdragon chips to overheat, this temperature control system is obviously not superfluous.
Super Reality LTPO 2.0, 120 Hz, 1400 nits and 10-bit compatible display
The 6.7-inch Realme GT 2 Pro screen is one of the most promising elements of this new flagship. The 2K AMOLED flat screen is based on LTPO 2.0 technology which should allow the device to offer a more precise variable refresh rate, between 1 and 120 Hz. Realme also debuts with GT 3.0 mode to increase the touch sampling rate to 1000 Hz for gaming, which is quite impressive.
The Realme GT2 Pro screen also supports 10-bit color depth and offers a maximum brightness of 1400 nits. Keep in mind that the color depth level can reach 1,024 shades of red, green and blue, for a total of an impressive 1.07 billion colors.
The Realme GT2 Pro screen is protected by Corning Gorilla Glass Victus glass. Anyway, with a 2K definition of 3216 x 1440 pixels and a density of 525 dpi, the specifications of the Realme GT2 Pro screen have all the features of a top Android device.
Triple camera module with the first ultra-wide angle of 150 °
The Realme GT2 Pro has a triple rear camera module with a 50 MP wide-angle Sony IMX766 main lens, a 50 MP ultra wide-angle Samsung JN1 lens with a 150 ° field of view and a 40x micro-lens.
The 50-megapixel main camera lens features Sony's top-of-the-line IMX766 sensor, like the OnePlus 10 Pro, with omnidirectional PDAF and OIS at all pixels. The IMX766 has optical image stabilization for photos and electronic image stabilization for videos.
In addition, the Realme GT2 Pro includes, according to its manufacturer, the world's first ultra-wide-angle lens with a 150-degree field of view, and Realme also offers a fisheye mode to take advantage of a wide FOV, significantly wider than the 120 ° average. offer high-end smartphones in general.
Finally, the x40 micro lens camera allows users to take microscopic photos. Realme promises that this version 2.0 offers 4x depth of field, which guarantees better image focus, much sharper images and even easier focusing.
No 200W charging, but up to 4 years upgrade
This was one of the most anticipated features of this Realme GT2 Pro after rumors of 200W charging technology surfaced just before MWC 2022.
The Realme GT2 Pro has a 5000 mAh battery and accepts 65W SuperDart wired charging. The company today announced two new charging systems of 100 and 200W UltraDart, but the first to use the new charging technology will be only the Realme GT Neo3 model, at 150W.