Redmi Note 10 Pro Review: Impressive display
Impressive and spacious screen with stereo speakers are a guarantee of great experiences in multimedia, movies, music and games.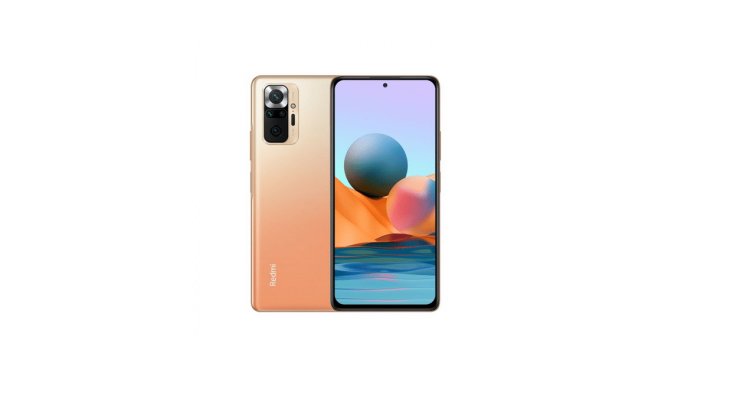 Photo Credits: Xiaomi/Promo
Fans of phones with large screens and attractive designs, Redmi Note 10 Pro will hit just that. The design language is most similar to that of its closest cousin, the Redmi Note 10, which comes in a more compact case with a smaller screen. Here we have a sandwich of two Gorilla Glass 5 surfaces, front and back connected by a plastic frame. Only the absence of those antenna lines will actually reveal that this is not a metal frame.
The front of the device is completely flat, guarding a 6.67-inch thin-frame screen with a tiny selfie camera hole in the middle. Above is a slim speaker opening that, with the one at the bottom provides a stereo listening experience. Downstairs there is also a USB C and main microphone, and at the top a 3.5mm audio jack, another microphone, an additional opening of the upper speaker and an IR blaster, so you can use it to change the channels of neighbors and turn off the air conditioning in summer.
On the left side there is only a drawer that accepts two nano-SIM and microSD cards, and on the right there is a volume control button and a Power button with a fingerprint reader. The camera module on top is an interesting design in several layers, with one larger and three smaller camera eyes, an LED flash and openings of additional sensors on the side and a pretentious Ultra Premium inscription.
Since this camera module is in the left corner, count on the phone swaying on the table while trying to type with one hand after the handle. You will solve this terrible problem with the included silicone mask in the package, which will make the Redmi Note 10 Pro significantly less slippery in the hand.
The build quality is excellent. It seems quite durable, it doesn't crackle or rustle. Gorilla Glass 5 on both sides, and the IP57 certificate of resistance to water penetration during spraying and pouring, are trump cards that many in this price segment cannot boast of. It is a big phone that will be a struggle for those with smaller hands, but they have made it much easier to handle one hand with many smart gestures. We think you'll manage, and you'll enjoy the big screen and durable battery life.
Redmi Note 10 Pro SCREEN
Without much doubt, the primary advantage of this phone is its excellent screen. It is equipped with a large 6.67″ AMOLED panel in 20:9 format and FHD+ resolution with 120Hz refresh. It is flat and a fairly thin frame with a small selfie camera hole in the middle.
Thanks to the AMOLED panel, the color display is vivid, and the readability at an angle is also very good. It is bright enough inside and out, although it can always be better outside. A refresh rate of 120Hz guarantees the impression of fluidity in the work, especially when scrolling through the contents. It's not included by default, so be sure to do so. The difference between 60 and 120Hz is clearly noticeable.
Given the beautiful display of colors, refreshment and spaciousness, it is very nice on this screen to surf the Internet, watch movies and play games. AlwaysOn screen is supported but limited to only 10 seconds, after which it turns off. Until the last update, there was a trick that could unlock it to keep it on all the time. Not now. It is protected by Gorilla Glass 5 glass and pre-applied foil and supports turning on by tapping and lifting in front of the face.
Impressive and spacious screen with stereo speakers are a guarantee of great experiences in multimedia, movies, music and games. In addition to solid stereo sound through the speakers, it also has a 3.5mm audio jack on the top of the phone, and the sound is very good in that case as well. It also supports FM radio. The Redmi Note 10 Pro has all of Google's applications, accompanied by a dose of Xiaomi's tools. There are some bloatware games but they can be uninstalled, and the ads are likely to show when installing new applications.
Redmi Note 10 Pro CAMERAS
This smartphone is equipped with five cameras. On the front is a 16MP f/2.5 selfie camera that captures decent portraits with blurred backgrounds and video up to 1080p at 30 fps. The rear has four lenses, and the one that leads the main word is surrounded by a silver ring at the top, and below is a 108MP Samsung ISOCELL HM2 1/1.52" sensor, which compresses 9 pixels in 1 by default and captures 12MP photos. This camera also records 4K video up to 30fps or 1080 at 60fps. No OIS. EIS stabilization is solid at 1080p, but not at 4K. It also has an 8MP wide-angle camera with fixed focus, a 5MP macro with autofocus and a 2MP depth sensor.
The camera interface is familiar and has been seen countless times. It offers a choice of main and wide-angle cameras as well as 2X to 10x digital zoom. By macro the lens should go through the menu on the top left. It supports autoHDR, and at night, ie in low light conditions, it will prolong the exposure even without entering the Night mode. There is of course both Pro mode and Portrait in which it correctly separates the background from the subject. He also offers shooting modes, some of which will be of interest in Dual Shooting when the video is recorded simultaneously with the front and rear camera.
In general, these cameras allow him to take a lot of wonderful photos and decent video, of course, better during the day than at night in demanding conditions. The dynamic range and level of detail while shooting with the main camera is commendable. Wide-angle camera photos are of significantly lower quality in more demanding conditions. The macro camera has autofocus, but you still need to catch a hand to guess the ideal shooting distance to keep the subject in focus.
Redmi Note 10 Pro PERFORMANCE AND BATTERY
The Redmi Note 10 Pro runs an 8 nm Snapdragon 732G with Adreno 618 graphics and 6/8GB RAM or 64/128GB of data memory available. It also supports microSD memory cards without sacrificing dual SIM telephony.
These are not some space gadgets, but they still ensure the smooth operation of this device both in those common tasks and in gaming and multitasking. It works quite nicely with a minimal dose of occasional twitches in the animations.
Games like PUBG Mobile, Asphalt 9 and CoD run effortlessly, profitably without overheating. I believe gamers will be completely satisfied with this phone. It supports two nano SIM cards but not 5G so if this is a deal-breaker for you and I don't know why it would be, then Redmi Note 10 Pro is not for you. The quality of phone calls is neat, and the same goes for GPS.
The fingerprint reader on the side is relatively fast. I've tried it faster too, but mostly it unlocks reliably, which is the most important thing. With it, you can also use a pretty good, but less secure Face Unlock front camera. The battery is only slightly larger than the one in the smaller Redmi Note 10 and has a capacity of 5020 mAh. Autonomy is great. We believe it will provide most with two days without a charger. Gaming is what will deplete it the fastest, but you can still get over 8 hours of on-screen on a single charge in a regular, mixed mode.
It supports 30W charging and a 33W charger is included. It fills up to 50% in exactly half an hour, and up to 100% takes about an hour and 20 minutes, which is more than decent. One of the best phones you can buy today. The build quality is really good. You will not be ashamed of the design, nor the performance, autonomy or camera.