Review: TRUST GXT 865 ASTA RGB keyboard
At one point, those sounds irritating, but it is commendable that they are not so loud and cannot be heard when streaming.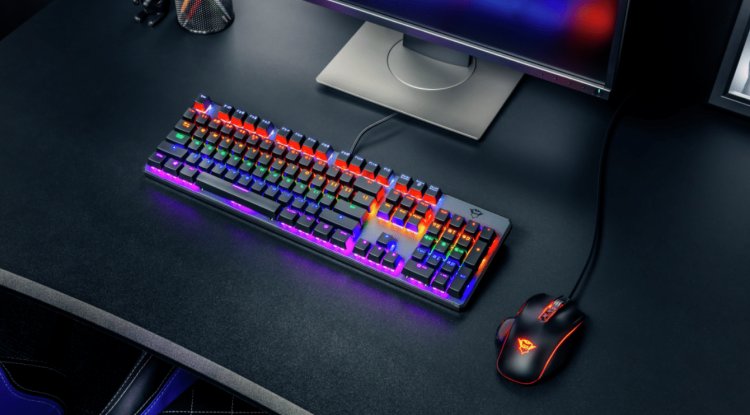 Photo Credits:
METAL PLATE WILL PREVENT PLASTIC BENDING WHEN USING THE KEYBOARD
The GTX 865 Asta keyboard has a metal front panel with a subtle logo in the upper right corner and a fully plastic case. But keyboard is not completely plastic, because that way you avoid bending when knocking harder, or if you are a bit more aggressive in some cases, the keyboard is also resistant to shocks. The weight of the keyboard is 1.1 kg and its dimensions are 444x133x41mm.
There are several channels on the back through which you can route the braided USB cable. This is a great thing for all those who have CSOs and do not want their cables to be seen on the table. The length of the cable is enough to reach your computer without any problems. What we would praise the Trust for is that the keycap holder is built into the keyboard, so you don't have to worry about losing it.
RED SWITCHES ARE LINEAR AND QUIET
The Trust describes its red switches as linear and silent. Their lifespan is 50 million beats per button. Red switches are good for typing, but they are not great, especially if you type a lot. At one point, those sounds irritating, but it is commendable that they are not so loud and cannot be heard when streaming. Basically, the sound of the buttons is very nice and it's just a matter of your taste.
WHAT IS A GAMER WITHOUT RGB LIGHTING?
What kind of gamer would you be if your keyboard didn't have RGB lighting?
The Trust GTX 865 Asta has individual rows of LEDs in white, red, orange, green, blue and purple. You can go through 7 different lighting cycles with the lock button. This is a drawback of this keyboard, since other mechanical keyboards in this price range have better customized lighting options built into the keyboard. However, I also came across a keyboard whose RGB lighting is not the best, while with this keyboard the visibility of the keys is extremely well done.
CONCLUSION
If we compare the GTX 865 ASTA with keyboards in the same price range as the Curry ADX MK0419 mechanical keyboard or GameMax Strike the only difference will be that these two keyboards have ergonomic pads which can make it easier to use.
Gaming keyboards with RGB lighting and mechanical switches usually cost around $100. The Trust, however, is offering its Trust ASTA GTX 865 statuette for $50. For those looking for a gaming keyboard with good value for money, we recommend the Trust GTX 865 with most of the features we find on the most expensive keyboards.