Samsung Odyssey Neo G9 Review: Huge and curved
It is 1.2 m wide gaming monitor with ergonomics, adjustable height and the ability to rotate slightly to one side or the other.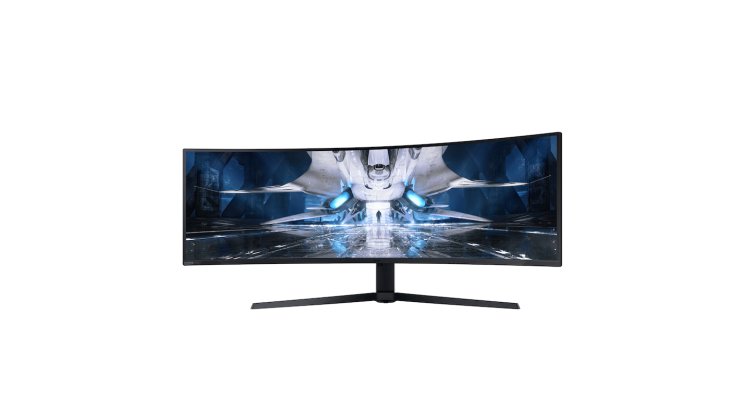 Photo Credits: Samsung/Promo
This screen uses technology comparable to Samsung's Neo QLED TVs, so we should finally experience top-notch HDR performance comparable to the best TVs in the world of computer monitors.
Giant 49 inches
The mini-LED Neo version of Samsung's 49-inch gaming monitor retains all those positive features of its predecessor, including 5K ultrawide resolution, pronounced 1000R screen curvature, 10-bit QLED VA matrix and 240 Hz image refresh rate.
Futuristic design has remained unchanged. It is a huge 1.2 m wide gaming monitor with very good ergonomics and adjustable height and the ability to rotate slightly to one side or the other. The model we tested was white and this ultra-wide giant requires a large desktop area for its accommodation, both in width and depth.
As an additional attraction, Samsung has integrated the so-called RGB ring, the part of the monitor that attracts attention with attractive RGB lighting, and whose intensity and basic effects you can adjust in its menu. A small joystick under the monitor is used to adjust the image parameters, and there are also three buttons for the direct selection of pre-defined gaming profiles.
Compared to its predecessor, the Neo model also brings a significant innovation in the form of support for HDMI 2.1. You have two HDMI 2.1 ports that you can use to connect compatible devices, such as Blu-ray players or game consoles. Unfortunately, the maximum refresh rate via HDMI ports is just a disappointing 144 Hz at native 5K resolution, so for 240 Hz and more you'll only have to use the DisplayPort port.
Mini-LED flash
However, here the main magic is inside the case, that is, behind the panel. Mini-LED lighting combined with Full-array local dimming with a total of 2048 zones currently provides the best HDR capabilities of a computer monitor compared to the competition. Samsung further states that this monitor can reach a peak brightness value of 2000 nits. Inside the monitor menu, we find special options for controlling the backlight, ie local dimming. You can turn it off completely or select Auto, Low or High. The Auto option should in principle automatically turn on local dimming when displaying HDR content and turn it off for SDR display, but in practice, it seems that it is never completely turned off. There is no doubt that the High option provides the best display of HDR content with excellent contrast and exceptional brightness. This is the best computer monitor we've ever seen in terms of contrast and dark tones, so it's the first one we can really recommend for HDR on a computer. Movies and HDR streaming content from YouTube look powerful and vivid, although the 32: 9 format will always show black bars on the sides of the monitor.
The new Neo G9 also provides a whole new HDR gaming experience. Unfortunately, support for HDR at the Windows level as an OS is generally not the best solution, and the number of computer games with properly implemented HDR is small. As one shining example we can highlight the Cyberpunk 2077 which on this monitor with HDR included really looks spectacular.
For the Odyssey G9, Samsung has provided two pre-defined profiles for HDR display: Standard and Dynamic. In our opinion, the HDR Standard looks better, although sometimes too dark, while the HDR Dynamic provides the highest maximum brightness, but globally it seems overemphasized and details in the darkest areas are noticeably lost.
HDR gaming
You will need the latest generation graphics card with support for DSC (Display Stream Compression) to fully use all the gaming capabilities of this 49-inch monitor. DSC currently supports AMD's RDNA and RDNA 2 graphics cards (RX 5000 and RX 6000 series) and Nvidia's RTX 2000 and RTX 3000 cards (Turing and Ampere).
Samsung's G9 in the Neo variant is certainly one of the fastest gaming monitors on the market. The combination of excellent response speed and refresh rate of 240 Hz provides exceptional gaming performance with blur-free images and very low input lag. Within the image adjustment menu, several options are available to adjust the matrix speed and overdrive algorithms such as Standard, Faster and Extreme. The Standard option is the ideal solution for gaming with FreeSyncom included as it offers a very good response speed with minimal occurrence of unwanted overdrive artifacts. Faster allows for an even faster response, but anomalies in the display are more noticeable, while the Extreme option is unusable in practice.
The G9 Neo supports FreeSync Premium Pro but is also a G-SYNC compatible monitor. In other words, you'll be able to use technology to sync your monitor's refresh rate with your graphics card speed, whether you're using an AMD or Nvidia card. Note that the response speed adjustment option is not available when using VRR technology, so the monitor automatically uses the Standard option. We also found a special option within the menu to control VRR technology, which you can turn on if you have problems with image flicker when using FreeSync or G-SYNC.
| | |
| --- | --- |
| Standing screen display size | ‎49" |
| Product Dimensions | 16.5 x 45.3 x 21.1 inches |
| Item Dimensions LxWxH | 16.5 x 45.3 x 21.1 inches |
| Item Weight | 32 pounds |
| Max Screen Resolution | 5,120 x 1,440 Pixels |
| Manufacturer | Samsung |
| ASIN | B096YNP6ZR |
| Color | Black |
| Voltage | 240 Volts |