Sharkoon Skiller SGK3 White Review
The SGK3 comes in three different variants with Red, Blue or Brown switches. As a rule, models with Red switches are most suitable for serious gaming...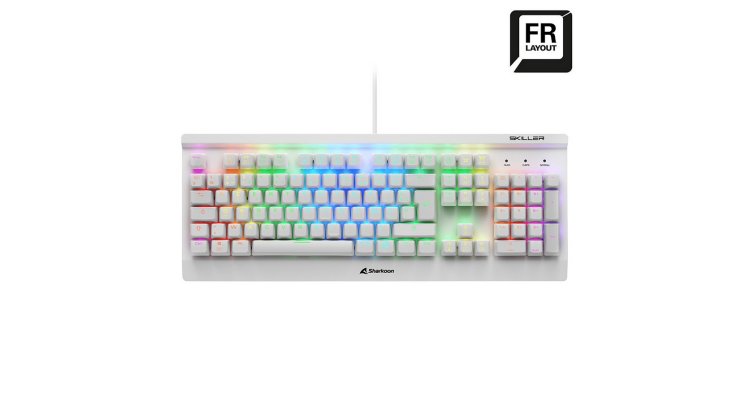 Photo Credits: Sharkoon/Promo
Robust mechanics and effective RGB
Sharkoon's latest gaming keyboard offers gamers what they need most at a good price - robust construction and reliable and responsive mechanical switches.
On top of that, the combination of white color and effective RGB lighting is responsible for a unique gaming experience. Mechanical keyboards have been a real hit among gamers for some time. Models with the famous Cherry MX switches are especially in demand.
Heavy
Sharkoon has already shown with the SGK30 that a very good mechanical gaming keyboard does not necessarily have to be extremely expensive. Recently, however, they introduced a completely new series of keyboards, though of a similar name: SGK3. The Skiller SGK3 is a more ambitiously designed mechanical gaming keyboard based on the more reputable Kailh switches. It is available in black or white.
The SGK3 comes in three different variants with Red, Blue or Brown switches. As a rule, models with Red switches are most suitable for serious gaming due to their excellent responsiveness and linear response to pressure. But we believe that this is usually a matter of personal choice.
In our case the keyboard we got for the test was equipped with Red Kailh switches. The first impression of being taken out of the box certainly brings to the fore the exceptional robustness and massive mass of the new Sharkoon gaming keyboard. Namely, SGK3 comes with a metal upper surface that is very solid. The total weight of the keyboard is almost 1.5 kg! You will hardly move it hard and a little, even during fierce gaming adventures. As for the dimensions themselves, this is a full-size keyboard with a numeric part, so you need to provide adequate space for it on your desktop.
We must certainly point out the very well-executed keys that work very robustly, and the upper surface is characterized by a pleasant texture that is not slippery. On top of that, in the keyboard package you will get an additional set of interchangeable blue PBT keys with which you can additionally highlight the most frequently used keys. It is also possible to swap the positions of the w, a, s, d keys and arrow keys.
Reliable gaming mechanics
When it comes to performance, Red switches are characterized by linearity and the need for relatively light activation pressure. When it comes to typing, it requires some customization, especially if you have previously used a keyboard with a different type of switch. However, realistically it does not last long.
On the other hand, gaming performance is great. The keyboard supports a polling rate of 1000 Hz, as well as Anti-Ghosting and N-Key rollover. If you mostly play faster online games, this keyboard will definitely be a great choice.
Furthermore, in our opinion, the white color of the keyboard combined with very effective and bright RGB lighting brings a special visual experience. It was quite unusual for us to see a combination like this, but we have to admit that it looks extremely likable. Sharkoon has certainly made sure that the RGB lighting in the SGK3 is very impressive with a large number of advanced effects that you can customize to your liking. You can do this directly on the keyboard itself or via the appropriate software application. The only thing we don't understand is why Sharkoon doesn't have universal software for all its gaming products, but you have to download a separate application dedicated to a specific model.
Sharkoon's Skiller SGK3 gaming keyboard offers gamers what they really need - a robust, affordable mechanical keyboard. On top of that, the white version combined with the effective RGB lighting certainly provides a special gaming experience.