Small and colorful: Steelseries Apex 3 TKL review
Steelseries Apex 3 TKL is a new, more compact version of the well-known and popular membrane keyboard for players.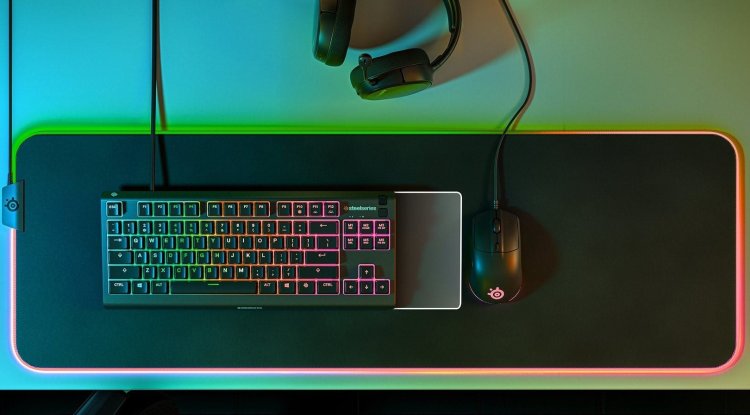 Photo Credits: Steelseries / promo
Steelseries Apex 3 TKL is a new, more compact version of the well-known and popular membrane keyboard for players. It corrects a few shortcomings of the original, subtracts the entire number block ... and that's about it. Is it wrong? Not at all. But at this price, something else could do well.
Although mechanical keyboards reign supreme in various combinations of recommended gaming keyboards,  it does not mean that no one is interested in membrane-based designs anymore. After all, these are quiet, comfortable, and can have a lot of additional options. They are also usually much cheaper. "Usually", because sometimes there are propositions such as Steelseries Apex 3, which price has already competed with some cheaper mechanics. Surprisingly, however, this membrane keyboard, over a year ago, captivated our editorial colleague with its comfort, quality of workmanship, and various amenities.
And we mention it because Steelseries followed the blow and offered players a much more compact edition of the keyboard - the tournament Steelseries Apex 3 TKL. Why tournaments? Because this is how it is customary to describe constructions reduced by a numerical block (the abbreviation TLK comes from "tenkeyless"). Thanks to this treatment, the keyboards became more portable, ideally suited for all kinds of away esports events. In this case, however, was it a step in the right direction? And that's what we decided to check.
We've seen it all somewhere. Almost everything
At first glance, you can see that the Steelseries Apex 3 TKL is an almost exact copy of the previous model. Of course, the entire left-hand side of the keyboard, including the numeric keypad, is gone. The top three Print Screen, Scroll Lock, and Pause buttons have also been removed, while the volume control wheel and the additional multimedia key have been significantly reduced. Apart from that, however, it is still the same, quite successful design with a matte-black front, characteristic indentations on the sides, a high profile, and creamy-white key bases that gain thanks to the backlight.
Of course, there are also Whisper Quiet switches with an extremely low coefficient of friction that we already know, which guarantee a much lower noise level than mechanic or many membrane keyboards. Their similar construction allowed to transfer another advantage of the prototype, i.e. resistance to water and dust, which here, however, become an ace in the sleeve. Steelseries boasts that Steelseries Apex 3 TKL is the first waterproof TKL keyboard.
The bottom of the tested keyboard does not bring any major surprises. We have the same system of three cable guides that we have already seen in the "regular" Apex 3, as well as similar quality rubber anti-slip pads, which, surprisingly, despite the much lower weight of this model (639 grams instead of 816), can hold it in place even during a very intense game.
And while we are talking about it, it is impossible not to notice that something was missing in Steelseries Apex 3 TKL. The full-size version of this keyboard also included a wrist rest attached to the magnets. Thanks to its additional eight anti-slip pads, the whole thing was almost impossible to move. Would it be useful in the TKL version? A bit like that, because it could significantly increase the comfort of using this compact keyboard. Well, as you know, in this type of construction they are simply not used, so this deficiency can be understood.
Technical specification of Steelseries Apex 3 TKL
Keyboard type:
Membrane
Switch type:
Whisper Quiet Gaming Switches
The lifetime of switches:
4600 FPS
Maximum acceleration:
20 million presses
Profile:
High
Communication:
Wired
Number of Keys:
84
Programmable Keys:
Yes, all of them
Additional functions:
Anti-ghosting
8-zone backlight (16.8 million colors), no backlight a single scroll key
and an additional three-function multimedia key
Cable Length:
190 cm
Dimensions (W x D x H):
364 x 150 x 40 mm
Libra:
639 grams
Price at the time of test publication:
39.99 - 49.99 $
A new look and old problems. Plus a handful of new ones
Small keyboards are compact, neatly designed, and take up little space on your desk. Steelseries Apex 3 TKL fits perfectly into it, adding even a lot of configuration options and quite a good comfort of use, which it took over from its full-size brother. Unfortunately, along with them, there are also some not very good solutions. 
First of all - due to the unfortunate location of the indicator light, we may not notice Caps Lock turned on by accident. This lamp is so close to the block of 6 navigation and editing keys that their high profile just covers them. And this even when the keyboard is laid flat on the desk.
Secondly - not the end of perfect detection of more pressed keys. This is just a typical limitation of diaphragm-based constructions. Admittedly, Steelseries swears that every single keystroke will be registered, but the anti-lockout function responsible for this is rather related to the most frequently used ones. 
Hence, the limit of 24 simultaneous presses indicated in the Steelseries Apex 3 TLK specification is a bit stretched. We checked it during several tests and quite often it happened that one or even several keys pressed at the same time were omitted. The maximum result that we were able to achieve was 10 correctly recognized presses. Importantly, we are talking about simultaneous presses. The limitations of the membrane technology are much faster when you add more presses.
And finally, thirdly, which is not particularly troublesome, but indicates a certain inconsistency of the creators, the already known Steelseries GG software has some outdated elements directly from the full-sized SteelSeries Apex 3. Fortunately, this trifle does not prevent the use of quite a large range of options backlight adjustment, or a configuration panel that allows you to create macros and assign other functions to single buttons.
It is worth adding that, as the first Steelseries Apex 3, also here there is the possibility of using special applications, thanks to which the biggest fans of such titles as CS: GO, Dota 2, or League of Legends can set the backlight in such a way that it reacts to specific events in the game.
Compact, pleasant gaming and ... correct writing
It cannot be denied that switching from a full-size keyboard to the TKL model can be the source of a large number of problems. At least initially, because you still have to get used to the lack of a numeric block and a slightly different arrangement of your hands. 
Steelseries Apex 3 TKL adds here one more potential problem resulting from the removal of 3 special buttons. We experienced it ourselves, trying to figure out how to take a photo of our tests since the Print Screen is missing from the keyboard. How did we deal with it? Well, we used the SteelSeries GG software and the ability to assign a different function to the selected key. 
A few sessions in Battlefield 2042 were enough for me to sense Steelseries Apex 3 TKL enough to play better and better. Thanks to its compact size, the hands that normally rest on the WSAD keys and the mouse lie closer to each other, which significantly translates into comfort. The keys are pleasant to touch and, surprisingly, their matte finish does not seem to catch dirt as easily as in the case of the previous model.
Importantly, while playing, whether in  Battlefield 2042, Guardians of the Galaxy, or Age of Empires 4, we did not experience any problems with incorrect or oversized recognition of pressed keys. Everything ran smoothly, though the response to pressing the key could have been better. Unfortunately, due to the design of the switches, the "path" that the key has to travel to the activation point and back is quite long, which may not suit everyone. 
Actually, the only reason to complain about Steelseries Apex 3 TKL was writing on it. Perhaps it was due to the fact that we were used to the blue clicking mechanical switches, which gave us a specific answer with each press, so we knew that the key was caught. We didn't have it here, which initially resulted in frequent typos. 
Steelseries Apex 3 TKL - is it worth buying?
For someone who is looking for a relatively simple, well-made keyboard with a small size, the Steelseries Apex 3 TKL can be a really interesting proposition. As long as you do not have excessive requirements as to the switches and their performance characteristics. In this case, we have a fairly typical diaphragm tube, with its advantages and disadvantages, despite the use of several proprietary solutions. 
Steelseries Apex 3 TKL is a good, compact keyboard that will surely appeal to the tastes of the owners of the earlier, full-size version. Others, however, may have some reservations. Well, because you know, the membrane is included in the price of a mechanic - you need to know well what is expected of the keyboard.
Pros
nice build quality,
very compact size, as befits a TKL keyboard,
resistance to dust and flooding (IP32),
well-profiled keys and quiet button operation,
an additional knob to change the volume and a multi-functional multimedia key,
the ability to create macros,
cable guides on the bottom of the keyboard to help keep order on the desk,
despite its low weight, it "sticks" well to the ground,
Minuses
the lack of some buttons can be felt,
problems with the correct registration of pressed keys, i.e. typical limitations of "membranes",
no wrist rest (present in the "regular" Apex 3),
poorly placed diodes, among others this signaling that Caps Lock is on,
quite high price.