Surprisingly Powerful Gaming Case
We have with us the Antec DP31, a new generation chassis belonging to the Dark Phantom series that is committed to maximum compactness.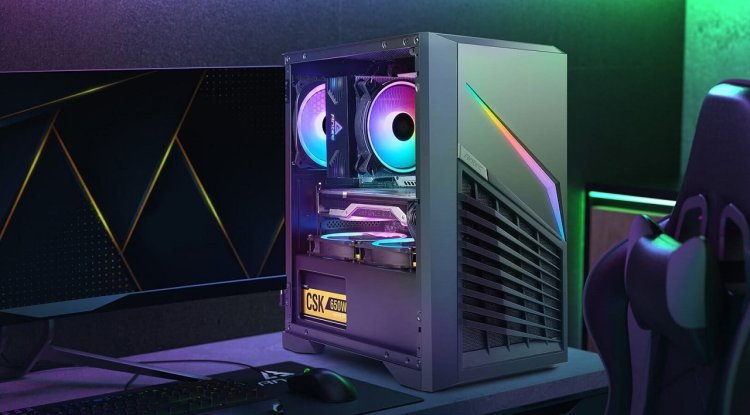 Photo Credits: Antec / promo
We have with us the Antec DP31, a new generation chassis belonging to the Dark Phantom series that is committed to maximum compactness by only admitting Micro-ATX and ITX boards. This series already has several models such as the DP501 or the DP502 with striking design, side window, and RGB lighting. All these elements already have the DP31, in addition to a glass door with a hinge and magnetic closure. Its price is quite adjusted to be available to everyone. 
Antec DP31 design
Within this wide Dark Phantom series, a specific compact chassis for Micro-ATX and ITX boards could not be missing, just as economical as the others and using a quite original and striking design. The chassis will not be too strong as you can imagine having an empty weight of only 2.9 kg, although this gives it great versatility in transport.
It is a solid option for small desks specifying measures of 378 mm deep, 200 mm effective width without counting the door handle, and 398 mm high, giving us a practically square appearance. Among its outstanding features, we have the oscillating glass door and capacity for ATX power supplies.
Exterior analysis in detail
We begin the study in detail of the Antec DP31 placing ourselves on the left side, through which we will access the main cabin, made of hardware. For him, a large tempered glass door has been implemented that occupies the entire length of the window, with a transparent finish and a black frame around it to cover the metal elements of the chassis.
But the most interesting or different thing about this will be that it functions as a swinging door thanks to two hinges installed on the rear edge, thus consisting of a rearward opening. We will have a small plastic handle located in the front, which keeps the door closed thanks to a not too strong magnetic closure. Let's be careful with laying the chassis down because the door will open relatively easily.
There is little to see on the right side, as it is completely covered by a matte black painted steel sheet. The anchoring system of it consists of several front tabs that are attached to the inner frame, and fixing by means of two rear manual thread screws.
In this way, we reach the frontal area that will provide us with the greatest element of personality in the design. It is a rather bulky rigid plastic case that occupies the entire front, with inward sloping edges perhaps larger than we would like, although with a good finish.
The central area combines a smooth upper half where a striking A-RGB lighting strip is integrated that we will control directly from a button on the I / O panel. A diagonal division gives way to the second zone, which uses a mesh design with diagonal ribs in a regular pattern with a medium-grain metal mesh that acts as a dust filter and air inlet.
We continue with the upper area of ​​the Antec DP31 in which we have the front port panel with the following connections:
Power button
A-RGB / reset control button
Power and hard drive status LEDs
2x USB 2.0
1x USB 3.2 Gen1 Type-A
2x Jack for audio output and microphone input
Being an economic chassis we do not have a USB-C port, an acceptable loss, although we will only have one of the 3 ports running at 5 Gbps. The rest of the area is taken up by a perforated mesh opening ready to install 120mm fans, with no space for radiators.
Interior and hardware capacity
We go to the interior of the Antec DP31 where we obtain a space for hardware quite adjusted to the compatible plate format, that is, Micro-ATX and ITX. The design is simple but good, using smooth plates with well-positioned holes to pass cables from behind to either type of plate.
We have two holes on the side, two at the bottom and a small one at the top where the 8-pin header for powering the CPU will fit. In no case do we see rubber protections, while the metallic PSU cover is perforated to evacuate hot air towards the main compartment. It gives us the possibility of installing 120 mm fans without much utility. On this cover, we have another hole attached to the front to allow installing fans and radiators, although a little tight with only 45 mm thick. Also on the side, we have another opening to show the power supply, another behind the plate to work on the socket bracket without having to remove it, and a hole in the upper right corner dedicated to the cables that come from the front I / O panel.
Storage cabling and distribution area
We head towards the rear where we will have a hole for cables of approximately 25 mm in the widest area. It will be enough to house the thick hoses that some ATX connections have, although it will certainly be fair if we are to keep the lower hard drive cabinet.
We do not have a column with clips to hold the cables, although there are some tabs to be able to place them if we need them. The PSU compartment will support ATX formats of up to 175 mm if we keep the HDD cabinet and 300 mm if we remove it, something that we will do to enable more space. Regarding the storage capacity, we continue talking about this metal cabinet that will admit 2 3.5 "HDD units or 1 2.5" SSD unit. We do not have a plastic tray this time, but the cabinet can be removed and placed an HDD or SSD directly attached to the base of the chassis.
Final words and conclusion about the Antec DP31
We conclude this analysis of a Micro-ATX chassis with measurements typical of an ITX as it is extremely compact and offers an interior space completely adjusted to the pre-ATX format. It will be positive in the sense of having a chassis that takes up little space and is manageable with only 2.9 kg empty.
But on the other hand, we will be limited in some aspects such as ventilation as we do not have an upper space for a radiator + fan, and only be able to use the front for them, also with very fair space. Working on an air sink with the board installed will be quite complicated due to lack of space, and we must be very aware of the measurements of our dedicated graphics card before purchasing it.
The space for cables is sufficient for a not very demanding assembly, and it is positive to have the capacity for ATX sources with only 40 cm of height. Similarly, there is enough space for 3 SATA storage units, and a cabinet that we can remove to take advantage of the space by storing cables.
Aesthetics will be one of its greatest advantages or notable points since the front is quite well built and with an original design that integrates RGB. And the best of all will be its tempered glass swing door with magnetic closure, an element that gives a lot of category to an entry-level chassis that costs only $ 60. With lights and shadows, something normal in this price range, but with more than correct performance for gaming hardware.
ADVANTAGES
DISADVANTAGES
STRIKING EXTERIOR DESIGN WITH RGB
VERY LITTLE ROOM FOR LIQUID REFRIGERATION
HINGED TEMPERED GLASS DOOR
INTERNAL FINISHES AND CHASSIS ARE A LITTLE BASIC
ENOUGH SPACE FOR FANS
BEWARE OF THE DIMENSIONS OF A DEDICATED GPU
SPACE ADJUSTED TO THE MICRO-ATX HARDWARE
You can buy this product on Newegg for $60.