Synology markets the NAS DiskStation DS1522+
Synology has announced the release of the DiskStation DS1522+, a NAS that expands a Plus series intended specifically for small and medium businesses, home offices, and residences because these sorts of devices are useful in any context.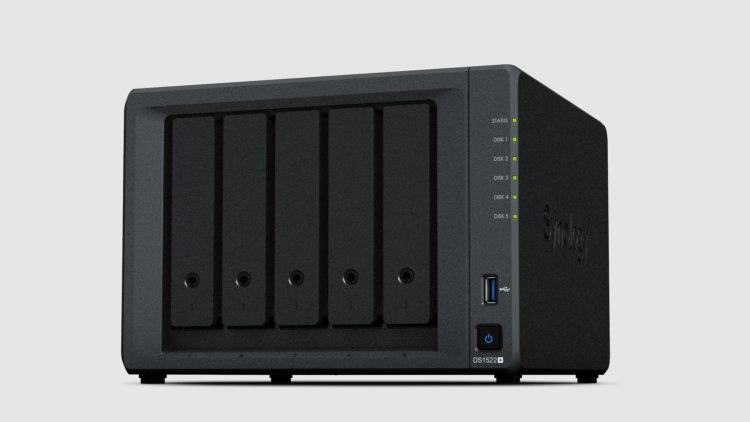 Photo Credits: Synology/Promo
A product that combines storage and network connectivity technologies to provide access to stored content from any type of device (or from numerous devices at the same time) from anywhere in the world via the Internet.
Furthermore, NAS has its own hardware, operating systems, and applications, allowing them to operate independently of PCs and operating systems and to run on nearly any infrastructure.
Synology is the leading name in client NAS (together with QNAP) and has an overwhelming range to fit all demands and budgets, as well as the C2 suite of cloud solutions that go beyond devices.
The current model works as a primary storage device in small to medium settings or as an edge node in multi-site installations. It runs DiskStation Manager (DSM) 7.1 and features powerful data management, file sharing, collaboration, and video surveillance capabilities.
The DiskStation DS1522+ is a five-bay NAS that supports 3.5′′ and 2.5′′ SATA hard drives or M.2 2280 SSDs and can be easily adapted and expanded as your needs evolve, with up to 15 disks (through two DX517 expansion units), 10GbE networking, and NVMe SSD caching.
It has an AMD Ryzen R1600 64-bit processor with hardware encryption engine (AES-NI), 8 GB of DDR4 ECC memory (expandable up to 32 GB), four integrated 1GbE ports (with 10GbE option with network upgrade module E10G22-T1-Mini), two M.2 for additional cache, and one PCIe Gen3 expansion slot. It also includes two eSATA connectors and two USB 3.2 Gen 1 ports.
The Synology DS1522+ is now available through Synology partners and resellers, with a three-year hardware warranty (extendable) and access to the whole company's ecosystem, including the DiskStation Manager 7.1 operating system and a wide variety of free applications. match.
Post by Bryan C.