The autonomous Ziggy robot can charge e-cars
Ziggy is a standalone mobile charging station via which the driver communicates through car or phone.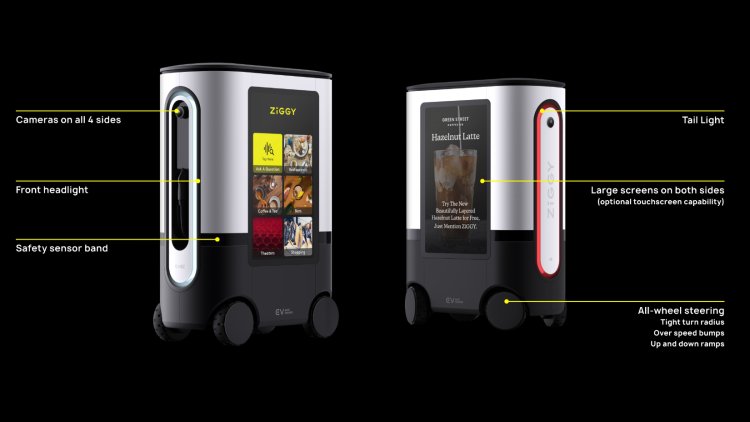 Photo Credits: Evsafecharge/Promo
The infrastructure developed for e-cars is divided into two types: traditional large stations with stands and smaller connections, known as wall boxes.
An alternative method is being proposed by the EV Safe Charge. The company has recently debuted Ziggy, a robot.
Ziggy is a mobile charging station that allows the driver to communicate through car or phone. His services can be reserved before you arrive at your destination.
Simultaneously, the autonomous robot can not only charge the vehicles but also reserve a parking space for them. Only the cable connection and disconnection remain on the driver, in addition to authentication.
The device has four controlled wheels, allowing it to travel quickly throughout the parking lot or garage. It is primarily oriented with four cameras. It also features ultrasonic sensors to avoid colliding with parked autos. Its pages cover enormous displays for advertising purposes.
The robot is outfitted with a built-in battery. We don't know its capacity or maximum charging power yet. The pricing is likewise unknown.
EV Safe Charge, on the other hand, positions the device as a less expensive alternative to the traditional building of electrical wiring for each parking space. The company is currently raising funds to begin production, which is scheduled to begin in 2023.
Ziggy is far from the first charging robot for electric vehicles; numerous firms have since surpassed EV Safe Charge in this regard. For example, in 2015, Tesla demonstrated a prototype of a device capable of independently attaching to the car's connector.
Volkswagen has most likely garnered the most attention in this regard. As early as the end of 2019, he proposed his own concept.
Post by: Bryan C.