THE NEW GENERATION WITH A SPORTY TOUCH
During the year Zenith held several festivities to celebrate 50 years of its enigmatic El Primero caliber. The new movement is under surname 3600.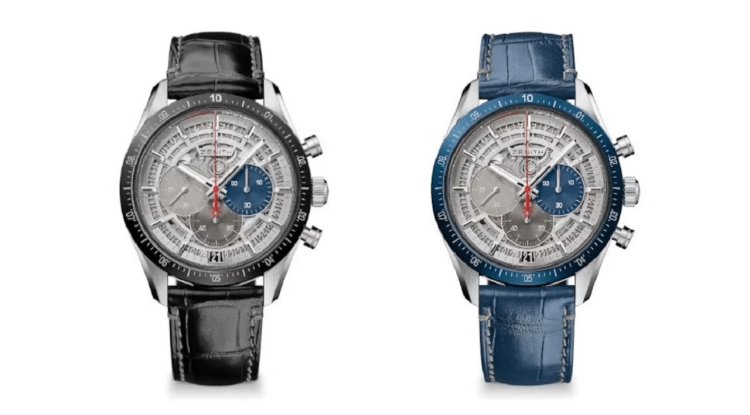 Photo Credits: zenith-watches.com
During the year Zenith held several festivities to celebrate 50 years of its enigmatic El Primero caliber. The new movement now has a surname: 3600 and has improvements. To continue with the festivities, the movement now gives energy to another flagship collection of the brand of the star.
Chronomaster 2 is available in a couple of editions limited to  250 copies each. The first is available with a black ceramic bezel and the other is in blue. A renewed collection that is mounted on a 42mm titanium case. Generous space to give prominence to the renewed caliber: El Primero 3600.
The new movement, according to Zenith, was updated with " more technologies and performance algorithms. " The mechanism beats at 36,000 alt / h. It is a version more in line with the new demands of today's world, but faithful to the architecture and canons of the El Primero Original. Now a stop for seconds was integrated and it was given more autonomy, 60 hours.
In addition, El Primero 3600 has the option of integrating various functions and indications, along with the uses of its predecessor: chronograph at 1 / 10th of a second, integrated construction with side clutch, column wheel and central rotor on ball bearings. The new gauge measures and indicates the tenth of a second over 100 divisions, crown sequence reversal, wheel, and tooth adjustment, column-wheel design - enlarged and centered.
The most visible modification is the improvement of the side clutch, which integrates two intermediate wheels. All a machinery that can be appreciated thanks to the sapphire crystal of the new Chronomaster 2 . A sporty gentleman, who also represents innovation due to the materials with which it is made and the technological deployment that it shows.
A skeletonized dial with filled counters and a star-shaped oscillating weight. The collection highlights the three distinct colors of the firm, which are worn on the subdials at 9 o'clock, 3 o'clock and 9 o'clock - light gray, blue and anthracite-. It also highlights its red needle, which turns the dial in 10 seconds. It has the peculiarity that in each jump, the tenth of a second is indicated on one of the 100 graduations of the bezel enhancement.
What will happen to the original El Primero? Zenith asserts that it will be " progressively " integrated into other models of the Maison. A mechanism that is also present in some lines such as Zenith Defy 21, A386, and  Chronomaster 21. Collections that were presented in a 50th-anniversary edition at the beginning of the year.