This year's ASUS ROG laptops with the latest AMD and Intel processors
ASUS is a manufacturer of severe laptops, and there is no doubt about that. There is also no doubt that ASUS ROG laptops will be even better in 2022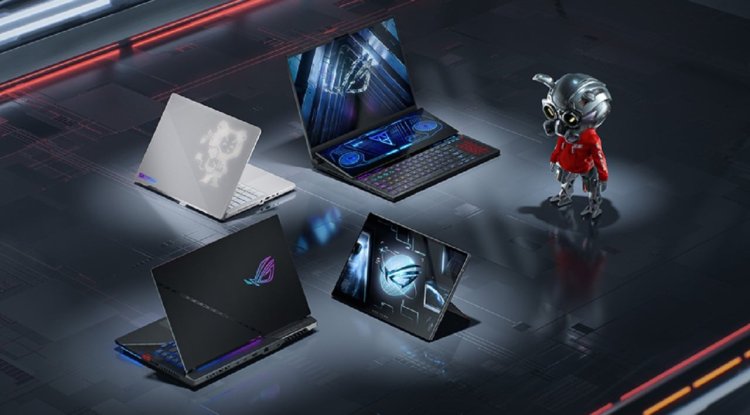 Photo Credits: asus / promo
ASUS is a manufacturer of severe laptops, and there is no doubt about that. There is also no doubt that ASUS ROG laptops will be even better in 2022. For example, thanks to the Ryzen 6000 and Core 12th generation processors.
ASUS has a lot of ideas to improve its top laptops and is by no means limited to installing the latest processors and graphics cards in them. The improvements apply to virtually every element, but ... one by one. For starters, it's enough to say that the focus was on things like mobility, performance, improved cooling, better displays, and design. Here's what ASUS showed at CES 2022.
What will 2022 bring in ASUS ROG laptops?
Yes, of course, you guessed it. The new ASUS ROG laptops will of course include the new 12th generation Intel Core processors (and therefore DDR5 memory up to 4800 MT / s), as well as the NVIDIA GeForce RTX 3070 Ti and 3080 Ti graphics cards. But, but - great systems from AMD have not been forgotten and you can of course count on models with Ryzen 6000 processors and Radeon S systems.
Something new about ports? Oh yes - you can of course count on Thunderbolt 4, but also on USB 4. ASUS mentions a bandwidth of 20 Gb / s (also known as 2x2), but with an optional increase in bandwidth to 40 Gb / s, which is exactly as much as Thunderbolt 4 offers.  Select models will be equipped with up to two M.2 slots compliant with the PCI Express 4.0 (x4) standard.
In terms of improved cooling, you can of course count on liquid metal from Thermal Grizzly, which will provide temperatures lower by as much as 10 degrees. There are 0.1 mm-thick fins, up to six heat pipes in one cooling system, steam chambers, anti-dust tunnels, and finally 0 dB mode.
And what has changed regarding the displays? As we remember, in 2021, ASUS laptops could even boast matrices with a refreshing 360 Hz, with an access time of 3ms. In 2022, more laptops will change the aspect ratio from 16: 9 to 16:10 - and it's about using as much space as possible for the screen, of course. From other surprises we have ROG Nebula Display - these screens will be able to boast Dolby Vision support (depending on the version they will offer 500 or 1000 nits), 4K resolution 120 Hz +, or FHD 240 Hz +, Pantone validation, or 100% DCI color coverage- P3. 
What else can you count on? Of course, on Wi-Fi 6E, or USB-C power adapters (up to 100W PD), which are to allow the laptop to be charged up to 50% in 30 minutes.
ASUS FAT STRIX G15 / G17
The latest AMD processors presented at CES 2022 could not be missing here  - it can even be AMD Ryzen 6900HX with DDR5 4800 MHz, and in the case of NVIDIA, GeForce RTX 3080 Ti graphics systems. Add to this a screen with Dolby Vision, Dolby Atmos sound, PCIe 4.0 SSD, and FHD 360 Hz or QHD 240 Hz screens.
Or maybe you prefer Intel? In this case, you can even count on the Core i9-12900H (of course with DDR5), and for dessert, of course, Thunderbolt 4 (with all other highlights).
ASUS ROG SE Duo 16
The Duo machines do not need to be introduced, because their two screens are an extremely characteristic feature. How about if the home screen in the new Zephyrus Duo has two display profiles? Namely, it can work in UHD resolution at 120 Hz or in FHD 240 Hz. The new ROG Nebula HDR screen (the mentioned version with a brightness of 1000 nits and based on mini LEDs), the most powerful model of the AMD Zen 3+ processor or Ryzen 6980HX, as well as the GeForce RTX 3080 Ti graphics chip, could not be missing here. A dream laptop, but it certainly won't be cheap.
ASUS ROG Zephyrus G14
The small, but extremely efficient G14 will also be enriched with screens with an aspect ratio of 16:10, and the fancy display on the flap (AniMe Matrix) will become even more advanced.
Apart from a few minor, but no less important improvements, such as the introduction of steam chambers or ROG Nebula Display screens, we will be able to count on the new Radeons in S versions, even for the 6800S models. There will be new Ryzen 6000 processors and DDR5 memory.
ASUS ROG Flow Z13
Inside the Flow Z13, there will be a Core 12900H processor and a GeForce RTX 3050 Ti (in the most efficient version). The external XG module will still house the GeForce RTX 3080.
And what about the extremely popular TUF series (and TUF Dash) combining good components and even better prices? Here we find, among others, the Ryzen 7 6000 and Core i7 12th generation models together with GeForce RTX 3000 series graphics systems.