TOP 25 GAMES ARRIVING DURING 2022
In 2021, we were, again and again, disappointed with the postponement of many games, which were originally announced for the past year.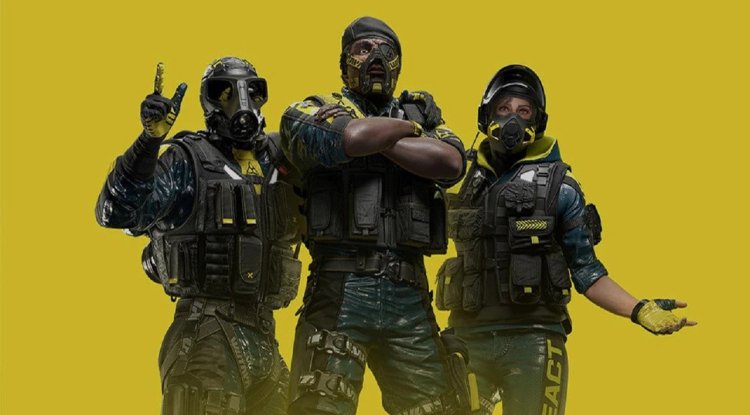 Photo Credits: UBISOFT / promo
We expected some during 2021, so we hope that we will not wait for them after 2022.
In 2021, we were, again and again, disappointed with the postponement of many games, which were originally announced for the past year.
Some have been postponed for a few months, so we are officially expecting them during 2022, and some games have been postponed indefinitely, so we hope to see and play them this year.
The previous year, 2021, was successful for the gaming industry, but its success was hampered by the lack of chips and other hardware, but also by the lack of attractive games, which were canceled or postponed, and we were tormented by the constant shortage of the most popular consoles.
Because of everything that happened, we had time to play some older titles, which are great, and we didn't have time to dedicate ourselves to them earlier, and our gaming curiosity was mostly held by EPIC, which shared free games every week, giving away some extremely good titles. - for example, right now you can pick up FREE THREE TOMB RAIDER GAMES in the deluxe version (trilogy from 2013 to 2018).
However, we are turning to the new year and new gaming titles that will surely mark the new season, which could bring a few surprises.
Top 25 games for 2022
The list of the top 25 games for 2022 includes titles that were announced during 2021 or earlier, but the list is "relieved" of titles such as FIFA, which could change its name this season and lose its license, eFootball PES which we expect to finally become a real game, as well as Call of Duty, NBA 2K and other games that are repeated every season or receive content regularly - PUBG, Fortnite, Rocket League, and similar games.
The games are not arranged in any particular order, except according to the current publication plan, and they are only listed as the titles we expect during 2022. For each game, we have indicated when we expect it and for which platforms the game is expected.
1. RAINBOW SIX EXTRACTION
Formerly known as the Rainbow Six Quarantine, the Rainbow Six Extraction is now trying to build itself based on the popularity of the R6 Siege racing shooter. The game brings multiplayer action similar to the original, only in a cooperative manner, in a world where you fight against aliens - Archaeans. As we have already mentioned, the game draws a lot from R6 Siege, but it also brings novelties, especially since the focus will be on the PvE format, and not on the conflict between the players themselves.
Game release date: January 20th
Platforms: PC, PS4, PS5, XBOX ONE and XBOX SERIES X / S
2. POKEMON LEGENDS: ARCEUS
It doesn't take long without getting a new Pokemon game. In 2022, it will be Pokemon Legends Arceus. Unlike the previous ones, Arceus will be with the addition of Breath of the Wild elements with an open world. The store is located in the Hisui region, inspired by feudal Japan, with many already known areas from earlier games. In addition to training, hunting, and fighting Pokemon, fans can also expect cooking and assembling different items from different parts.
The game also draws elements from Pokemon GO, which did not delight some fans, but the Pokemon company is trying to contribute as much as possible to the evolution of the series.
Game release date: January 20th
Platforms: Switch
3. DYING LIGHT 2
After a bunch of delays, we think it's finally time for Dying Light 2 to appear in front of an audience. Techland has brought a great zombie game with Dying Light from 2015, and the sequel intends to expand all the great elements pretty well. The interactive world, branching narrative, sophisticated combat mechanics, and quite advanced graphics are some of the strengths we have seen so far regarding Dying Light 2.
Despite the fact that several more zombie adventures await us in 2022, we increasingly believe that Dying Light 2 will be the only zombie game we will need in a messy period.
Game release date: February 4th
Platforms: PC, PS4, PS5, XBOX ONE, XBOX SERIES X / S
4. SIFU
There are simply not enough games that deal with interesting things about hand-to-hand combat in some peculiar way. Sifu, the achievement of the Sloclap studio, may be just such a game. It brings heroic warfare with bare hands, avoiding blows and inflicting them, as well as using the environment to your advantage, something like Jackie Chan can do. In a recent test, the game had problems of a technical nature, but we really liked the basics.
A must-play for anyone who loves martial arts-related tobacco and films about the Far East.
Game release date: February 8
Platforms: PC, PS4, PS5
5. HORIZON FORBIDDEN WEST
One of Sony's latest franchises gets a sequel to Horizon Forbidden West, which will solve the mysteries of the first part. This game continues the story of the protagonist Aloe on the post-apocalyptic west coast. Aloe continues to investigate a mysterious disease that persistently kills local flora and fauna. In the videos so far, we have seen extremely beautiful landscapes and extended mechanics of combat and research from more giant robotic creatures. Horizon Forbidden West will also enable underwater exploration, rocking and gliding around an interesting world.
Count on us as well as those who are interested, especially because the game is coming out for PS4, not only for PlayStation 5, which is still very difficult to buy…
Game release date: February 18th
Platforms: PC, PS4, PS5