Volkswagen presents high-flyers for four people
Volkswagen Group China has unveiled a vertical take-off drone prototype. Four passengers can board the V.MO and fly to their destination electrically.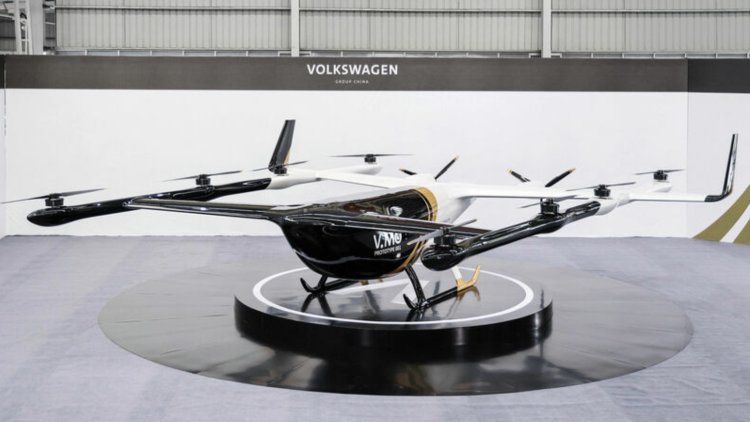 Photo Credits: Volkswagen/Promo
The appeal of the vacation location grows louder in the summer months, but by the time you arrive at the airport or train station, a traffic bottleneck often tests tourists' patience. Many people have fantasized about boarding a flying item and flying over a traffic bottleneck in such scenarios. Volkswagen has recently demonstrated a prototype of such a solution in China. The V.MO is a four-person vertical take-off and landing drone.
According to the VW Group, the concept is based on current autonomous driving technologies and is powered by a drive battery. The V.MO, on the other hand, is much larger than, say, a VW Passat, with a length of 11.2 meters and a wingspan of 10.6 meters. Vertical take-off is handled by eight rotors, while propulsion is handled by two rotors. Volkswagen plans to conduct the first flight tests in China this year, with the test flights expected to be finished by late summer 2023.
The drone's ultimate version should be able to transport four passengers and luggage for up to 200 kilometers per battery charge. If Dr. Stephan Wöllenstein, CEO of Volkswagen Group China, has his way, this drone will be a luxury product for Chinese customers, initially transporting VIPs.
It is unknown whether such a drone will be available outside of China. In any event, VW would like to respond to the unique needs of Chinese clients and establish itself as a luxury brand in the country. As the Audi Urbansphere Concept from the VW Group demonstrates, interior space is generally highly essential in China, as a city car with an exterior length of 5.40 meters was expressly created for China. The Middle Kingdom is a major sales region for Europe's largest automobile manufacturer, with Audi striving to become more of a luxury brand and Volkswagen a kind of premium brand.
Post by Bryan C.