VY-01: a unique zero carbon emission yacht design
The 3deluxe design specialist presented the VY-01 at the Monaco Yacht Show, a zero-emission yacht designed as a veritable green floating garden.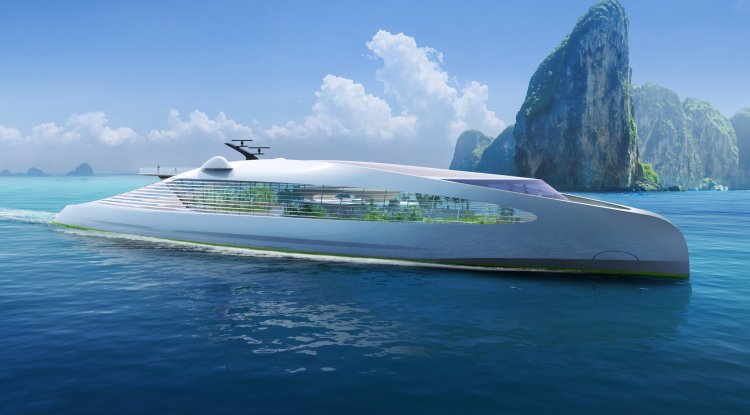 Photo Credits: 3Deluxe
In a spirit of innovation and modernity, 3deluxe has put the VY-01 for sale in the form of an NFT (non-fungible token) on the SuperWorld auction platform. Presented as a true ecological garden, the VY-01 is what one could imagine from the future when it comes to the future of the yachting world.
The exterior of the ship, simple and elegant, is characterized above all by a homogeneous and closed shape. Its profile allows less wind friction and therefore less energy required to move the yacht while offering remarkable resistance to wind and other bad weather.
Inside, we discover new standards with a vision very oriented towards nature, particularly within it a vegetable garden and a greenhouse. A green interior that will confuse you: am I on a ship or in the middle of the forest? A seawater desalination system allows the lush vegetation to display sublime colors, all powered by solar panels on the roof and outside of the ship.
To power the ship, 3deluxe has thought of hydrogen with hydrogen fuel cells that propel the ship without emitting any CO2 particles, but also without noise and vibration.
Currently, at the concept stage, the VY-01 could in any case be the premise of a cleaner future, more respectful of the environment, and which becomes almost "self-sufficient".