Xiaomi Redmi 9C NFC review: Affordable powerhouse
The company states that this screen has an NTSC color range of 70%, a contrast ratio of 1,500: 1, while the aspect ratio is 20: 9.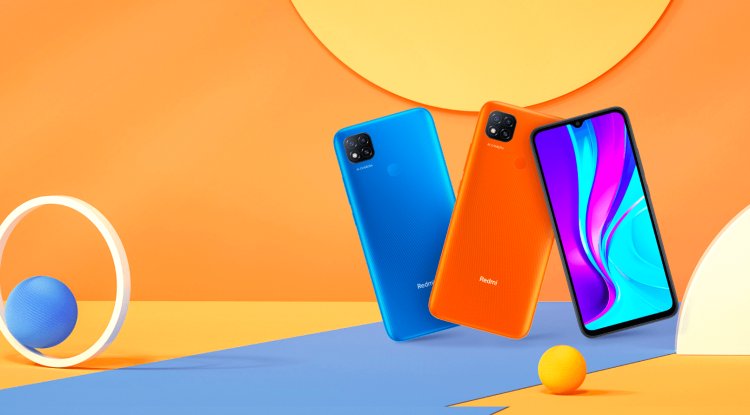 Photo Credits: Xiaomi/Promo
Design
As with many other entry-level smartphones, it is to be expected that the design will not bring anything drastically different and nothing spectacular on the market. These low-cost smartphones save wherever and however possible - and that's something you see with the Redmi 9C NFC as soon as you get your hands on it. As the Redmi 9C NFC belongs to the cheapest group of smartphones, plastic is an indispensable material.
The back panel and frame of the Redmi 9C NFC smartphone are blue and we are glad that it does not come with a great finish that tries to imitate glass. Although it is made of plastic, we liked it works firmly and with quality in the hands, and at no time did the plastic creak or crack, nor did it bend. In addition, the positive thing is that it is not slippery in the hand and there are no visible fingerprints on it. The layout of the physical keys is standard for Redmi smartphones, and they are like the rest of the plastic devices.
More selfies
A square camera module with LED flash is on the rear panel. This camera module is slightly protruding compared to the rest of the rear panel so that the Redmi 9C NFC swings a bit when placed on the table while using it. The thing could be fixed by a protective mask that can bridge this gap between the camera module and the back panel, but unfortunately, we didn't get it in the package with the device. Although visually at first the rear camera module comes with three sensors, this is not the case here, because this module has a 13 MP primary and 2 MP macro sensor, and there is nothing where the third sensor should be found.
On the upper half of the rear panel, there is also a circular fingerprint sensor that proved to be quick and quite accurate. The device is unlocked by fingerprint recognition from the first in at least 90% of attempts. On the back panel, besides the above, there is only the Redmi logo.
The Redmi 9C NFC boasts a large enough 6.53-inch screen for which the company does not state whether it is covered with Corning Gorilla Glass or some other type of protection against scratches and other damage. A selfie camera was placed in the teardrop, and just above it was a wide speaker for calls. The upper part of the device is reserved for a 3.5 mm audio output, while the lower part has a microphone, Micro USB port, and speaker. On the right are all the physical keys, while on the left is the drawer of the SIM card.
Unfortunately, this device does not have any notification light, the absence of which makes no sense to us, considering that this smartphone does not have the Always-On Display feature. This is a strange trend that prevails among smartphone manufacturers who are increasingly omitting notification lights on devices even when the smartphone comes with an IPS screen.The Redmi 9C NFC is housed in a case measuring 164.9 × 77.07 × 9 millimeters, while its weight is 196 grams. Not to mention that this smartphone is available in red and black in addition to blue.
We can say that the Redmi 9C NFC device is in line with today's design trends - it offers slightly rounded edges, lies comfortably in the hand, the edges around the screen are not too thick, and considering its price range in the hand quality.
DISPLAY
The front of the device is dominated by a 6.53-inch IPS LCD screen, which we can't say offers a very good display of colors, contrast and brightness, but we can't say that it's terrible, but it's about the expected level for an entry-level smartphone.
The screen of the Redmi 9C NFC smartphone has an HD + resolution of 1,600 x 720 pixels. The company states that this screen has an NTSC color range of 70%, a contrast ratio of 1,500: 1, while the aspect ratio is 20: 9. We can say that this screen is in line with the price range of the device and offers solid quality and display. As for the brightness of the screen, the company states a figure of 400cd / m2, and we can confirm firsthand that it has enough brightness to be used outdoors.
In the screen settings, it is possible to additionally adjust the color temperature and brightness of the screen, and it was best for us to leave it at automatic settings. For example, the display settings are standard and basic, so you can only turn Dark Mode on or off, which uses a dark color palette for system and application backgrounds, and the main task is to reduce eye strain when using the device in darker areas. Spaces with less natural light and "Eye Unloading" which refers to "reading mode" which reduces the emission of blue light that is otherwise tiring when reading, the light becomes warmer and yellowish and much easier to read in the dark.
Hardware
The Redmi 9C NFC smartphone relies on the MediaTek Helio G35 processor, which was created for the cheapest smartphones, but should provide satisfactory performance even when playing games.
Helio G35 processor is made in a 12nm manufacturing process, comprises eight Cortex-A73 cores running at a maximum clock speed of 2.3 GHz with PowerVR8320 graphics running at 680 MHz. Combined with this processor comes Hyper-engine technology designed to provide faster and smoother playing of demanding games. However, don't hope too much here, because although the Redmi 9C NFC can run even the most demanding games, its processor can hardly handle them, but less demanding games on this device work quite solidly.
The choice of Helio G35 processors confirms that the target audience of the Redmi 9C NFC smartphone is the one who wants the lowest possible price of the device and sometimes likes to play games that are not too demanding. This conclusion is further confirmed by the high-capacity battery, which will add another plus to the game fans on the side of this smartphone.
In terms of memory configurations, the Redmi 9C NFC smartphone is available in 2 GB or 3 GB RAM variants, while in terms of internal memory, there are 32 GB and 64 GB variants. The memory of this device can be further expanded with MicroSD cards. If you plan to use this smartphone for something more than the most basic activities, we recommend you target the model with 3 GB of RAM, because nowadays it is the minimum for optimal use of the smartphone.
What we can conclude after using this smartphone is that the above hardware configuration works well, but not well enough to say that the Redmi 9C NFC in the gaming area was just brilliant. Namely, there were slight pauses here and there when playing graphically demanding games, and in that respect, it provided a slightly lower performance than what the company's middle-class models offer, for example, but it has enough power to perform other everyday tasks.
Cameras
Today, it is almost impossible to see even a very affordable smartphone that has only one main rear camera. Trends are changing and the number of cameras is increasing. This trend where the company is guided by the saying "more is better" is followed by Redmi, who decided on this model even for an additional "fake" camera.
Although our test Redmi 9C NFC smartphone comes with a dual rear camera, we mention that there is a Redmi 9C model of a smartphone with a triple rear camera where the "fake" camera has a 2 MP depth sensor.
The rear camera module houses a 13 MP primary sensor with phase autofocus and f / 2.2 aperture and a 2 MP macro sensor with f / 2.4 aperture. Although the company states that the Redmi 9C NFC comes with a 2 MP macro sensor, this is most likely an error, as there is no macro shooting mode in the camera app and this sensor most likely serves as a depth sensor.
These cameras also bring a lot of features related to the AI ​​segment, such as AI HDR, AI Portrait, AI beauty and AI scene recognition. An LED flash is also located inside the rear camera module.
The camera app is very easy to use and will make the most commonly used shooting modes like photos, videos and portraits available as soon as the app launches. For other recording modes such as Night mode, Time-lapse and Short video, you need to reach for an additional menu.
The got photos in conditions with enough lighting were a pleasant surprise for the price range of this smartphone, because they are very good quality with enough detail and solid color display, but photos in night conditions or low light conditions have a lot of noise and are washed out colors. Expected.
The rear camera of the Redmi 9C NFC smartphone does not boast more video recording capabilities, but the user is limited to recording videos only in FHD resolution at 30 fps and HD resolution at 30 fps.
And the front camera, just like the rear, comes with Portrait mode for taking photos with the Bokeh effect and some other filters and effects. To get a selfie portrait, a camera with a 5 MP sensor with an aperture of f / 2.2 is in charge. For better selfie photos, there is AI HDR and AI Beauty software - the option of beautifying each photo where they can be further ironed and correct all the "imperfections" on the face. Besides taking photos and recording, this camera also serves as a Face Unlock feature with which the device is unlocked by recognizing the user's face.
Audio and video
The speaker hole in the Redmi 9C NFC smartphone is at the bottom next to the MicroUSB port and can reproduce loud enough and all in all pleasant sound. The speaker pleasantly surprised us with its volume, but the sound quality is still at the level of the price range of this device.
In addition to the MicroUSB port, the Redmi 9C NFC also delivers a 3.5mm audio output. We can say that for the amount invested, users will be satisfied with the multimedia capabilities of the Redmi 9C NFC smartphone.
Connectivity
Redmi 9C NFC brings Dual SIM support, so the SIM tray can hold two NanoSIM cards that can work on 4G LTE networks, and besides this tray can be placed next to the MicroSD card for additional memory expansion - so there is no fear of insufficient space to store all important photos, documents.
Redmi 9C NFC brings the following range of connectivity:
- GSM B2 / 3/5/8
- WCDMA B1 / 2/4/5/8
- LTE-FDD B1 / 2/3/4/5/7/8/20
- LTE-TDD B38 / 40
- 2.4G WiFi / WiFi Direct
- Bluetooth 5.0
- FM radio (with headphones)
- NFC
Battery
One of the definitely key points of this affordable entry-level smartphone is the 5,000 mAh battery with support for 10W charging. According to the company, Redmi 9C NFC will provide its users with 10 hours of gameplay, then over 32 hours of talk time, over 167 hours of listening to online music and 21 hours of watching video content.
The device comes with a 10W charger, and charging of course takes place via the already mentioned MicroUSB port.
Throughout the day, using the Redmi 9C NFC smartphone, which includes our standard activities such as email synchronization, social networking, surfing, constant Bluetooth connectivity with at least one device, taking photos and playing games, would leave about 60% of the battery. Most users will be more than satisfactory data.
We can conclude that this high-capacity battery will last most users for approximately two days. In our endurance test, the battery proved to be very durable, so with the screen constantly on (with 50% brightness), it lasted as long as 17:47 hours, which is more than twice the average of 8 hours.