Acer TravelMate P2 Review: Fast and practical
Performance in everyday work is good. Starting and switching from application to application is done fluently.With a solid screen and fast network connection.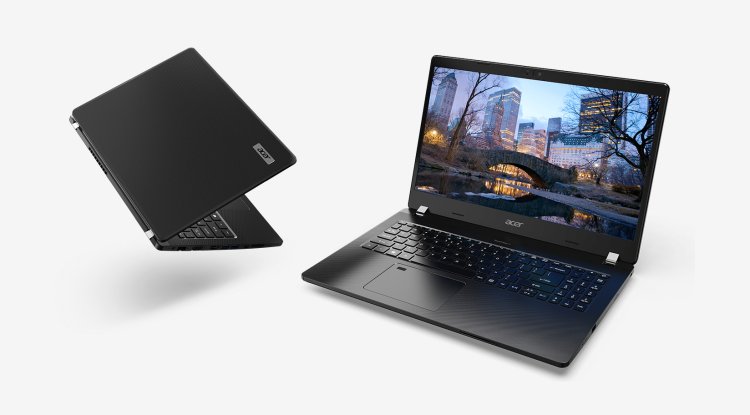 Photo Credits: Acer/Promo
The Acer TravelMate P2 is a practical companion for every day. The ideal of many users who are tired of repeating that they need a normal but good computer that they can use at home and at work, carrying it every day on the mentioned route without fear that it will fall apart after a while.
As usual, such computers are the hardest to find. However, one model attracted our attention and today we want to present it to you a little closer. It's the Acer TravelMate P2 - a true companion for moving on the go.
Characteristics
Classic laptop with a 15.6" screen. The first thing you notice is that this computer was made with the primary intention of being practical.
The computer case is made entirely of plastic, but is high quality and durable, as evidenced by the certification according to military standards. It feels good once you get used to a plastic body. This may not be a bad thing at all, especially for users who constantly carry a computer. Aluminum doesn't just have to mean it's a good device.
And we go with concrete impressions. First, we grab the monitor. The impression is that the hinges are strong and safe. The curiosity is that it opens at an angle of 180 degrees. In front of you appears the classic silhouette of a laptop with a black surface or as Acer describes it as black as the color of oil shale - this computer definitely does not die in beauty.
Well, the screen does not boast thin edges, although the manufacturer would like that. The side edges are thinner than the noticeably thicker ones, the upper and especially the lower moldings. At the top of the screen is an HD webcam with a pair of stereo microphones and a lens shutter for those who require complete privacy. Webcam activity is especially highlighted by a green LED.
The Acer Comfy view screen uses a matte finish and an IPS panel that displays a resolution of 1920x1080 pixels which is a very comfortable effective surface to work on this diagonal. What surprised us was the generally good presentation. Acer advertises this screen as "high-brightness", up to 280-nits. However, quite enough because the screen displays such a good and pleasant image that we can freely claim that it is better and more beautiful to watch than many that had brighter lighting. The worst are those that radiate 300 nits at all costs "by force", but when they exceed some 90% of the lighting, it shows the effect of white blur. There is no such thing here. The picture is silky soft, somehow warm, definitely pleasing to the eye. There is no effect of excessive sharpness and charged contrast at any cost that stings your eyes - it already allows you to work for hours without feeling tired. The price is that you have to look for some shade or shade outside to work.
Below the screen in the interspace between the hinges is a perforated zone that has a dual role. It releases heated air from the interior and is also the part where the sound from the built-in stereo speakers comes from.
The base of the device is a flat classic square surface with rounded edges and a thickness of only 2 cm, which gives the feeling of a thin profile. It provides a lot of space for the hands and you can easily take a pleasant position to work. Although the touchpad has a slightly smaller surface and due to the presence of the numeric part of the keyboard, you have the feeling that it has been moved too far to the left, the left hand also has more than enough space. The touchpad has a fingerprint reader that supports the Windows Hello security feature.
The keyboard is a standard "Acer" solution with nicely rounded keys of pleasant size and spacing that provide a comfortable position of the fingers when typing. The keys have a concrete resistance, but they are too shallow for the device. It is commendable that it has a backlight with a "timeout" function that you turn off in the BIOS and that you will not kill the computer if you accidentally spill liquid on the keyboard. However, we would definitely like a more specific keyboard with a larger keystroke in business use.
The detail we like about this TravelMate model is the variety of connectors available to connect peripherals. On the left side, we find the connector for the power adapter, then the RJ-45 network connector. Next is the VGA port for monitors, which is a business detail for connecting to projectors and large screens, followed by HDMI port, then a pair of USB-A 3.2 ports of the first generation, the first of which charges mobile devices even when the computer is turned off, then USB-C with Thunderbolt 4 function, SD memory card reader and combined 3.5mm audio input for headphones and microphone. On the opposite side, there is an LED signal for battery status and computer activity as well as an additional USB-A 3.2 port. Let's not forget the Kensington computer security slot! Below the base, the cover is several rows of vertical vents for built-in hardware and holes for a button to reset the computer's battery.
The Acer TravelMate P2 uses the Intel platform. Here, it is the Intel Core i5-1135G7 Tiger Lake ultra-economical version of the processor with 4 cores and 8 "threads" and a maximum clock speed of 4.2 GHz. It has integrated Intel Iris Xe graphics with 80 executable units and supports DirectX 12.1 API. Purely to associate you with support for some occasional gaming.
Unfortunately, the specific model only comes with 8GB RAM in a single-channel configuration. Poor if you ask us. For this price and purpose, it needs 16GB of memory, because when you start running more browsers and open countless tabs with the rest of the applications in the "background", it is not a luxury but a necessity. There is also a built-in M.2 NVMe SSD with a modest capacity of 256 GB. Fortunately, there is an additional option of installing a 2.5" SSD or hard drive, using a special SATA adapter that becomes standard on Acer laptops.
Sound is a quality characteristic of laptops. Enough for web conferencing, watching movies, or relaxing with some Coffee Jazz while you work. As for the connection to the Internet and the network, the classic and slightly outdated Gigabit Realtek LAN controller is in charge, while we much prefer the fast Wi-Fi of the 6th generation in the form of Intel AX201 solution with 2x2 MIMO technology and BT 5.1 support.
The device is powered directly from the mains by a 45W power adapter, which takes an hour and 48 minutes to charge a Li-Ion battery with three 48Wh cells. Its measured autonomy in our standard battery test is 4 hours and 5 minutes. Then it practically works at 72% of maximum performance. Unfortunately, the fast charge feature is not supported, which would certainly be desirable on a computer that targets business users as well.
And finally, this Acer is 36 wide, 25.5 deep and we said 2cm thick. It weighs 1.8 kilograms - well balanced to carry. The important thing is that it comes with Windows 10 Pro installed.
Performance and impressions at work
Performance in everyday work is good. Starting and switching from application to application is done fluently. The work is fluid, which gives a comfortable feeling in work. That is definitely commendable. This is one of the faster computers in the class of those based on the integrated Intel platform. The presence of Intel Core processors 11th generation certainly contributes to this.
So when it comes to business programs, office applications such as Office suites, working in a cloud environment - this computer has no problems, everything goes according to some expected feeling. If you install another SO-DIMM, add another 10-40% of the performance gain, especially in games. When it comes to entertainment, watching movies and YT clips is a standard scenario and everything takes place at a standstill because the integrated graphics core of the latest generation hardware decodes all current video formats.
And gaming? Yes, but then the story of adding another RAM module becomes mandatory because it greatly affects the performance of the integrated graphics core, which does not have its own but uses system memory.
The heating is moderate. If someone thinks that only models with a metal body have good cooling, Acer is there to deny them. This Travel Mate P2 really heats up a bit with a maximum measured temperature of 40 degrees in the middle of the keyboard on a relatively small area. Most computers are pleasantly cool to moderately lukewarm. Great result. It is completely quiet and after several hours of constant harassment
Conclusion
The Acer TravelMate P2 is ideal for the covertly demanding group of users who need a good next-generation laptop. Fast, and incredibly practical, immune to some serious dirt. Even if you succeed, it is easily erased. With a solid screen and fast network connection, it is perfect for its mission. The screen on the go will give you maximum desktop comfort in the amount of 125% or 100% of the visible desktop environment.