Aesthetics, functionality and… good price
The 2nd generation Lenovo ThinkBook 14 is a laptop that offers quite a lot for ... quite a little money. Let's check how it works in everyday applications!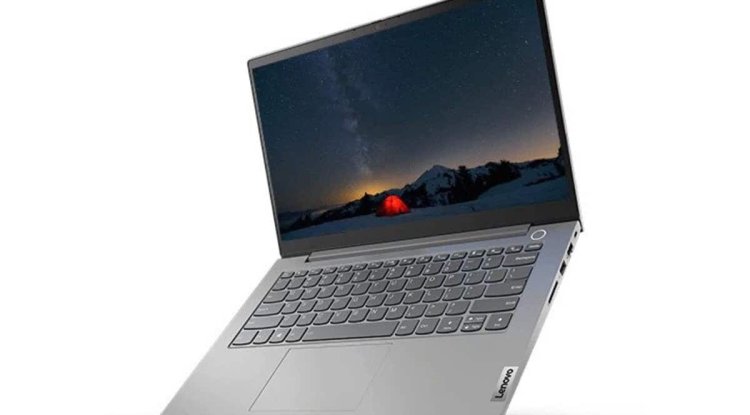 Photo Credits: Lenovo / promo
The 2nd generation Lenovo ThinkBook 14 is a laptop that offers quite a lot for ... quite a little money. Let's check how it works in everyday applications!
512 GB SSD, Intel Core i5-1135G7 processor, 8 GB of RAM ... How does this configuration, enclosed in a nice, aluminum and such business case, work every day? Well, adding to it the excellent quality of workmanship and the great keyboard of the 2nd generation Lenovo ThinkBook 14, it becomes an extremely remarkable laptop, combining design with a lot of versatility.
The appearance of the 2nd generation Lenovo ThinkBook 14
Taking the Lenovo ThinkBook 14 out of the box, you can immediately get the impression that it is a piece of very well-thought-out equipment. Slightly biased towards business laptops, but so bloated, so promising a lot of versatility at a reasonable price. After all, onboard we find quite decent components, from the Intel Core i5-1135G7 processor, through 8 GB of RAM, to a 512 GB SSD, so it should be good, right?
But, about the specification in a moment! While holding the laptop in our hands, we can quickly say that this equipment is very, very solid. Yes, it seems a bit thick, but this impression passes with time and is not the lightest on the market - nevertheless, we are dealing here with a situation in which something has been implemented perfectly, at the expense of something else. The weight and generally perceived dimensions suggest some durability and operational readiness, and… that's what it is!
Lenovo ThinkBook 14 2nd Generation - Technical Specifications
Model:
Lenovo ThinkBook 14 2nd Generation
CPU:
intel Core i5-1135G7 (4 cores, 8 threads, 2.40-4.20 GHz, 8 MB cache)
RAM:
RAM memory: 8 GB (DDR4, 3200MHz)
Integrated Graphics:
Intel Iris Xe
Screen:
14 inch IPS matte LED, 1920 x 1080 pixels
Wireless connectivity:
Wi-Fi 6, Bluetooth 5.0
Disk:
512 GB M.2 PCIe SSD
Dimensions:
17.9 x 323 x 218 mm
Libra:
1.4 kg
Battery
60 Wh
Ports:
USB 3.2 Gen 1 Type-C (USB, DisplayPort, Power)
USB 3.2 Gen 1 Type-C
2 x USB-A 3.1 (1 always on)
System:
HDMI
RJ-45
4-in-1 card reader (SD, SDHC, SDXC, MMC)
3.5mm headphone / microphone output
Case:
Aluminum
Additional
Backlit keyboard,
Fingerprint reader,
720p camera
Aesthetics worthy of recognition!
We must admit that the new Lenovo ThinkBook 14 is an aesthetic masterpiece! Everything is there in its place, from fine workmanship to design. Nothing about this computer creaks or gives the impression of being delicate, and the subdued design only adds to its expression. Two garments are clearly visible on the aluminum cover of the matrix. The more matte part is decorated with the well-known ThinkBook inscription, and the slightly shiny manufacturer's logo, which can also be found after opening the computer, on the work panel, in practically the same position.
It is worth adding that everything in this computer is so gray, aluminum and metal. The idea of ​​business minimalism guided the designers of this equipment and - in our opinion - it is a very good stylistic orientation. The laptop looks downright corporate but in a good sense of the word. The 2nd generation ThinkBook 14 is not a toy, but a device designed for one purpose - for work (whether professional or hobby).
Work, study and what next?
It must be admitted that no matter what we are going to do with the Lenovo ThinkBook 14 and what it will be used for, it will let us feel its solidity. Reliability should land in key phrases when advertising this equipment. Why? Well, everything is solid here! From the hinge that connects the die to the work panel, to the movable element, this latch is in the port for the network cable.
Anyway, the aluminum matrix cover and the rough sides of this computer scream - we are solid, we will accompany you for many years. And cool, it boasts! This call for reliability is accompanied by the keyboard at every step - absolutely brilliant at this price and basically the entire design of the 2nd generation Lenovo ThinkBook 14. You can see in this computer such an effort, such an assumption that it is supposed to be a model resistant to the hardships of everyday life. And (attention - repetition) - it boasts!
The key question is, is the Lenovo ThinkBook 14 2nd generation suitable for gaming? Hmm, no no. This is not a gaming laptop and although we will run some less demanding titles on it, there is no point in deluding that it will be a good gift for playing youth. ThinkBook 14 is a laptop for general use, it works great with documents (a great keyboard!), It gives advice when watching movies and series, and you can even make some photo retouching on it or some editing a movie on YouTube, but for games - well no, you can't have it all.
Ports? I have ports everywhere!
Let's agree that we will not discuss ports or nests there in the next fragments of the text, okay? Why? Well, because here Lenovo chose the old school, which can only be assessed positively! What pleases us at the beginning is the charger in the USB-C standard. Sure, the computer, after connecting external chargers, even those from competing laptops, calls for the charger attached to the device to be connected and it charges, what can I say - slow, but it is still an advantage.
Since something has already been written about the charger, where to start enumerating ports? Theoretically a simple matter, but in times when, for example, Apple says that 2 USB-C is enough for everything, the number of ports that Lenovo threw into this laptop makes you dizzy!
On the right, we have a Kensington Lock port, RJ-45, classic USB, and an SD card reader. On the left, on the 2nd generation of the Lenovo ThinkBook 14, we find 2x USB Type-C, HDMI, classic USB, and a 3.5mm Combo Jack hybrid port. We have not worked for a long time on equipment that has such a multitude of all grooves and we can say - good luck to Lenovo! It may not look as neat and clean, and minimalist as such Americans promote, but the convenience of using equipment that allows you to connect everything without an adapter is unbelievable!
How does the Lenovo ThinkBook 14 Gen 2 perform in everyday life?
The 2nd generation Lenovo ThinkBook 14 as an everyday computer, such as for work and entertainment after work, is a great proposition. The equipment looks great, is made perfectly, and works - very, very correctly. In the system environment, it is efficient, and in individual applications, it works in accordance with its specification. The comfort of working with the device is definitely influenced by a decent screen, great keyboard, and a very good touchpad. It may not be too big and does not provide such an effect when interacting with a premium laptop, but it works very precisely, which is worth appreciating.
An interesting solution is the functions of the keys, which are quite well thought out. Well, the backlight of buttons is activated by a combination of a function key and a space. What's more, the default functions of the keys can be changed by a combination of the Fn and ESC buttons, and the entire manual for these additional functions can be found on the material keyboard cover that comes with the laptop. Cool, inventive, plus.
The undisputed advantage of the 2nd generation Lenovo ThinkBook 14 is the keyboard! Clearly marked keys with delicate curves at the bottom and appropriate spacing promised comfortable, ergonomic work at first glance. And they more than fulfilled this promise! Working with this keyboard is great. The keys are super responsive, you just want to click them, and they sound so satisfying.
As we work, we instantly learn how the keys work, we learn the stroke and actuation point, and then things get better. For someone who earns a living by clicking on the keyboard and making (sometimes acceptable, and sometimes simply crude) sentences with highly diverse content, it will be difficult to find a better keyboard in a laptop around $ 1000. Bravo Lenovo! And it is 2-stage - very evenly illuminated and pleasing to the eye, also nice.
The Lenovo ThinkBook 14 of the 2nd generation has a decent, but the not delightful screen and such speakers, let's say - acceptable with an indication of the type "playing okay". The screen has nice colors, typical for decent IPSs, wide angles from which you can observe what is happening on the display without color degradation, and it is matte. It is a pity that it is not a bit brighter. Either way, strong 4 out of 6.
As for the loudspeakers - the equipment sounds clean, does not rattle or scratch, and does not distort the music. And that's basically it. It is not a disco laptop, but it will handle it quite well during a student party.
And that's basically so many of the advantages that are worth mentioning and giving them some "airtime". Well, what else to write about the equipment that was created for office work, learning, and consumption of pop culture work? It's okay when it comes to efficiency, you know - it's not top-shelf equipment, but the equipment performs its tasks. In addition, aesthetically, it is a revelation, and the feeling of using cool, well-thought-out equipment also appears and enjoys, justifying a potential purchase. And the webcam has a ThinkShutter latch so that no one is watching us from time to time! Oh, good equipment!
Oh yeah, the battery. We took the equipment to work and the 8-hour day of replying to e-mails and writing some nonsense in Google Docs was overcome without any problems. Well, we even had a power reserve to start YouTube in the evening. It is known that the computer was put to sleep during the day, sometimes the cover was closed and so on, but you can still assume that the battery allows for 6 hours of quiet, such normal operation.
There are also weaknesses, but they are all negligible - on one condition
Let's get the facts ahead - all the potential disadvantages of the 2nd generation Lenovo ThinkBook 14 can be easily ignored on one condition. When we consider the price of this equipment and look at it from a practical perspective, it quickly turns out that it is in fact a laptop that offers a lot for really little.
The comfort of work, especially for someone who is used to laptops with a fairly low profile, is not best influenced by the fact that the 2nd generation Lenovo ThinkBook 14 is quite thin. It is not thick, but in relation to such a MacBook Air, it is about half a centimeter (measured by eye, not a caliper) thicker where our wrists rest. The defect is negligible after a few days, but it is worth noting.
A slight disadvantage for purists may be the screen. More specifically, its backlight. Sometimes, with dark scenes displayed on the screen, you can see brighter portions of the backlight at the edges. The thing is in fact unnoticeable, but again - it is worth noting that it occurs.
Is the new Lenovo ThinkBook 14 worth buying?
If someone cares about the correct equipment, which gains on closer acquaintance, definitely yes! The Lenovo ThinkBook 14 G2 ITL can be a faithful everyday companion for people who appreciate the quality of workmanship, they care about a good keyboard, and enjoy the fact that the equipment they work on is solid, compact, ready for many years of servile work. This is what the Lenovo ThinkBook 14 G2 ITL is about - maybe not very effective, but it is very solid!
Review of the Lenovo ThinkBook 14 2nd generation
Pros
decent IPS screen,
great performance
business design
optimal specification
very good keyboard
backlit keyboard
fingerprint reader
the impression of communing with very solid equipment
Minuses
relatively small touchpad (but it works fine)
you can find thinner and lighter laptops on the market
screen backlight slightly uneven - visible when displaying dark scenery
the matrix could be a bit brighter